Great opportunities arise from market corrections. With the U.S. economic data weakening, people are selling first and then asking questions. Cirrus Logic (NASDAQ:CRUS), an Apple (NASDAQ:AAPL) supplier has corrected 13.7% in the prior 3 trading days, at no fault of its own. CRUS, based in Austin, TX, produces integrated circuits in the consumer audio and the energy market. The company derives the majority of its revenues from the lineup of Apple products, where they have their audio codec chip in several generations of the iPhone and iPad. Despite any economic weakness, I doubt that consumers will stop spending on the iPhone or iPad in particular. The consumer has regrouped since the 2008/2009 recession and fixed their balance sheet while boosting their savings rate. It will take another severe recession to affect consumers purchasing items that want and think they need (iPad).
CRUS sold off nearly 10% on Friday after OmniVision Technologies (NASDAQ:OVTI), another AAPL supplier, missed earnings and issued disappointing guidance for the upcoming quarter. The reason for the miss was due to inventory problems and higher costs to produce their BSI-2 image sensors. OVTI sold off 17%, taking down all of AAPL's derivative plays including CRUS.
This is turning out to be a great buying opportunity in CRUS, as the company recently reported strong earnings and revenues on April 25th, 2012, which catapulted the stock 18% higher. CRUS gave guidance that Q1 revenues would be slightly below estimates, but stated it expected a, "sharply higher level of revenue beginning in the September quarter." The company expects to release various product introductions later in the year. It is expected that the CRUS will find its audio codec chips in a rumored Apple TV set later this year as well as a new iPad. CRUS also announced the company had entered into an unsecured, one year $100M revolving credit agreement to provide enough working capital for the increased demand expected. All these point to CRUS setting new all-time highs in the near future when the broad market starts to find its footing.
CRUS will continue to live or die based on AAPL's success. With plenty of new products ready for release later this year, I believe the earnings estimates are too low. CRUS is currently trading at 15x 2012 estimated earnings. I believe as we head into the fall CRUS should continue to outperform into the new AAPL product launches. The average analyst has a $34.50 price target, and I believe that price is achievable by Christmas.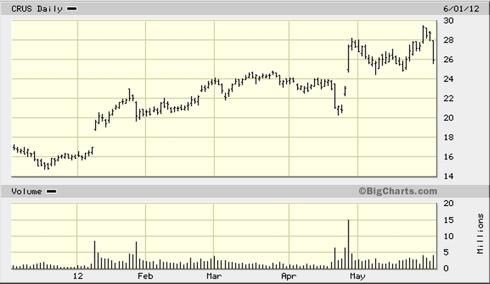 Disclosure: I have no positions in any stocks mentioned, and no plans to initiate any positions within the next 72 hours.