It's a dangerous environment and managing risk is as crucial [if not more so] in these conditions than trying to make money. Big swings have been this markets signature since the turn of the year. And, from the look of things that's not going to change any time soon as today we swung around nearly 200 points.



RISK MANAGEMENT 101

One thing that comes through clearly is how terribly "off" economic forecasts have been. Employment data, ISM report and even Wednesday's oil inventory estimates have offered big misses. It's like our Sacred Cow #9 advises via a quote from economist Edgar Fiedler: "If you have to forecast, forecast often".

And, when it comes to earnings reports, companies and analysts always underestimate so they can beat estimates a la Disney (NYSE:DIS) on Tuesday night.

Yesterday we saw a rally attempt thwarted supposedly by comments from Fed Gov Plosser, a voting member of the FOMC, who warned that "core" inflation would remain high [gee, even without food and energy?] and that the Fed must stay focused on fighting inflation. He also said home prices must fall further and the large inventory overhang will need to be whittled away. So no more interest rate cuts? Don't fret, they'll cut.

Market internals were decidedly weak, with this report probably a little early.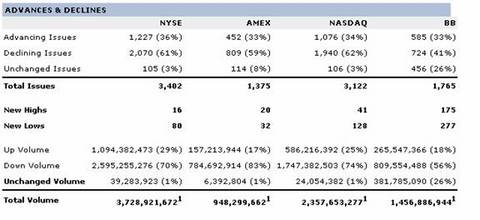 Go to page 2 >>