SkyPeople Fruit Juice (SPU) was established in 2001 in Central China's Shaanxi Province. The company is a highly integrated producer and distributor of fruit juices, fruit juice concentrates and other fruit and vegetable products.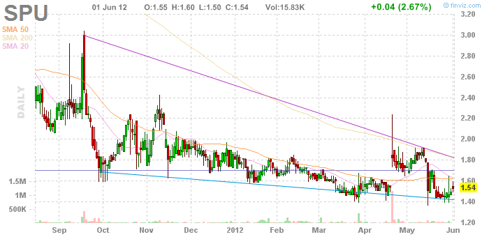 Since my last article on SkyPeople there have been two major news items. On May 14th the company announced its financial results for the three months ended March 31, 2012.
Cash generated from operations was $14.8 million. Cash and cash equivalents were $76.7 million as of March 31, 2012. The company had $8.5 million in short-term bank loans. This creates net cash of $68.2 million. The company had 26.7 million shares which creates net cash per share of $2.55. Yongke Xue, Chief Executive Officer of SkyPeople, commented:
We continue to be challenged by unpredictable market conditions and rising raw material costs due to the volatile pricing of fresh fruits. We understand that these factors are beyond our control, and have been working to further diversify our segment mix to offset, to the extent possible, the effect of seasonality. Nonetheless, we were able to generate healthy margins in two key product lines. We are also pleased to report solid cash flows generated from operating activities, further strengthening our cash position which enables us to execute our comprehensive growth strategy.

During the quarter we achieved the following important developments which I would like to highlight. First of all, our cash balances had been independently verified, which substantiated our integrity and reassured investors as to our credibility. Secondly, we had commenced operation of a new fruit juice beverage production line in our Huludao Wonder subsidiary, which was expected to help us take advantage of economies of scale and focus on producing high margin fruit juice beverages. Thirdly, we appointed Mr. Xin Ma as our new Chief Financial Officer with confidence that his experience with U.S. publicly traded Chinese companies is an excellent fit to our needs. These developments reflected our management's commitment to focus on enhanced financial transparency, sound investor communications and an operational focus on high margin products. Our top priority continues to be generating solid returns on our investment so as to create long-term value for our shareholders.
The other major news was released on May 30th by Barron Partners. Barron Partners LP's CEO, Andrew Barron Worden, stated:
We request that SkyPeople Fruit Juice Inc. (NASDAQ: ) buy back shares and pay cash dividend to all shareholders by utilizing a portion of the cash. SkyPeople Fruit Juice has $76,745,264 cash on the balance sheet as of March 31st, 2012. As a significant shareholder in the Company, we believe that the Company has the obligation to act in the interest of the shareholders and increase value for the shareholders.
Barron Partners has invested $17.4 million in SkyPeople Fruit Juice. There is a testimonial in Barron's homepage by Xue.
In 2005, TianRen Organic began its plan to go public in the U.S. capital markets. At that time, the company contacted many famous funds inside and outside of China. We found our partner in Barron. Barron attracted us with their unique investment philosophy and abundant Wall Street experience, as well as Mr. Andrew Worden and the Barron China team's sincerity. It was this sincerity that made us feel that Barron is exactly the partner the company needed to realize its fast growth and achieve the maximization of our stock price.

"After the reverse-merger, we immediately received Barron's first $3.4 million investment, which was ultimately followed with additional investments through warrant exercises, participation in our follow-on public offering and open market purchases totaling more than $17 million. Following Barron's investment, our management has maintained our independence, while we are still able to obtain professional opinions from Barron on how Wall Street works and also general business strategy concepts at any time. We believe that with Barron's help, our growth will be much faster and firmer. Barron Partners, worth the trust.
China TechFaith Wireless (NASDAQ:CNTF) is a China-based company with global operations focused on opportunities in mobile phones and the fast growing PC and online gaming markets.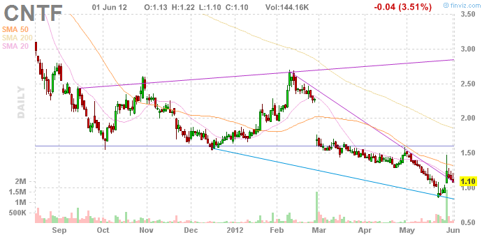 Since my last article on May 21st covering China TechFaith there have been the first quarter earnings release and a Barron's article.
For the first quarter of 2012, TechFaith reported net revenue of $42.7 million compared to $81.7 million in the fourth quarter of 2011 and $78.7 million in the first quarter of 2011. This is in line with the company's prior guidance which stated that revenue in the first quarter of 2012 would be in the range of $41 million to $45 million. The revenue decline is primarily due to the material impact of seasonality, higher competition and lower demand levels for mobile phones in China.
Net loss attributed to TechFaith for the first quarter of 2012 was $0.4 million, compared to net income of $2.7 million, in the fourth quarter of 2011. Ms. Ouyang Yuping, TechFaith's Chief Financial Officer, said:
We had an extremely challenging quarter for our business as lower demand in our Original Developed Product (NYSE:ODP) segment, combined with our fixed operating costs structure, resulted in a net loss for the quarter. Our operating structure is able to support revenues considerably higher than $100 million per quarter, which results in absorption issues with the current lower revenue levels. We are working to better align our resources to the current business environment, including potential cost reduction measures.
Mr. Deyou Dong, President and Chief Operating Officer of TechFaith, said:
Our focus is on continuing to develop commercially attractive mobile phones and phones targeting niche segments, like our ruggedized outdoor smart phones. We will continue to work to expand our sales volumes through our unique ruggedized smart phones and our branded mobile phones business which can contribute to our long-term strategy.
Mr. Defu Dong, Chairman and Chief Executive Officer of TechFaith, said:
For our game business, we intend to focus on strengthening and building up our customer base. We have successfully navigated business cycles before and are confident we can adjust our business to current demand levels.
TechFaith currently expects total revenue for the second quarter of 2012 to be in the range of $32.0 million to $36.0 million.
The company had $248 million in cash at March 31st 2012. The company has 53 million shares outstanding. That creates total cash of $4.7 per share. The company has no debt.
The following is from Barron's interview of investment manager Earl Yen on May 26th:
For example, we follow a company called China TechFaith. It started out as a designer of smartphones and mobile handsets that went public in 2005 on Nasdaq, and not through a reverse merger. It ran into problems, lost money during some quarters around the recession, but is now developing some interesting niche products. It has also accumulated quite a bit of cash, both through public offerings and earnings, and has gone into the business of developing industrial parks.

Whoa. That's very different from making phones.

Yes, and that can be hard for U.S. investors to understand. But many municipalities here want to encourage migration into more value-added or knowledge-based industries. So certain companies involved in engineering or technology that have good relationships with local government can get tracts of land at very low prices. What's appealing is that China TechFaith has a market cap of $52 million, but it has $250 million in cash. The handset operations are profitable. The market has been pushing -- or hoping -- it'll buy back shares or pay a big special dividend, but the founder instead has been allocating cash to industrial parks.

This is where U.S. and Chinese investors have a different mentality: U.S. investors like companies to focus, focus, focus, whereas Chinese companies' strategy sometimes is to grab, grab, grab. But that can make sense if a company has technology expertise and can use that competitive advantage to get land that they develop for use by themselves or other tech companies.
Conclusion
I would give a Buy rating for both of these companies currently. Both of these companies have recently received some positive publicity which I hope will lead to price appreciation.
Disclosure: I am long CNTF, SPU.