A little over a month ago Art Cashin, head of UBS Floor Operations at the New York Stock Exchange, was quoted in John Mauldin's weekly newsletter regarding his thoughts on market cycles. The following is a brief summary of what he stated:
Floor brokers have lots of theories of cycles and such. There's even a fat and lean cycle theory. Just as in the Bible there were seven fat years followed by seven lean years . . . brokers claim to see a similar thing in Wall Street. Ours is much longer . . . 17.6 years.

In the fat cycle, which ended with the bubble, the Dow went from 900 to 11,700. You could throw a dart and pick a winner . . . lots of folks did. Those days are gone. Getting a decent return will be hard work for the next decade. You will need good judgment and good advice. Put the dartboard away. Just so you understand better, let me walk you through this concept.

The tech bubble or the bull market topped in about February 2000. Just so it works on your calculator-let's call that 2000.2. The Dow is around 11500. Subtract 17.6 years and you are in the middle of 1982. The Dow is around 900. It will soon embark on the greatest bull market in history. Subtract another 17.6 years from June of 1982 and you are back to the beginning of 1965. The Dow is around 900.

Yes . . . that's the same area you will find it in 17 years later. This clearly is the lean cycle. The Dow will go above and below 900 many times. Money will be made and new industries flourish, but it will require skill and hard work to find them.

Subtract another 17.6 years from 1965 and you are back around the middle of 1947. The war has ended. Smokestack prosperity is in the offing. The Dow is around 220. This was to be a fat cycle.

Subtract another 17.6 years and you are back in early fall 1929. The Dow is around 380 - but not for long. This . . . clearly . . . will be a lean cycle.
If Art's theory on market cycles is correct, then the market as of 2012 is still in a secular bear market that began in 2000. Furthermore, if the pattern holds, the secular bear market will continue for a subsequent five to six years with regard to both valuation and price.
The key to successful investing therefore will be to hold investments that do well in a market with contracting valuations and prices. One such investment in my opinion is a small grocery company known as Village Super Market, Inc. (((NASDAQ:VLGEA))).
Village Super Market operates a chain of twenty-nine ShopRite supermarkets, eighteen of which are located in northern New Jersey, two in Maryland, one in northeastern Pennsylvania, and eight in southern New Jersey. By operating its supermarkets under the ShopRite name, Village is a member of Wakefern Food Corporation, the nation's largest retailer-owned food cooperative and owner of the ShopRite name.
Village therefore enjoys tremendous economies of scale in purchasing, distribution, private label products, and advertising which are more often associated with grocery chains of greater size and geographic coverage.
One of the biggest reasons I like Village Super Market is because it is a non-cyclical stock and does not experience significant capital depreciation during economic downturns. If this truly is a secular bear market at the moment, then it will likely continue for another five or six years as demonstrated by Art Cashin's 17.6 year market cycle theory.
Village Super Market should consequently be an excellent counter-cyclical equity to own over the next five or six year time span given the macroeconomic uncertainty as well as the real possibility of a double-dip recession in the U.S.
| | | |
| --- | --- | --- |
| Company or Market Index | Return Since February 2000 | Return Since May 2007 |
| Village Super Market | 732% | 18% |
| Dow Jones Industrial Average | 19% | -3.5% |
| S & P 500 | -2% | -9.8% |
Another reason I like Village Super Market is evident in the way the company is positioned to handle certain consumer spending trends that are changing within the grocery industry. For instance, one trend that is quite easy to see within the grocery is how traditional grocers such as Kroger ((KR)), Safeway (SWY), and Weis Markets ((WMK)) are losing noticeable market share to non-traditional grocers such Whole Foods ((WFM)), Dollar Tree ((DLTR)), Wal-Mart ((WMT)), and Target ((TGT)).
Just by looking at the number of net store openings by each grocery company as well as the annual change in sales growth for each company, one can see the rising preference for non-traditional grocers.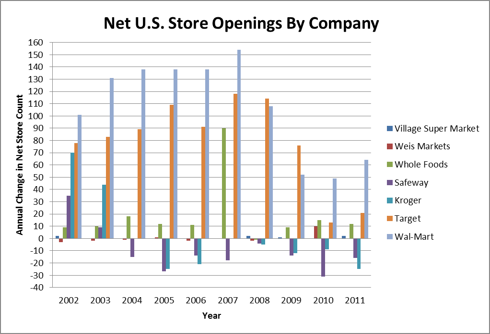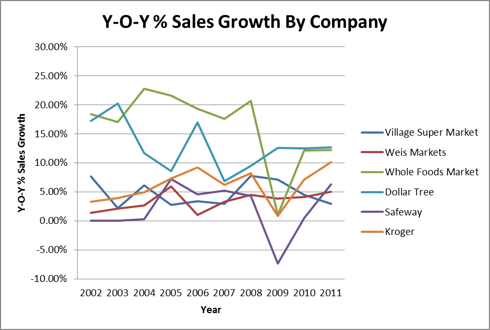 In fact, it is quite possible that if the current spending trends continue, then non-traditional grocery stores will surpass traditional grocery stores in market share by 2018.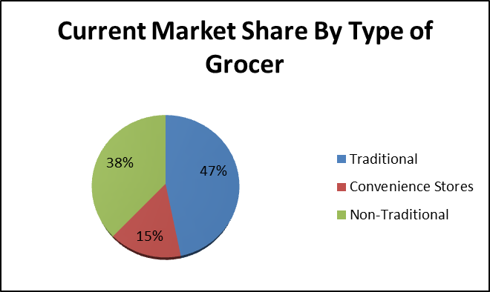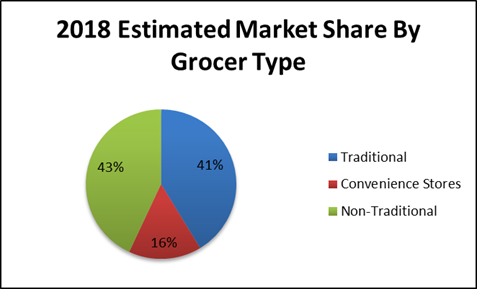 Data Source: Willard Bishop
In my opinion, Village Super Market is well positioned to benefit from this changing consumer preference due to the unique aspects that are featured in certain Village stores. The company's average store size of 57,000 square feet provides a one-stop shopping experience for Village customers which rivals that of the non-traditional grocers like Wal-Mart and Target.
Moreover, the company also offers natural and organic food departments to help compete with other non-traditional grocers such as Whole Foods for example. This natural and organic food feature within Village stores is especially important for the future because of a rising demand for healthier foods.
Supermarket analyst Phil Lempert and Omaha-based ConAgra have published research that suggests the rising demand for healthier foods is coming from an estimated 76 million baby boomers who are beginning to retire and are becoming progressively more interested in healthy foods to maximize their lifespan.
Lempert and ConAgra also state that baby boomers will contribute roughly 53% of the total 76 million which will be spent annually on groceries by the year 2015.
Village Super Market has several other aspects worth highlighting for investment purposes. The company has been owned and operated by the Sumas family since its first store opened in 1937. Village's management team is also a key investment merit; management has rewarded shareholders with $59.5 million in dividends in the past four years which included two special, one-time dividends in 2008 and 2010.
To put the $59.5 million of dividends in perspective, Village's total market capitalization is currently right around $335 million which means that the company has given nearly 18% of its market cap back to shareholders through dividends over the past four years.
There is also reason to believe that the company may declare another special dividend by December of this year as the rates on dividends and capital gains are set to increase at the beginning of 2013. This reasoning is further supported by a quote from Village's last 10-K filing for the 2011 fiscal year in which the company stated that
the Board will reconsider dividend policy and other methods of providing returns to shareholders in 2012 and future years based on a variety of factors, including tax rates on dividends and capital gains in effect at that time.
Village's financial health is also quite strong. The company has virtually no long-term debt other than capital lease obligations and has consistently strong cash flows to cover any potential debt obligations that may arise due to future expansion. Moreover, Village has one of the highest sales per square foot of selling space ratios in the grocery industry with over $1,100 in sales per square foot in fiscal 2011 compared with the industry average of around $500.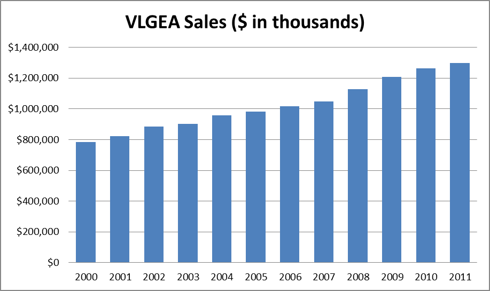 Finally, one last reason I like Village is due to the company's potential growth opportunities. The company cited in its second quarter fiscal 2012 results that same store sales were increasing at a rate of 6.2% and total sales increased 10.7% compared to the same six-month period in fiscal 2011. Much of this high growth rate can be attributed to competitor store closings around seven Village stores, but some of the growth is also coming from the company's two new stores in Maryland as well as greater sales at two other recently opened stores in New Jersey.
Thus, in such a competitive business environment, Village is still managing to grow its market share, and as a result, I feel that this growth is not being adequately reflected in the company's stock price. This is especially reasonable given that Village will most likely open additional stores in Maryland if the opportunity arises.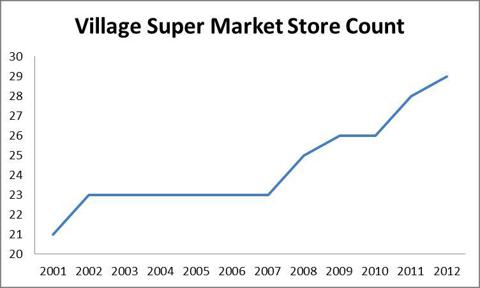 Overall, I believe Village is undervalued not just because of the possible special dividend that could be implemented this year or because of the additional growth opportunities in Maryland but rather because of fundamental analysis.
Using a duration-adjusted discount rate of 9.5% and a modest growth rate estimate of 6.5% as well as a D0 of $1.00, fundamental DDM analysis yields an intrinsic value for Village Super Market that is closer to $35.50 per share. This valuation implies a 46% premium to the current market price as of June 1, 2012. Furthermore, other valuation models yield similar results. For instance, a conservative RIM analysis using the same rates as above as well as a book value of $15.59 and a base case 2012 pro forma EPS of $2.14 implies an intrinsic value of $37.56.
As a result of such valuation disparity as well as other aspects such as a real possibility for a special dividend at the end of this year and further expansion into Maryland, I believe Village Super Market should be a favorable small cap investment option going forward into the next few years.
| | |
| --- | --- |
| Key Positive Arguments | Key Negative Arguments |
| Village has virtually no long-term debt other than capital lease obligations | Village is tremendously reliant on Wakefern for inventory procurement |
| The company is family-owned and has an experienced management team | Geographic isolation (25 of the company's 28 total stores are located in New Jersey) |
| Village's relationship with Wakefern offers significant economies of scale for the company | Non-traditional grocery retailers are continuing to increase market share and sales growth at a faster pace than Village |
| Village has an excellent opportunity to expand operations further into Maryland given its strong cash flows and balance sheet | Changing consumer food preferences could adversely affect the company's operations and overall market share |
Disclosure: I have no positions in any stocks mentioned, and no plans to initiate any positions within the next 72 hours.