Waiting for a net/net story to unfold is often as exciting as watching paint dry, or the grass grow. That was the pretty much the story with diamond company Lazare Kaplan International (LKI), which we recently unloaded. You may recall our recent research piece on LKI, which was in reaction to the company's reverse/forward split designed to reduce shareholder roles. In our view, this was a prelude for LKI to go "private".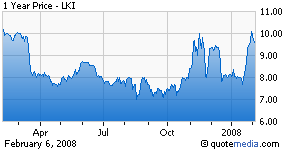 Shares were up 31% since, when we closed the position last week. A nice gain, yes, but we originally purchased the shares in March. 2006 at $7.75, so our 26% gain came in 22 months, after several oscillations along the way.
Why did we pull the trigger, you ask? To make room in the portfolio; to free up cash for better opportunities. Lazare Kaplan is actually coming off several consecutive marginally profitable quarters, but we've come to believe that this company will always be (or be very close to) a net/net.