Diabetes, heart disease, coronary artery disease, these are just a few of the health issues America is facing today. There are many opinions out there about what Americans should be doing differently to help prevent these problems. Every week it seems like there is a new health study being presented, but what it all comes down to is our lifestyle habits. What we eat and how much physical activity we perform are the two most obvious factors that influence the health and quality of life.
The chart below shows the rising obesity rates in the U.S. over the past 50 years. The chart can be found here.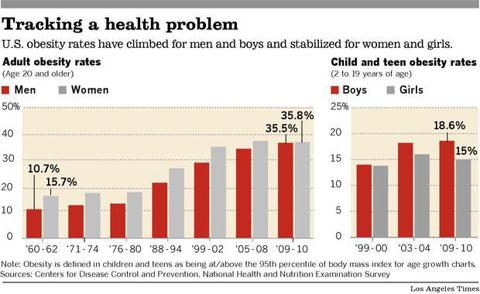 Several companies have changed their approach to business, as the American consumer has become more health conscious. Companies are beginning to switch the focus of their advertisements around good health and well-being to attempt to attract the new consumer. With the new "health craze" sweeping through the country their are new opportunities present for the investor. With health awareness increasing everyday, these investment opportunities are not going away any time soon. Five companies that are great ways to play this new opportunity include Lululemon Athletica Inc. (NASDAQ:LULU), Abbott Laboratories (NYSE:ABT), Whole Foods Market, Inc. (WFM), PepsiCo (NYSE:PEP), and The Hain Celestial Group, Inc. (NASDAQ:HAIN).
Lululemon Athletica Inc. is a retailer of athletic performance apparel in North America and Australia. They offer items designed for healthy lifestyle activities such as yoga and running. Lululemon has had nine straight quarters of double-digit sales and earnings growth. Its annual revenue passed $1 billion last year, while it was at $453 million only two years ago. Lululemon has plans to grow internationally and triple its store count. The stock currently trades about $10 below its 52-week high of 81.09. Most of the information and a more extensive analysis of Lululemon can be found here.
The following chart highlights Lululemon's revenue growth, it can be found here.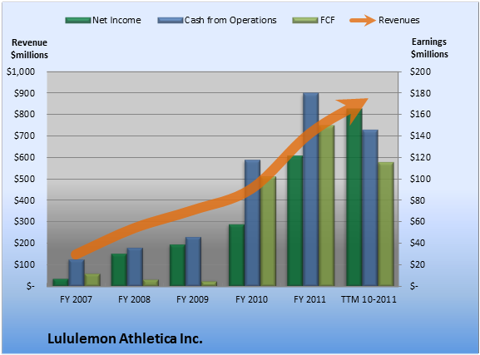 Abbott Laboratories is a company that is involved in developing and manufacturing health care products. The company has five operation segments: Proprietary Pharmaceutical Products, Established Pharmaceutical Products, Diagnostic Products, Nutritional Products and Vascular Products. Abbott has recently announced a split in the company to trade as two separate divisions. The company pays a hefty dividend of 51 cents, or a 3.28% yield. They have increased their dividend for 40 straight years as well. More information on Abbott's split can be found here.
Whole Foods Market, Inc. is a company that revolves around sales of natural and organic foods from its supermarkets. The company has 311 stores in the United States, Canada, and United Kingdom. Whole Foods Market has only occupied 38 U.S. states though, so in the U.S. alone it has plenty of room to grow. Whole Foods is currently trading at high levels though and at around 36x the 2012 expected earnings it may be a little too high. Whole Foods remains an excellent play on any pullback.
PepsiCo, Inc. is a company that might surprise some by being on this list, however Indra K. Nooyi, the CEO of PepsiCo is devoted to improving the nutritional quality of PepsiCo's products. PepsiCo is the worlds second largest food and beverage business. They have always been thought of as more of a soft drink company, but over the years they've grown with several acquisitions and now acquire 49% of their revenue from the food portion of their business. PepsiCo now has a portfolio of products known as the "Good-for-you" portfolio, which includes foods such as oatmeal, fruit smoothies, nuts and seeds, and performance products for athletes. With this new portfolio, PepsiCo is now on the radar as a play on health and wellness.
The following picture highlights some of PepsiCo's healthier snack options, it can be found here.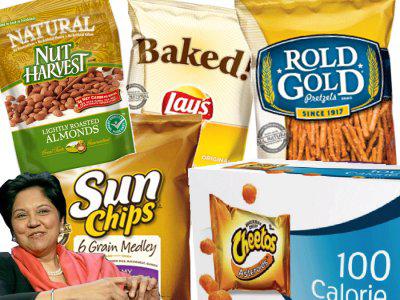 Finally, The Hain Celestial Group, Inc. is the leading manufacturer of natural and organic products North America and Europe. Hain produces multiple healthy options for consumption, as well as products for personal care and hygiene. With a majority of their products being marketed and sold in North America and Europe, Hain has plenty of room for expansion in foreign markets worldwide.
Any of these stocks mentioned could become part of a healthy portfolio. With the economy gradually recovering, people will have more money to buy higher quality foods for themselves. Any portfolio looking for a little diversity, should consider these stocks as a solid play on health and wellness.
Disclosure: I am long PEP.