After a very strong start of the year, data center-related stocks took a hit in May, with most companies delivering a negative performance in the month: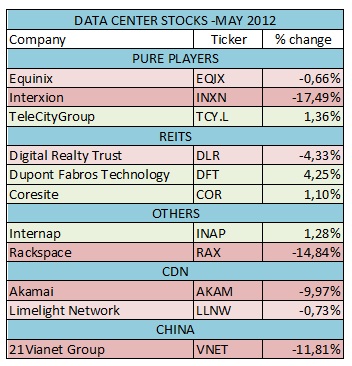 While several companies, like Equinix (NASDAQ:EQIX), TeleCity Group, CoreSite (NYSE:COR), Internap (NASDAQ:INAP) and Limelight Networks (NASDAQ:LLNW) can be described as basically flat for the month, as their positive/negative results did not exceed 2%, there were a few double-digit negative performances that paint the overall landscape with a strong red color.
In spite of this, year-to-date performances still show that, on average, data center-related companies performed well beyond market average: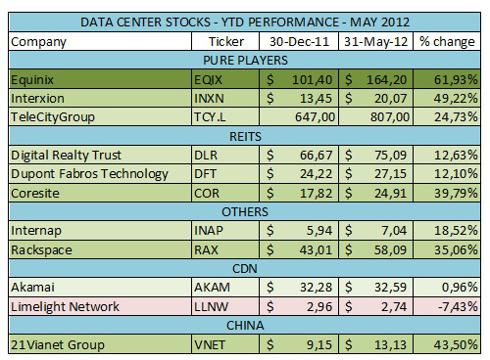 All stocks under our coverage reported Q1 2012 earnings, with most companies announcing their results at the end of April, and just a few of them in May.
Overall, this performance is also negative, as most stocks took a hit after announcing Q1 2012 numbers, with just three exceptions to the rule: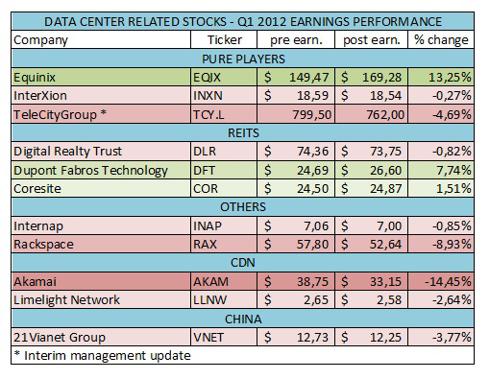 In some cases, like Rackspace (NYSE:RAX), being priced for perfection caused a sell-off as the company announced slower growth than expected. Akamai (NASDAQ:AKAM) suffered a similar reaction as the company issued soft Q2 EPS and margin guidance. The CDN sector, in general, remains the softer sub-sector among the companies under our coverage, as concerns about growth and margins going forward have caused both Akamai and Limelight Networks to underperform in 2012.
The "strangest behavior pre and post earnings award" goes to Chinese data center provider 21ViaNet (NASDAQ:VNET), whose shares were up 7% before earnings, and lost almost 4% after earnings, after opening with a double-digit loss, and lost another 9% the day after. The stock remains one of the most volatile in the sector.
After such a strong YTD performance, and with the market recently taking a softer tone, as all three major averages closed their worst month in two years in May, some data center-related stocks may be ready for a healthy correction that could represent, in the longer term, a good entry point, at least for the strongest names under our coverage. Assuming this scenario becomes credible, we're ready to increase our holdings in the sector, now at our lowest level ever, as the sector remains, in our opinion, one of the most interesting growth stories available in the market, even in this unpredictable economic environment.
Disclosure: I am long (EQIX).