Google Launches Localized News Service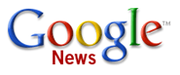 Topix has made a name by aggregating tens of thousands of local news sources and publishing them online (they also like citizen journalists). It was only a matter of time before Google (NASDAQ:GOOG) expanded their news product to compete more directly with Topix. That time has come - today Google added an option for customized local news to its Google News service.
The localization option is now available on news.google.com, but does not seem to have been rolled out to country specific news portals as yet. Using the service is as simple as entering your post/ zip code or location into the Local News option box that now appears automatically when you visit Google News.
The feature pulls news stories based on your location, and are presented as a sub-section on the main Google News page, and have a sidebar menu entry and dedicated page as well.
According to Google:
As always, results will be clustered with multiple sources on a story. The top stories for a given area will be at the top of your results. Our article rankings will also take into account a publication's location so we can promote all the local sources for each story.
Google News attracts a far larger audience than Topix - 47 million/month v. just 6.2 million for Topix (Comscore, December 2007 worldwide audience), but until now they have not provided good local news coverage. Topix now has some serious competition.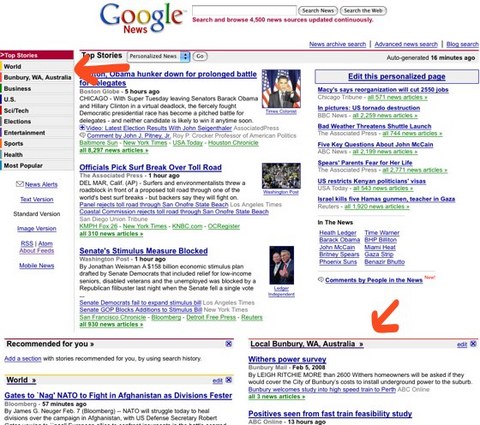 This article was written by
TechCrunch (http://techcrunch.com) writer Duncan Riley is a writer, developer, speaker and blogging evangelist. After many years online, including stints authoring politically focused websites, he discovered the then-new blogging in 2002, founding The Blog Herald which went on to become a Top 100 blog worldwide at the time. In 2005 he co-founded the b5media blog network, a company now based in Canada that took $4 million US in Venture Capital funding in 2006. Duncan has a diverse background. Having started in merchant banking in Sydney in the mid 1990's he's had stints in Management and as a staff member to a Federal Member of Parliament. Duncan left b5media in late 2006 and now enjoys his time as a freelance writer, speaker and developer. Duncan regularly attends conferences in Australia where he evangelizes on the benefits of blogging, as well as contributing articles to magazines and online publications on the same topic. Duncan started writing for TechCrunch in May 2007.