You know markets are getting frothy when you start to see new entrants piling in. This is what we are beginning to see with the mortgage REIT market.
Investor demand for mortgage REITs such as Annaly Capital Management (NYSE:NLY) and American Capital Agency (NASDAQ:AGNC) has increased due to the low absolute rates available in other income products, such as fixed income, dividend paying common stock and traditional REITS. Naturally, where there is demand, there will be supply.
Let's meet the new kids:
Ares Commercial Real Estate Corporation (NYSE:ACRE) is a specialty finance company that originates, invests in, and manages middle-market commercial real estate loans and other commercial real estate investments. Through its national direct origination platform, Ares Commercial Real Estate provides financing for middle market borrowers. (See its IPO prospectus here.)
AG Mortgage Investment Trust (NYSE:MITT) Is the oldest of the new kids on the mREIT block as it's nearly one year old. The REIT focuses on investing, acquiring, and managing a portfolio of residential mortgage assets, and other real estate-related securities and financial assets. The company invests in agency RMBS and fixed- and floating-rate residential non-agency RMBS. It also invests in other real estate-related securities and financial assets, such as fixed- and floating-rate commercial mortgage-backed securities; residential mortgage loans secured by residential real property, including prime, Alt-A, and subprime mortgage loans; first or second lien loans, subordinate interests in first mortgages, mezzanine financing secured by interests in commercial real estate, and bridge loans to be used in the acquisition, construction, or redevelopment of a property; other real estate structured finance products, mortgage servicing rights, other real estate-related loans and securities, and other financial assets; and investment grade and non-investment grade debt and equity tranches of securitizations backed by various asset classes, including small balance commercial mortgages, aircraft, automobiles, credit cards, equipment, manufactured housing, franchises, recreational vehicles, and student loans. The REIT is externally managed by AG REIT Management, LLC, a subsidiary of Angelo, Gordon & Co., L.P. (See its IPO prospectus here.)
Western Asset Mortgage Capital Corporation (NYSE:WMC) is a REIT focused on investing in, financing and managing primarily Agency RMBS. Although the core investment strategy will be focused on Agency RMBS, the company may opportunistically supplement the portfolio with non-Agency RMBS, commercial mortgage-backed securities, and other asset-backed securities, or ABS. WMC initially expects to borrow between five to nine times the amount stockholders' equity, although there is no minimum or maximum leverage that its investment policies explicitly require. (See its IPO prospectus here.)
The current interest rate environment is not friendly to the mortgage REITS as the long end of the yield curve has come down and there is no further down to go for the front end. This flattening of the curve promises to impact the mortgage REITs as they are spread based entities utilizing leverage to create returns. Mortgage REITs, if this environment holds (and why wouldn't it for the foreseeable future?), will have choices to make -- cut the dividend or raise the leverage. For a mortgage REIT in this environment, this is the equivalent of being between a rock and a hard place.
Given this environment, why would investors prefer to invest in newly formed mortgage REITs (despite some of their managers' long history of managing fixed income assets including assets similar to those being included in their new portfolios), with limited history and no battle scars from the credit contraction of 2007/2008?
Those who have read my prior articles know that I understand the upside and downside of mREITs and I am neither an mREIT fanboy or critic. I own the sector through REM (although I am considering buying the best names in the sector as opposed to the whose sector as hand picked securities are more my forte) and have no bias toward the sector. My point is that if I am going to be involved in the sector during tumultuous times, I want a product that has been through the shredder and lived to tell about it.
Perhaps the following chart will put it more eloquently than I can:
Click to enlarge image.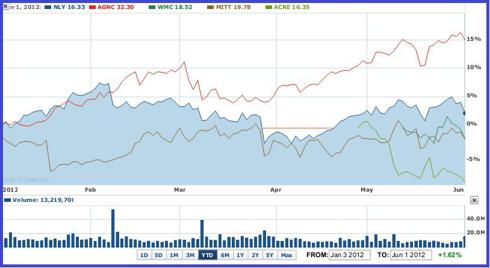 Keep in mind, I respect the abilities of Western Asset Management (NYSE:LM) and Angelo Gordon (I am less familiar with Ares, but I will have to come up the curve), but at this juncture I want the management teams and structures that I can judge from a historical, financial and management viewpoint.
Disclosure: I am long REM.
Disclaimer: This article is for informational purposes only, it is not a recommendation to buy or sell any security and is strictly the opinion of Rubicon Associates LLC. Every investor is strongly encouraged to do their own research prior to investing.