Some investors are beginning to wonder why Liberty Media (LMCA) suddenly seems so intent on buying more Live Nation (NYSE:LYV) and Sirius XM (NASDAQ:SIRI) stock. Is there some sort of inside deal in the works that investors on The Street are not aware of? Whatever it is, something is driving this sudden Liberty buying spree.
Liberty Media, the conglomerate controlled by John C. Malone, has increased its investment in Live Nation Entertainment, the concert and ticketing giant that includes Ticketmaster.

In a regulatory filing last month, Liberty disclosed that it now controls 25.6 percent of Live Nation, up from its earlier holding of about 20 percent. According to the filing, Liberty agreed to buy 9.5 million shares of Live Nation at about $9.68 per share, an investment of nearly $92 million. The investment is being made as part of an agreement that will be completed in July.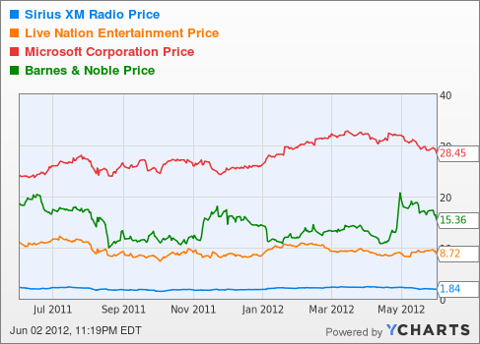 Liberty also indicated that it has "regulatory clearance" to buy up to 35% of the company. Last year, Malone said that he really wanted to take Live Nation private, but the deal would be financially difficult:
It would probably be nice for it to be private for a period of time, to settle down... to get everything working smoothly, having predictable financial outcomes.
Malone said much of the recent deal-making is being driven by Gregory Maffei, Liberty's chief executive officer who has had strong returns on deals such as Sirius XM. Malone said in an interview:
Maffei is batting 1,000. Even the Braves are doing well. So if Maffei says 'Do it,' you write a check.

Could we afford it? It may be a little out of reach right now. Between here and getting it done, is a pretty major financial challenge.
And as most investors know, Liberty has been buying Sirius stock in major chunks. It has increased its stake in that company from 40% to 46.2% (once a forward agreement for $2.15 a share closes this summer), but that is not enough. Now they are fighting for de facto control of the satellite company with a petition that has been re-filed with the FCC. The confusing thing to me is the fact that even though they had been in a "stand still" agreement for 3 years, Liberty could have gone to 49.9 percent of Sirius the last year of the agreement which ended in March. Why didn't Malone buy on the open market when Sirius was $1.27 in October? Why pay almost a dollar a share more in a forward agreement that was structured three months later in December?
On the Liberty Q1 conference call last month, Mathew Harrigan from Wunderlich Securities brought up an interesting scenario. He asked (if under the Liberty umbrella) could Sirius and Live Nation "tie in" with the (Microsoft) Barnes and Noble Nook High School Laptop/Tablet deal? CEO Greg Maffei answered:
Having seen some of the work that they (Sirius) have going down in their Boca Raton Technological Facility, I think there are a lot of capabilities both around Siri (inaudible) satellite based capabilities and internet based capabilities that I think can be packaged over time....this is very attractive on many platforms, and management is attuned to that.
The Microsoft (NASDAQ:MSFT) agreement with Barnes & Noble (NYSE:BKS) opens all kinds of doors for the companies involved. Consider that Liberty is also a partial owner of the bookstore company. At the beginning of May, an article in the Wall Street Journal detailed some of the possibilities in the near future:
By taking a minority stake in a new subsidiary that will market the Nook, Microsoft gains several footholds in e-reading. For starters, Barnes & Noble committed to creating a Nook e-reading app for Windows 8 - a forthcoming Microsoft operating system that will be used in tablet-style hardware and PCs - and for smartphones powered by Microsoft software. The Nook, like Amazon's Kindle Fire, runs on Google's Android software.

Another possible benefit for Microsoft is that its software may power devices designed for electronic books, magazines and newspapers. Executives of the two companies didn't rule out the idea that future Nook devices could run Microsoft operating systems, and their contract also cites the possibility Microsoft could make e-readers.
What the last sentence says to me is that the new Nook Tablets will run on Windows or another Microsoft operating system. And according to another source the new Windows 8 will be touch - enabled which will be perfect for a tablet:
The move comes just six months before the world's largest software maker is due to launch its new touch-enabled Windows 8 operating system, and the inclusion of a Nook app on Windows tablets should allow them to compete with Apple's (NASDAQ:AAPL) iPad and Amazon's (NASDAQ:AMZN) Kindle Fire.

It also gives Microsoft a direct interest in electronic publishing just as the market for downloadable college textbooks starts to take off and the publishing industry undergoes a radical shift toward electronic distribution.
It is a misconception that the eTextbooks would be loaded on the Nook Tablet. According to the B&N website the Nook Study, an eTextbook reader is only available on PCs and Macs at this time. This is because it is very hard to read a textbook on a smaller screen such as the Nook. The program can access over 2.5 million books and textbooks right now.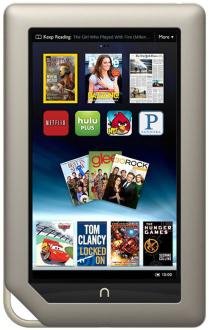 But the new Nook Tablet that came out last Fall can do a lot of things. It can download books, movies, Apps and more. There are even Apps for Netflix and Hulu. The Nook site lists hundreds of Apps, with one major omission; there is not a Sirius XM App. After checking their site, I contacted Barnes and Noble, and the representative confirmed that the "Sirius App is not supported by the B&N Nook". When I asked if there were plans to get the App, she replied "Not at this time". Seriously? When the company's major shareholder Liberty is the largest shareholder of Sirius? It does, however, have a Pandora (NYSE:P) App. Is this one of the things that Maffei is referring to in his answer to Wunderlich concerning a package with Live, Sirius and the Nook in the school tablets?
If the Nook (or Microsoft's) Tablet was enlarged to the size of a very small laptop screen, then Nook Study could be viewed on it. It is quite possible that many school districts would buy such a device for their students, which would allow the district to buy eTextbooks that are 60% cheaper than standard books. It will be much easier for students to just carry their tablet back and forth to school without lugging all those heavy books. The program also allows "find and search," highlighting, adding and exporting notes and more. If the B&N - Microsoft deal were to tap into this type of a market, and the tablet was provided to students by the school district, they would make millions on these tablets. With a Sirius App and a free three month subscription (for students only), Sirius could target a much younger crowd. Thousands of college students would also benefit from such a tablet.
How will this tablet compete with the iPad? Consider the cost first. The Nook Tablet right now starts at $199. Something that has bothered me about the iPad is the glare on the screen. Even though the Retina display is beautiful, it has a glare. The new Nook Tablet does not have a glare. It has been designed with a VividView display which reduces reflections. When the Nook gets a new Microsoft OS, the sky will be the limit. Don't forget that Microsoft has cell phone capabilities. Will these be added to the Nook?
However, the iPad (and i everything else) has something that the Nook needs: the Sirius App. Since it is available for most Android devices right now, I do not think it is that far fetched to expect a Sirius App on the Nook very soon. And once Windows 8 (or an equivalent) is installed on the Nook, the user should not even need a Sirius App.
How does Live Nation "tie in" to all of this? There are so many possible ways. I think the ideal thing to do would be to spin Sirius off into a company with Live Nation. Sirius is always putting on free concerts, and they deal with the artists daily. This would give Live a major shot in the arm. I honestly can see Mel running the whole thing. There could be live concert channels. With the use of the Nook's video capabilities, Live could broadcast the concerts over the internet right to the tablets, with a paid subscriptions, of course. The downside to this scenario is that Live is not making money. In Malone's eyes, this is probably good, because it could offer more tax advantages to offset Sirius' future earnings, which will probably plow through its own NOLS at record speed. The new company would never pay a dime in taxes. However, Sirius stockholders might not be happy. It could end up a huge win-win, but how long would it take for Live to turn around? However, as I said, with all of these companies involved, the possibilities are endless.
Disclosure: I am long (SIRI). I may buy any of these stocks mentioned in the next 72 hours.