Partly due to increasing generic-drug competition (generics were 63% of all prescriptions in 2006 vs. 50% in 2005) and the ongoing, fierce price war among drug retailers (see previous CD posts about $4 prescription drugs at Wal-Mart, Kmart, Publix, and Kroger), the inflation rate for prescription drugs fell to a 34-year low of 1.4% in 2007, way below the average annual inflation rate of 4.12% for 2007, and way below the 34-year average drug inflation rate of 6.28%. Click to enlarge: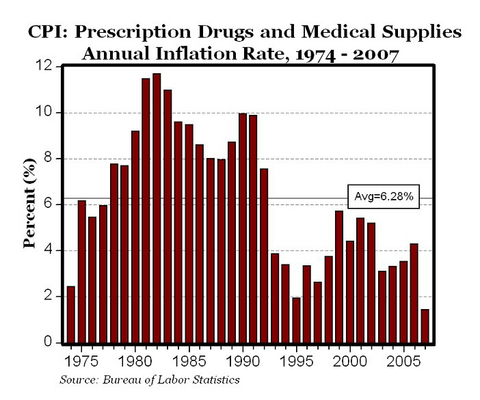 Robert Goldberg, Vice-president of the Center for Medicine in the Public Interest:
The decline in drug prices shows that when things go right in health care -- when competitive markets are allowed to function -- prices respond favorably for consumers, just as they do in other sectors of the economy. So while politicians and pundits in Washington dream up the next grandiose health care reform, smart consumers know that the most effective health care solutions may be right around the corner at their local retailer.