Shares of homebuilder Hovnanian Enterprises Inc (NYSE:HOV) are trading sharply lower on Monday following significant declines seen last week.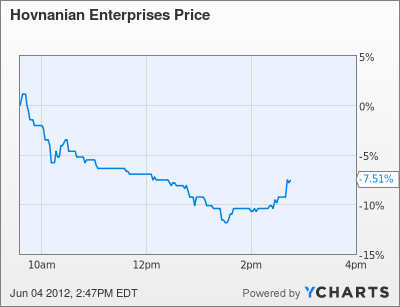 Sector Decline
One reason for the sell-off in HOV has been the move lower in the homebuilding sector in general. As shown by the chart below, other homebuilders such as Pulte Group (NYSE:PHM), KB Home (NYSE:KBH), and Toll Brothers (NYSE:TOL) have been under significant pressure recently.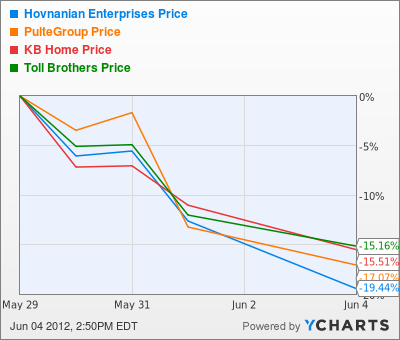 Weak U.S. Data
The primary reason for the recent decline has been weaker than expected data released on the U.S. economy. Arguably the most important piece of data recently released was last week's unemployment report. Hopes for the U.S. economy had been high prior to the report as investors had hoped the U.S. would be somewhat immune to the problems in Europe and Asia. However, the recent data does not confirm this idea. Homebuilders had benefited from this flawed line of thinking as the homebuilders are a U.S. play.
Debt
A major concern for HOV is its debt load. Currently, HOV has $1.67 billion in debt and just $158 million in equity. This is a major problem as HOV has found it difficult to turn a profit because of weak housing prices. If the housing market does not improve, HOV may find it difficult to pay its debt. This is the major risk for shares of HOV.
Short Interest
While the fundamentals are weak, it is dangerous to bet against HOV because the short interest is currently 30%. If any positive news comes out about the company or housing in general, shares will likely make a sharp move higher.
My Take
Given the debt concerns facing the company, I would avoid HOV. While shares might get some type of oversold bounce in the short-term, I would not try to play it. Instead, investors looking for a homebuilder should consider HOV's stronger, more well capitalized, competitors such as TOL.
Disclosure: I have no positions in any stocks mentioned, and no plans to initiate any positions within the next 72 hours.