The Federal Reserve's two-day policy committee meeting scheduled for June 19th and 20th has suddenly become much more interesting as the debate over further stimulus for the U.S. economy moved from the theoretical to the possible after Friday's dismal labor report.
Jon Hilsenrath at the Wall Street Journal, often considered to be a mouthpiece for the central bank, penned "Fed Is Sure to Step Up Debate on More Stimulus" late on Friday (also available here) that neatly summarizes the situation, though he probably didn't need any input from Fed officials to suggest that, if the Fed decides to act, it will either extend the current "Operation Twist" that is set to conclude later this month or "launch a new program in which it buys long-term bonds with money it creates", an effort that would quickly become known as "QE3″, the third round of "quantitative easing".
More related stories appeared this morning here, here, here, and here.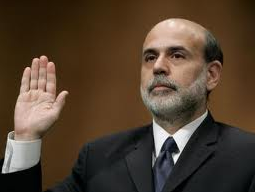 All eyes will be on Fed Chief Ben Bernanke on Thursday when he appears before the Joint Economic Committee in Washington to talk about the economic outlook and this will follow Fed Vice Chair (and fellow dove) Janet Yellen speaking on the same subject in Boston the day before.
All told, there will be more than a dozen appearances by Fed officials in the week ahead, all of whom have no doubt been scribbling furiously to put their thoughts on paper after the latest economic data.
After that, Fed officials will enter their customary "quiet period" in the week leading up to the FOMC (Federal Open Market Committee) meeting on the 19th and 20th as analysts try to assess how the Fed sees things and what they might say or do.
Two of the month's most important economic reports are now already in the books – the labor report and the ISM manufacturing index – so, most everything between now and the next Fed meeting will pale in comparison to what happened last week, however, two data points that could influence their thinking are the May retail sales report on June 13th and consumer prices on June 14th.
The retail sales data could indicate whether consumers are pulling back on their spending amid mixed signals on consumer confidence lately. Also, the latest inflation data is sure to indicate disinflation due to tumbling energy prices and this could make the central bank more comfortable about the idea of more money printing in the months ahead.
Clearly, the idea of Bernanke & Co. printing more money is on the minds of many investors this week and it appears that another "game of chicken" – between stock investors desirous of more monetary accommodation and a Federal Reserve that, lately, has shown few signs of doing anything other than sitting on its hands this summer – is now well underway.