The U.S. Treasury yield curve for May 25, 2012 to June 1, 2012
Issue

May

25

June

1

change

Bps

1 month

0.07

0.03

(4)

3 month

0.09

0.07

(2)

6 month

0.14

0.12

(2)

1 year

0.20

0.17

(3)

2 year

0.30

0.25

(5)

3 year

0.41

0.34

(7)

5 year

0.76

0.62

(14)

7 year

1.17

0.93

(24)

10 year

1.75

1.47

(28)

20 year

2.44

2.13

(31)

30 year

2.85

2.53

(32)

10y2y

145bp

122bp

(23)

source data: treasury.gov
Ouch, interest rates did not move as expected. Yields across the entire curve moved lower. The short end of the curve had little movement but the longer end of the curve saw sharp declines in yields. The question is, am I wrong or early? It would be nice to think of being early but after past few days, I am wondering if something was missed.
Last week, I wrote about 'Last week's Yield Curve article for week ending May 25, 2012'.
What is driving the fixed income market: Fear or fundamentals?
Some analysts have suggested that longer-term interest rates offer a negative real yield. However, the real yield is an unknown. Should deflation take hold then what looks to be low nominal yield may turn into an attractive real yield. That has happened in Japan, see chart below.
Should the market be concerned about deflation?
Commodity prices have been weak. Crude oil is off roughly $20 in the past month. If the current pace of decline ($20 a month) continues then oil would be $0 in under five months.

The stock market has been weak with price off nearly 10% from the high.

Worries over Europe continue to be broadcast on the daily news.

Concern over government spending.

Economic growth worries with soft PMI and nonfarm payroll figures.
Generally, when bad news hits the front page and Congress gets concerned, the worst has passed.
Outlook
[I'm] in the camp expecting interest rates to be flat-to-higher: However, should deflation take hold like in Japan, then yields might go far lower and stay at low levels that might surprise the most bullish of bulls. Notice the chart below, the inflation trend is similar but the U.S. rate of inflation has been higher.
Chart of Japan's year over year CPI. (Source)
Click to enlarge: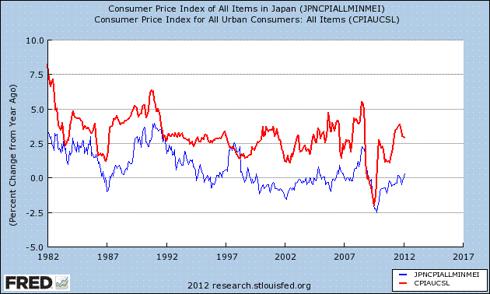 A 25bp to 50bp shift higher, across the yield curve, might help reduce deflation fears and at the same time provide some relief to savers and boost economic growth. This past week saw yields across the curve move lower.
The downside to higher interest rates would be increased interest expense paid by the government. However, it might be the only message Congress will understand in attempting to reach agreement on spending and revenue.
Something to think about.
Growth requires spending. When was the last time a firm didn't have revenue growth but created prosperity? If lower spending is the answer, then why has the cost of boards and management increased the past decade?
Performance of selected ETFs/ETNs
TBT is the ProShares UltraShort 20+ Year Treasury and should benefit from increasing interest rates.
TLT is the iShares Barclays 20+ Year Treasury and should benefit from declining interest rates.
FLAT is the iPath U.S. Treasury Flattener and should benefit from a flattening of the 10y-2y yield curve.
STPP is the iPath U.S. Treasury Steepener and should benefit from a steepening of the 10yr-2yr yield curve.
ETF

/

ETN

May 25

2012

Close

June 1

2012

Close

$

Change

%

Change

FLAT

61.69

63.67

Up$1.98

3.21%

STPP

36.62

34.56

Dn$2.06

(5.71%)

TLT

123.40

130.36

Up$6.96

5.64%

TBT

16.55

14.74

Dn$1.81

(10.94%)
Source: Yahoo Finance
Disclosure: I am long TBT.