Shares of Guess? (NYSE:GES) have given back most of their short-term gains since it jumped 6.5% after first quarter earnings beat Wall Street estimates, despite falling 35% year-over-year. The (somewhat) good news was desperately needed for the company, whose stock had hit a nearly three-year low the day before the release.
Buffeted by increased cotton prices and economic fears in Europe, the company's highest-margin retail market, GES has badly underperformed, particularly given the recent strength in the retail sector: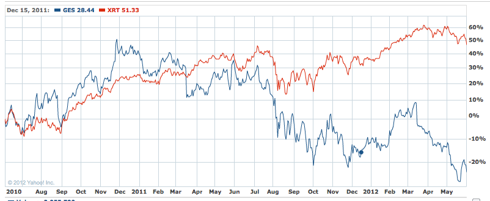 GES in blue; SPDR S&P Retail ETF (XRT) in red; two-year chart courtesy Yahoo! Finance
At its current valuation, Guess?' fundamentals are enticing. The company has guided for fiscal 2013 (ending January) earnings per share of $2.50-$2.65, putting its forward P/E below 10 at the midpoint of guidance. Net cash is nearly $3 per share, and the 80-cent per share dividend offers a yield of 3.16%.
But it's the company's ability to generate free cash that really makes GES worth a look. Free cash flow has been $241 million, $224 million, and $276 million in fiscal 2012, 2011, and 2010, respectively. Compared to the company's roughly $2 billion enterprise value, this performance represents, at worst, a double-digit yield. As Bloomberg noted in a piece about the company's potential for a leveraged buyout, "Guess has a free cash flow yield higher than 97 percent of its rivals."
And yes, European economic weakness has definitely hurt the company, but management is attempting to ameliorate those difficulties through expansion elsewhere. Revenue in Asia rose 8% in the first quarter; in the Q1 conference call, COO Michael Prince touted the company's expansion plains in Brazil, Turkey, and Japan. Even within Europe, Guess? has focused on stronger economies such as Germany and Russia, both of which have "perform[ed] really well," as CFO Dennis Secor told analysts on the Q&A.
Right now, Guess? is priced as if it had completely lost it way; severely damaged its brand; or completely failed in its recent execution. That's simply not the case. The company is struggling with the European crisis, as many global companies are, and currency headwinds have hurt both the top and bottom lines. (Revenues, as reported, fell 2% in Q1. They actually rose when excluding currency effects.) The continuing near-term weakness in the euro may exacerbate some of those issues in Q2, but this should not be of real interest to long-term investors. Guess? is a company that is facing a rough patch but that is still creating revenue growth, still has the potential for earnings growth post-FY13 (indeed, analyst consensus is for a 14% increase in EPS from FY13 to FY14), and still has a valuable global brand with considerable potential in emerging markets.
Yet Guess? has fallen out of favor with Wall Street -- in a dramatic way. The stock is down nearly 40% over the last twelve months, which is ironic considering the strength in other retail stocks. American Eagle Outfitters (NYSE:AEO), which like Guess? has seen cotton prices and economic worries hurt its earnings, has taken off in 2012.
Most notably, Gap Inc. (NYSE:GPS), a perennial turnaround candidate, saw its stock reach a 10-year high in April, boosted by "euphoria" on Wall Street. Yet Gap, as I noted in February, has spent the past ten years with essentially no revenue or net income growth (EPS growth has been created almost entirely by the company's share repurchase programs.) Guess?, over the same span, grew earnings every single year, until the fall in fiscal 2012. Gap is trading at over 15 times the midpoint of its earnings guidance, compared to less than 10 at Guess?, while its dividend yield sits below 2%, compared to the better than 3% from GES.
It seems likely that the disparity won't last. While GPS has pulled back from its multi-year highs, it still appears overvalued, particularly in relation to GES. Guess? has more international exposure -- and potential -- more cash, a better dividend, and a better history of consistent execution. A pairs trade between the two stocks -- short GPS, long GES -- would be of interest, but given GES' single-digit multiple, the simple play is probably the correct one. For long-term investors willing to handle some near-term volatility based on European fears, Guess? is simply too cheap to ignore right now.
Disclosure: I have no positions in any stocks mentioned, and no plans to initiate any positions within the next 72 hours.