By G C Mays
The recent stock market sell-off continues to pummel fertilizer stocks. The stocks of Mosaic (NYSE:MOS), Potash Corp (POT) and Intrepid Potash (NYSE:IPI) have hit or are approaching multi-year lows. The stocks of fertilizer companies that have large nitrogen operations such as CF Industries (NYSE:CF) and Agrium (AGU) have declined as well, however, they have yet to approach multi-year lows. Back in May when I penned a piece entitled, "Has Recent Sell-Off Created A Buying Opportunity For Fertilizer Stocks?", I wondered aloud if it was time to buy the fertilizer stocks after their recent price declines. I concluded my thoughts by writing,
Prior to the debt crisis in Europe returning to the forefront, my bias was to the upside beginning in the second half of the calendar year on the basis of dealer restocking. With Europe and now dry weather increasing crop price volatility, the picture is now a little less clear. Investors with a long-term time horizon could use this as an opportunity to initiate or add to existing positions. For those with a trading or short-term time frame, the liberal use of stops might be the most prudent thing one can do. Signs of a weakening dollar may signal a return to relatively higher prices.
If you traded these securities, I hope you made liberal use stops as I suggested. US markets are being held hostage by uncertainty in Europe. When this happens US markets become highly correlated with the EUR/USD exchange rate. The relationship between fertilizer stocks and the S & P 500 has risen to almost 1, which is perfectly correlated. All results have statistically significant t-statistics.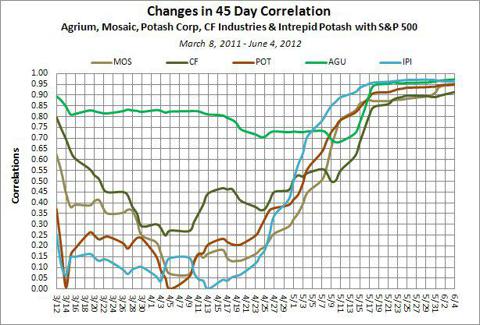 Source: The Mays Report
These stocks also have a strong direct correlation with the EUR/USD exchange rate, however their correlation with the S&P 500 is stronger. Using the most recent 45 trading days the S&P 500 has a 0.94 correlation with the EUR/USD exchange rate through the June 4th market close.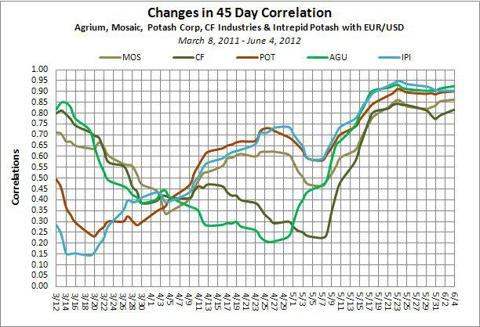 Source: The Mays Report
When a stock has a strong relationship with two independent variables that also have a statistically significant relationship with each other they are said to be serially correlated. If we were trying to build a model to predict future stock prices this would invalidate the model. However, we merely seek to understand what is driving the price direction of these stocks over the short-term.
In contrast to the fertilizer stocks near perfect correlation with the EUR/USD exchange rate and the S&P 500, they have a relatively low correlation with crop prices compared to the EUR/USD exchange rate and the S&P 500.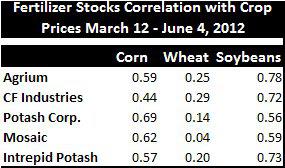 Source: The Mays Report
Fertilizer market fundamentals certainly do not suggest such a sudden decline in the prices of these stocks. With signs of persistent drought in the mid-west, the record corn crop could be threatened, which would be bullish for crop prices.
Potash producer inventories are finally starting to fall as producers lower their wholesale pricing. Despite the decline inventories are still above year ago levels. According to the USDA, dealers are holding retail potash prices firm. Phosphate prices have been relatively steady during the quarter as inventories decline. Phosphate inventories during April 2012 were 32 percent lower than the same month a year ago. In the nitrogen space, some prices are rising like ammonia while others are softening or falling like Urea and UAN. It's the expected mixed bag in an industry that is still performing fundamentally well at or near the end of its current business cycle.
Whenever Europe's sovereign debt woes rears its ugly head, the correlation between US markets and the EUR/USD exchange rate spikes as the greenback strengthens. When things calm down, any meaningful correlation between the two disappear as the dollar weakens again. Excluding economic expectations, the dollar is fundamentally weak relative to the euro because real interest rates are higher in the euro zone than in the US.
As I concluded in the above article a few weeks ago,
Signs of a weakening dollar may signal a return to relatively higher prices.
What we don't know is when?
Disclosure: I have no positions in any stocks mentioned, and no plans to initiate any positions within the next 72 hours.