Futures estimated a 63% chance that the Reserve Bank of Australia (RBA) would cut rates by 50 basis points Tuesday night, but the RBA went with the analyst consensus of a 25 basis point cut to 3.50%. In its statement on monetary policy, the RBA seemed to meander across economic data points more than usual. The two main concerns now are the on-going sovereign debt crisis in Europe and housing prices that have started to decline again. With "interest rates for borrowers…a little below their medium-term averages," the RBA is officially accommodative and stated as much. However, unlike previous statements, the RBA did not seem to give strong guidance going forward.
Perhaps the key will be expectations for inflation:
Inflation is expected to be in the 2%-3% range. In the near-term, it is likely to be in the lower part of that range, though maintaining low inflation over the longer term will require growth in domestic costs to slow as the effects of the earlier high exchange rate wane."
In other words, the RBA is wary that its accommodative stance may facilitate an unwelcome rise in domestic costs. Since the RBA should be focused on the longer term rate, this statement seems to suggest that rate cuts are over for now barring further economic shocks. I expect the currency markets to only slowly but surely come to this same conclusion and gradually push the Australian dollar closer to parity with the U.S. dollar (NYSEARCA:FXA). Volatility on the way there should remain extremely high (meaning lots of short-term trading opportunities for bears and bulls).
The Australian dollar has declined for three months almost non-stop. A relief rally back to parity, and perhaps a little higher to meet resistance at the 50-day moving average (DMA) seems like a high probability outcome for the near-term. Beyond that, the outlook for the Australian dollar remains bearish.
Click to enlarge: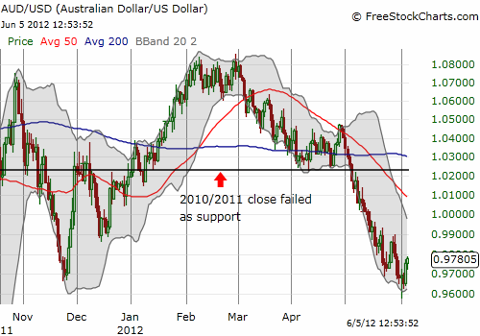 Time for a small relief rally?
Certainly with the rally in the U.S. dollar index (NYSEARCA:UUP) finally stopping at a brick wall, the Australian dollar's near-term prospects have improved (note that the "Aussie" is not included in the U.S. dollar index).
Be careful out there!
Disclosure: I have no positions in any stocks mentioned, but may initiate a long position in FXA over the next 72 hours.
Additional disclosure: In forex, I am net long the Australian dollar