Market Recap: The market rallied back from early deficits only to reverse again in the last hour. The market got some boost after Friday's heavy sell-off after Spain seemed to suggest that they were going to get support from the EU, and the idea of a permanent bailout fund was kicked around. The talks of European support helped the Euro rebound in strength and bring the dollar down. The weakness in the dollar did support some stocks. Factory Orders, however, came in under expectations at -0.6% vs. the flat expectations. That news hurt stocks and continued the weak trend we have been seeing in stocks.
We have a lot of news coming out this week from Europe as far as data and developments as well as expectations that the Fed may start to telegraph their next move. At the same time, the market is hurt right now and needs some catalyst. We did hold some key technical levels today, and that technical level may hold up until some more weaker news really takes hold. Overall, though, we are in a tough market.

Two Trades:
Two trades that we are looking at right now that we like are a pair trade with Sanderson Farms (NASDAQ:SAFM) long and Tyson Foods (NYSE:TSN) short. At the same time, we like bull put spreads on Comcast (NASDAQ:CMCSA) and other telecom companies as we expect them to hold up. The reason we like the pair with a long on SAFM vs. short TSN is that SAFM had some outstanding earnings in late May and has been holding up very well in the current market weakness. Goldman Sachs (NYSE:GS) commented that they would be aggressively buying SAFM. Tyson broke a key 200-day MA lately and looks very weak in comparison to SAFM. Right now, we also like CMCSA to hold the $28 level moving forward. 28 has not been broken since the February gap above it, and the stock should hold that area over the next two weeks. CMCSA is going to maintain itself even amongst weakness as the stock is a strong stalwart.
Trade #1: Long SAFM, Short TSN
Trade #2: Jun16, 28/27 Bull Put Spread, CMCSA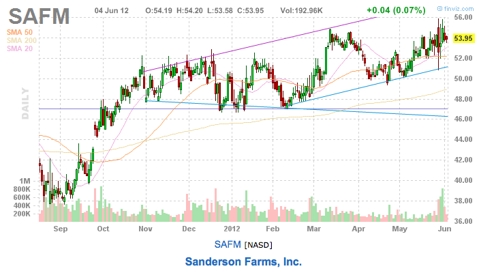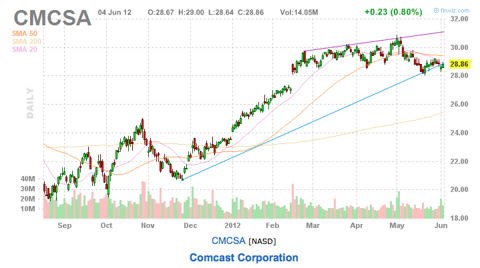 Tomorrow's Outlook:
Tomorrow is highlighted by continued developments out of Europe as well as a number of economic data points that can move the markets. Important data points will be Euro-Zone Retail Sales announcement as well as German Factory Orders. Those two data points will be important to the European markets...thus American markets. We also get an important ISM Services number that will be important to our markets tomorrow especially since data has been so weak as of late. Developments about Germany's engagement in helping Spain further is important as well. Further, we will see if the Fed can telegraph any more information. Dollar General (NYSE:DG) earnings are on tonight as well.
Commodities:
Oil seems to have temporarily bottomed, and if we get QE sometime soon than the $80 level will hold. If we do not get QE and this summer continues in the current fashion, it is unlikely that oil will hold that level. Gold will also be weak. Right now, we believe that its most likely gold or oil move a lot over the summer from here. For that reason, we like a reverse iron condor on United States Oil (NYSEARCA:USO) and SPDR Gold (NYSEARCA:GLD) to take advantage of unknown but expected volatility.
Oxen Group Moves:
We had a solid day as we closed a number of positions. We got out of a Caribou (NASDAQ:CBOU) long, FMC Tech (NYSE:FTI) short pair for a 4.5% gain. We also closed 1/2 of a Sina (NASDAQ:SINA) bear call spread for a 9% gain as well as General Dynamics (NYSE:GD) bear call spread for 15% gain. We added the pair trade above in SAFM and TSN as well as CMCSA bull put spread. We also closed a Bristol Myers (NYSE:BMY) long and Smuckers (NYSE:SJM) short for a 4% gain.
We have the following positions. In our Short-Term Equity Portfolio we are long Sanderson Farms , Bed Bath & Beyond (NASDAQ:BBBY) and TripAdvisor (NASDAQ:TRIP). We are short Tyson Foods , Molson Coors (NYSE:TAP) and SPDR Dow (NYSEARCA:DIA). In our Options Portfolio, we are long Comcast , Monster Beverage (NASDAQ:MNST), Disney (NYSE:DIS) and Panera Bread (NASDAQ:PNRA). We are short Priceline.com (PCLN), Sina , Apple (NASDAQ:AAPL), and General Dynamics . We have a reverse iron condor on Ultra Proshares Financial (NYSEARCA:FAS). In our Earnings Alpha portfolio, we are long FedEx (NYSE:FDX), Discover (NYSE:DFS), Western Digital (NYSE:WDC) and Dollar General . We are short Adobe (NASDAQ:ADBE). We have a reverse iron condor in Verifone (NYSE:PAY) and reverse iron butterfly in Joy Global (NYSE:JOY).
Chart courtesy of finviz.com.
Disclosure:
I am long TRIP.