Point of sale payment systems company VeriFone Systems (NYSE:PAY) had been - until the most recent earnings announcement - a very nice, post bear market growth stock. From the March 2009 market bottom until the end of April 2011, VeriFone's share price gained more than 1,200%. The share value then dropped by 40% over the summer of 2011 and recovered all of the decline by the end of April 2012. Now a repeat of mid-2011 is in progress and the VeriFone share price has again dropped by close to 40% since the end of April, through early June.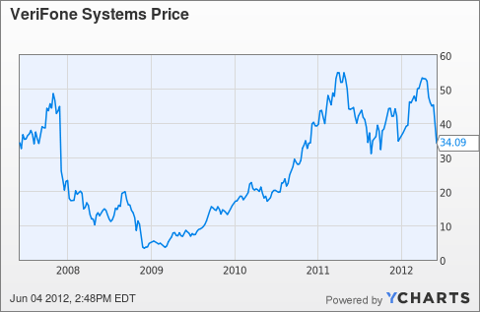 The reasons for this stock sell-off seem to be market reaction to two significant acquisitions in Europe late last year coupled with the current European economic problems and the declining value of the euro. VeriFone generates about 60% of its revenues in non-dollar currencies and a large portion of that - about 70% with the acquisitions - is in euros. A restatement of the company's cash flow after the release of the 2012 Q2 earnings seemed to fuel the fires of worry and powered the sell-off of VeriFone shares.
In spite of the worries, VeriFone's growth potential seems to be intact. The lower euro will give a short-term impact, but soon all of the company's products sold in the euro region will be price-adjusted for the new exchange rates. The company has consistently put out earnings growth guidance and then beat that guidance, making analysts and investors happy. On a recent Q&A conference call, management reiterated their growth expectations for the rest of 2012 and into 2013.
The consensus earnings estimate for 2012 is $2.67 per share with half the fiscal year yet to be reported. This would be a 39% improvement over the 2011 full year results. The estimate of $3.27 per share for 2013 would be another 22% gain. If the recent acquisitions perform as expected, the 2013 results will be much better than the current forecast. At $34.40 per share, VeriFone is trading at 13 times the 2012 expected earnings.
Short sellers dove into VeriFone in March and April, with the number of shares sold short increasing to 13 million, up from 9 million at the end of February. The short interest declined by 900,000 shares in the first half of May, indicating the shorts are starting to cover. As this point in time, end of May short data is not available.
If last year's results are an indicator, VeriFone's share price should bottom near current levels. A recovery back above $50 per share is very possible by the end of 2012.
Disclosure: I have no positions in any stocks mentioned, and no plans to initiate any positions within the next 72 hours.