There is no doubt the future of the eurozone is murky to say the least, and that this is probably the single biggest dark cloud hanging over global equity markets. Just to take on example, billionaire investor George Soros has publicly stated that Germany has three months to save the eurozone, and that failure to do so would condemn Europe to a lost decade. Frankly speaking, I think the eurozone's demise would be more than a lost decade, and would almost certainly trigger a full-scale depression in Europe and a severe recession globally.
However, even if the eurozone somehow survives as Europe's governments and institutions take the dramatic steps necessary to save the euro, I still believe much of the developed world is condemned to suffer several years to a decade of slow growth, with a number of smaller recessions occurring at intervening periods as well. The reason for this is the massive debt overhang in major global economies. The chart below provides a good visual overview of total debt-to-GDP ratios in the developed world:
This kind of debt overhang results in what Nomura's Richard Koo has termed a "balance sheet recession." From my perspective, it is the clearest and simplest explanation I have seen of why the economy has not bounced back as well as it has from previous recessions, as well as why we can continue to expect sluggish growth going forward.
In a balance sheet recession, the focus of the private sector is to pay down debt and deleverage their balance sheets, rather than to maximize profits and/or spend money. With the private sector de-leveraging, even with interest rates at the zero-bound for several years, any newly generated savings and/or debt repayments by the private sector may enter the banking system, but this money does not exit and simply stays on banks' balance sheets and/or is parked at the FED. The reason for this is that where consumers are focused on paying down debt, while banks are simultaneously looking to repair their balance sheets, the transmission mechanism between the banking system and the real economy remains broken. This is, I believe, a large part of the reason why the money supply has not been growing, despite the sharp increase in the size of the FED's underlying balance sheet due to QE. Below is an excellent visual overview of Koo's thoughts on balance sheet recessions:
Turning to the U.S., this graph from the U.S. Department of Commerce perfectly encapsulates what we have been seeing from U.S. consumers the last few years: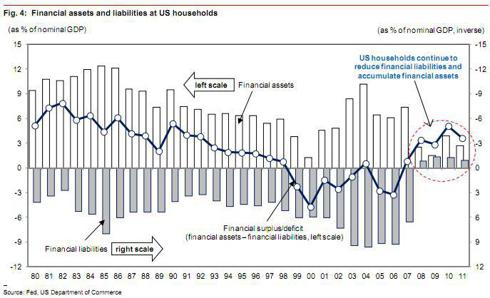 As U.S. consumers continue to focus on reducing their financial liabilities, it is natural that the private sector becomes cautious about making new investments if it cannot be sure of the underlying demand. Given that close to 70% of U.S. GDP comes from consumer spending, it is not surprising that the economy remains sluggish as consumers focus on repairing their balance sheets. I believe that until the private sector in the U.S. - particularly consumers - have deleveraged their balance sheets to a level they are comfortable with, the slow-growth trend will continue.
How to invest based on the information above? I came across an article by Paul Farrell on MarketWatch that outlines the views of economist Gary Shilling, who has been largely correct the last few years in his analysis of the economic and investing climate. Below is a summary of of Farrell's investing suggestion taken from his article:
Income-producing securities. Shilling says look for "stocks in utilities, drugs and telecoms." Many have "high, safe and rising dividends." Other buys include "investment-grade corporate and municipal bonds and some master limited partnerships." Buy them individually, and as funds or ETFs.
Treasury bonds. America is the world's bank, a "safe haven in a sea of trouble," and a "response to slowing economic growth and looming global recession." Shilling's a classic contrarian, believes "inflation fears will turn soon to deflation worries." The yield on 30-year Treasurys … is getting close to our 2.5% target, the 2008 post-Lehman low." Buy them through brokers, banks, ETFs, futures contracts, or TreasuryDirect.gov.
The dollar vs. the euro, Australian dollar, yen. Again, Shilling's convinced "the buck is the world's safe haven. The euro may break as the financial crisis remains unresolved and the recession unfolds" in the eurozone. "Australia has become a captive mineral supplier to faltering China." The yen is down. Invest in futures contracts, ETFs, put options, the dollar index (NYE:DXY) .
Rental apartments. A huge inventory still overhangs the housing market as prices continue falling. The American dream of homeownership may be history. Renting is the affordable option. And with REIT prices running high, "direct ownership of rental apartments may still be attractive."
Medical office buildings. A solid investment opportunity: "Aging postwar babies, the 2010 healthcare law and the migration of physicians from private practice to hospital employment" create "steady growth in this real estate sector," in spite of regulations and court rulings. Invest in REITs and direct ownership.
North American energy. This may be one of best opportunities for investing in austerity since America's policy is to reduce dependence on imported energy. Shilling favors "natural gas, on- and off-shore drilling and Canadian oil sands. Natural gas prices may have bottomed, and with production rising due to leasehold requirements and desirable natural gas liquids, pipelines are attractive." Nuclear slowed after Japan earthquake. "Renewable energy, including ethanol, is problematic since it depends heavily on unpredictable government subsidies." Invest in stocks futures, ETFs.
Seven sectors you should consider selling and shorting
Developed country stocks. China's in a hard landing. Commodity exporters hurting. U.S. multinational earnings will be hurt by a strong dollar and eurozone recession. America's slowdown will hurt corporate profits despite more cost-cutting. Shilling warns against Wall Street's optimism, sees "$80 per share in S&P 500 operating earnings vs. $106 estimates by Wall Street analysts, and a bottom P/E of 10." Avoid stocks or short market with ETFs or futures.
Developing country stocks. "China is close to a hard landing. She and other emerging exporters are vulnerable to economic weakness in the U.S. and Europe. Implement with ETFs on China-related stocks."
Sell U.S. major and regional banks. Too much pressure on "proprietary trading and other profitable activities." Banks are getting "busted back to less-lucrative spread lending." Regionals stuck in bad real estate loans, weak loan demand. Use ETFs.
Commodities. Forget Jim Rogers' "Bull in China" hype. This bubble's overblown, primed to pop, thanks to China's hard landing, the eurozone recession, global slowdown.
Junk securities. Last year's pre-borrowing by yield-hungry investors" didn't help. "Default rates are likely to leap in the global recession," and junk prices drop.
Sell home builders. As housing keeps deteriorating, not a good investment.
Sell your house, second home or investment single-family houses. Not a pretty picture: Shilling's warning that excess inventories will continue haunting the economy and markets for "the next several years," pushing "prices down another 20%."
I personally quite like the Utilities Select Sector SPDR ETF (NYSEARCA:XLU), as consumers and organizations will always need electricity. I also quite like the apartment rental thesis as more and more people - especially singles - will be unable to obtain financing for a home and/or have concluded that after watching the carnage of the last few years that home ownership is not for them. One of the leading options to own here is Avalon Bay Communities (NYSE:AVB), which owns residential apartment complexes across 10 states and the District of Columbia.
In addition, although many Treasury Bears would disagree given already rock-bottom yields, I personally would own at least some Treasuries as a hedge against the U.S. tipping into outright deflation. For this, the iShares Barclays 10-20 Year Treasury Bond Fund (NYSEARCA:TLH) or the iShares Barclays 20+ Year Treasury Bond Fund (NYSEARCA:TLT) are good bets. Finally, given that Shilling expects the dollar to strengthen, the PowerShares DB USD Bull ETF is a good choice.
Among Shilling's short suggestions, investors could consider how the global growth slowdown will affect the demand for industrial metals. If I were to short a commodity ETF or ETN, it would be iPath DJ-UBS Industrial Metals Total Return Sub-Index ETN (NYSEARCA:JJM).
Disclosure: I am long TLH in my 401K