Investors who search stocks based on high dividend yields should focus on sectors or companies that exhibit high free cash flow generation and sustainable payout ratios, resulting on a safe income over the long-term. The integrated oil sector offers just that for investors, a very rare combination of high and sustainable shareholder remuneration.
These companies' earnings are mainly exposed to oil prices volatility, due to their high weight on profits from the Exploration & Production divisions. Naturally, high oil prices translate to higher profits and cash flow generation. Strong free cash flows support above-average yield that ultimately flow to shareholders through dividend payments.
The quality of balance sheets is high within the sector and in a world of (around) $100 per barrel of oil, even during a period of crisis in Europe and clear signs of a global growth slowdown, in the long - term there shouldn't be many concerns about dividends. Nevertheless, differentiating companies on dividend quality is crucial should oil move south or the world economy experiences a crisis.
Given the global correction on equity markets over the last weeks, the oil sector offers a cheaper way to grab companies with very good dividend quality. The U.S. oil sector is the biggest in global oil, but it doesn't offer the same number of high dividend yield stocks as in Europe. The exception is ConocoPhilips (NYSE:COP) that yields slightly more than 5%.
The following four stocks offer a combination of yield and low payout ratio, which means the dividends are to a certain extent safe and could be increased if a global downturn as in 2008-09 is averted.
| | | | | |
| --- | --- | --- | --- | --- |
| Company | Market Cap ($b) | Div. Yield | Payout Ratio (2011) | PER Ratio |
| ENI (NYSE:E) | 77,5 | 6.68% | 47.5% | 7.1 |
| Total (NYSE:TOT) | 100,9 | 6.63% | 41.8% | 6.3 |
| Royal Dutch Shell (NYSE:RDS.A) | 197 | 5.43% | 33.7% | 6.2 |
| OMV (OTCPK:OMVJF) | 8,7 | 5.14% | 31% | 6 |
Source: Bloomberg
ENI: Is a major integrated energy company, based in Italy. The Italian State is the largest shareholder with a 30% equity stake. ENI is committed to growth in the activities of finding, producing, transporting, transforming and marketing oil and gas.
Although ENI is perceived as a defensive company, in 2009 it had to cut dividends to protect its credit ratings so as to be able to secure funding of its activities. The company last year was hit by militant disruption in Libya and by lower domestic gas sales, but managed to increase its dividend by 4%. Over the last six years, the average payout ratio is 57%.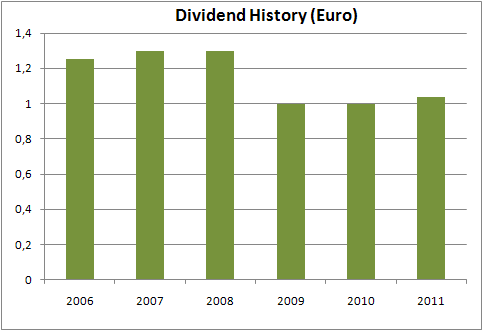 Source: ENI
Total: Total is one of France's largest corporations and the fifth largest publicly - traded integrated international oil and gas company and a world-class chemicals manufacturer, Total operate in more than 130 countries. Total engages in all aspects of the petroleum industry, including Upstream operations (oil and gas exploration, development and production, LNG) and Downstream operations (refining, marketing and the trading and shipping of crude oil and petroleum products).
Total paid a stable dividend over the last four years at 2.28€ per share, being one of the few companies within the sector capable of maintaining the shareholder remuneration unchanged in 2008-09. Since 2006, the average payout ratio is 45%. Total's share performance has been significantly affected since March 26 by the gas and condensate leak at its production facility in the U.K. North Sea. Taking a longer term view, its riskier and bolder exploration approach has already begun to pay off with four important discoveries in 2011.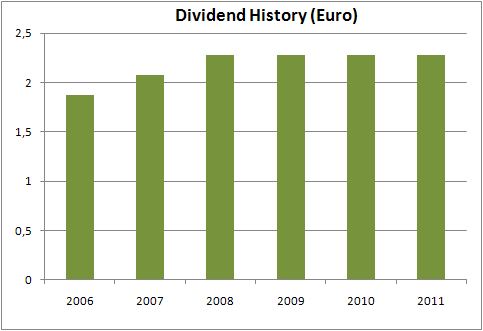 Source: Total
Royal Dutch-Shell: Shell is a global group of energy and petrochemical companies. Its headquarters are in The Hague, the Netherlands. The parent company of the Shell group is Royal Dutch Shell plc, which is incorporated in England and Wales.
Shell policy of growing the U.S. dollar dividend at least in line with inflation changed at the beginning of 2010. The new policy is to grow the U.S. dollar dividend in line with management view of the underlying earnings and cash flow of Shell. The dividends will be declared and paid quarterly. Shell was able to increase the dividend in 2009, showing its balance sheet strength. The average payout ratio since 2006 is 44%.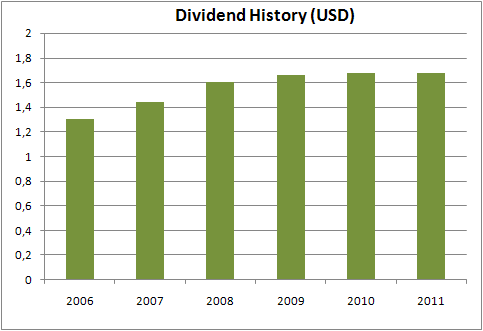 Source: Bloomberg
OMV: OMV, headquartered in Vienna, is one of Austria's largest listed industrial companies. As an international and integrated oil and gas company, OMV focuses on profitable growth in its three business areas of Exploration & Production (E&P), Gas & Power (G&P) and Refining & Marketing including Petrochemicals (R&M). OMV runs a network of more than 4,500 filling stations under the brand names OMV, Avanti, Petrom and Petrol Ofisi and operates four refineries.
Regarding dividend policy, OMV has a progressive dividend policy aimed at achieving a level comparable to the average of its peers in Europe. OMV is confident that it offers a stock which offers an attractive alternative to its oil and gas peers. OMV's dividend has been stable from 2008 to 2010, the 2011 10% dividend increase to €1.1 demonstrates management conviction in the company's future prospects. The average payout ratio for the last six years is very low at a ratio of only 32%.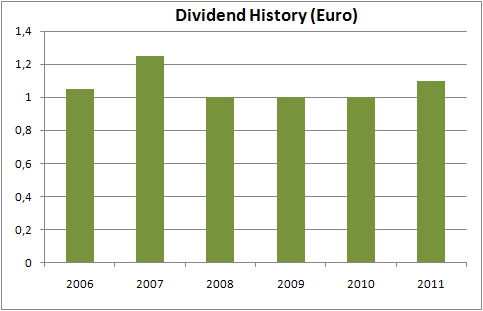 Source: OMV
Additionally to these four stocks, Repsol (OTCQX:REPYY) also has a very attractive yield of 8.9% but the dividend security is much lower. After the expropriation of its Argentine unit YPF (NYSE:YPF), the company revised the dividend policy to a range 40-55% of earnings, and if the recession in Spain turns worse than expected it can hurt Repsol's earnings and consequently reduce the dividend.
Statoil (NYSE:STO) offer a yield below the 5% threshold but could also be a good opportunity for income investors. For more analysis, you can see my previous article "5 Stocks yielding over 4% from 'safe haven' Norway".
Disclosure: I have no positions in any stocks mentioned, and no plans to initiate any positions within the next 72 hours.