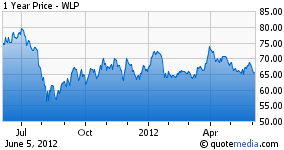 Although the sell-side community seemed surprised by WellPoint's (WLP) decision to acquire 1-800 Contacts, it seems likely to me that there are going to be quite a few more deals like this in the future. Health insurance companies (or managed care organizations, if you prefer) are realizing what banks realized long ago - there's just not enough growth in the core market to meet Wall Street's bottomless appetite.
Consequently, growing those businesses that lie outside of regulatory authority is one of the few options left, and it's one that I expect WellPoint and Unitedhealth (NYSE:UNH) will pursue as aggressively as shareholder sentiment will tolerate.
A Small Deal
After an article in the Wall Street Journal, WellPoint confirmed that it intends to acquire 1-800 Contacts, reportedly for $900 million in cash. Having purchased the business for about $340 million in 2007, Fenway Partners walks away with a solid gain, while WellPoint gets a relatively large player in the retail eye care market (1-800 Contacts seems to have about 10% share).
Details are still a little sparse, but WellPoint appears to be paying between 2.0x and 2.5x trailing sales for 1-800 Contacts, not a bad multiple for what is basically a retail healthcare company. The deal won't be accretive until 2014, though, and the initial sales contribution is going to be pretty modest relative to WellPoint's current business.
One Small Step, But Maybe A Giant Leap
The bigger question, though, is the extent to which this is just a small piece of a bigger picture. About 93% of WellPoint's 2011 revenue came from premiums, and those premiums have come under greater and greater regulatory scrutiny. That puts WellPoint, Unitedhealth, and Aetna (NYSE:AET) at risk of getting stuck between state-level regulatory push-back on premiums and government-mandated medical loss ratios (assuming healthcare reform stays in place as currently written).
This gives the health insurance companies ample motivation to find new sources of revenue and profit outside of the traditional insurance business. To that end, Unitedhealth has previously purchased a hearing aid company, and its likely that more deals could be one the way. In the case of WellPoint, management has previously made it clear that vision care is a priority for the business and additional investments could follow.
There is another angle to consider in these deals. If or when health insurance exchanges come into play and individuals have more choice in insurance, the ability to offer perks like discounted retail products or supplies (including contacts, hearing aids, diabetes supplies and so on) could become a meaningful path to competitive differentiation.
Multiple Shots On Goal Drawing Away Buyback Cash
These aren't the first steps that WellPoint has taken in diversifying its business. The company bought CareMore last year for nearly $1 billion, and management has followed up that deal with the intention to open another dozen clinics this year. While the apparent conflict of interests of an insurance company also owning a service provider, the fact is that it makes sense from the company's perspective as it looks to control costs and better compete with Unitedhealth and Humana (NYSE:HUM) in the Medicare business.
Like the 1-800 Contacts deal, ongoing investment in clinics makes sense from a longer-term perspective. It should help the company control costs, control physician behavior, offer some leverage in reimbursement negotiations, and capture enhanced physician payments. But it takes money to make money, and some investors will likely grouse about how the expansion draws money away from buybacks despite the high apparent internal rate of return.
The Bottom Line
With only about 3% top-line growth in the past quarter, it's not hard to argue that WellPoint management has to think outside the box to keep the business growing. While this remains a strong cash-generating business that can spin off that cash for years, businesses like that don't tend to get much respect from a valuation perspective.
Clearly there are risks to WellPoint's ongoing expansion. But as has been the case for highly-regulated banks, growing unregulated ancillary businesses can be a good way of boosting long-term returns on capital. Provided that the company can maintain a double-digit return on equity, these shares still look relatively attractive for long-term investors.
Disclosure: I have no positions in any stocks mentioned, and no plans to initiate any positions within the next 72 hours.