During the Great Depression in 1932, gold went up while utilities (energy, oil) went down. Oil companies were almost all going bankrupt. A $10,000 investment in the relatively "safe" utilities in late 1929 was only worth a mere $2,100 on New Year's Eve 1936. Today, I believe the same is going to happen because the United States has accumulated records of debt, both external as public debt. Its budget deficits are skyrocketing, as most of its spending is borrowed from foreigners. Once the market figures out this debt is not going to be paid back, yields on government bonds will spike upwards, initiating the coming Depression. So what will happen to gold mines then?
Every company has revenue and costs. Revenue from a gold mine comes from the gold they mine and sell. This asset was very precious to people, so gold mines benefited from the gold price going up. Production costs were going down as oil went down due to the worsening economy during the Great Depression. So, when revenue goes up and costs go down, margins start to increase a lot. This is what happened during the Great Depression, and this will happen once again.
On 1 June 2012, oil went down almost 5% (Chart 1) while gold went up more than 3% (Chart 2). The effect is that gold mines went up more than 6% on average. Newmont Mining (NYSE:NEM), Barrick Gold (NYSE:ABX) and New Gold (NYSEMKT:NGD) surged 7%. Goldcorp (NYSE:GG) even went up 10%.
Since the start of exactly 1 May 2012, oil prices went down huge, while gold was forming a bottom. It looks now that gold prices could go up technically against the U.S. dollar as the euro is in oversold territory. This will be very beneficial to gold miners. Following Chart 3 gives the performance of oil (NYSEARCA:OIL), gold (NYSEARCA:GLD) and the gold miners (NYSEARCA:GDX) against each other during the month of May 2012. You can see that gold miners outperformed the gold price.

Chart 3: Oil VS. GLD VS. GDX
As for the outlook in gold and silver, we can see rising interest in precious metals when we look at the premiums in gold and silver (Chart 4 and Chart 5).
PHYS Sprott gold premiums are forming a bottom (blue dots).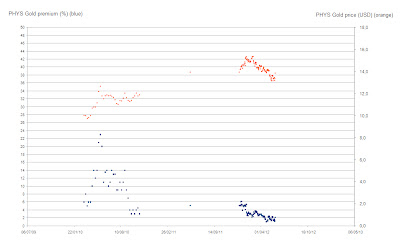 Chart 4: PHYS Gold premium (blue) VS. Gold price (orange)
PSLV Sprott silver premiums have formed a bottom and are starting an uptrend (blue dots).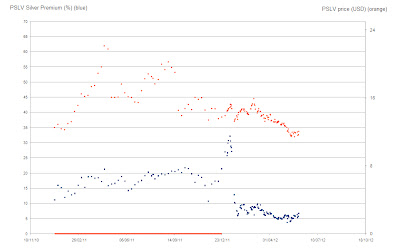 Chart 5: PSLV Silver premium (blue) VS. Silver price (orange)
A recent release about Chinese imports of gold from Hong Kong is also indicating a higher gold price. Gold imports in April 2012 were 104 tonnes (Chart 6).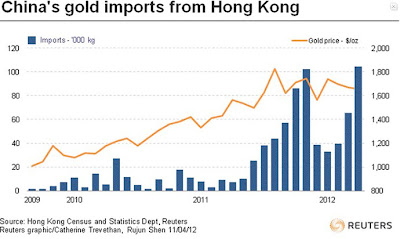 Chart 6: China Gold Imports
As I recommended before in this article, it is time to get into the gold and silver mines as the buying opportunity of a lifetime is residing in that sector. Especially when gold prices are poised to move up.
One silver miner I highly recommend is Endeavour Silver (NYSE:EXK), of which CEO Bradford Cooke recently did an interview with Peter Schiff on 31 May 2012 at the Euro Pacific Global Investment Conference. The highlights of that interview are summarized as follows. According to Bradford Cooke, the company has been growing reserves over the years, and production has almost tripled since the economic crisis hit in 2008. In February 2009, Endeavour Silver went to the market through Euro Pacific Capital (Peter Schiff's company), and equity dilution was less than 10%. The company has also built its employees over the years, growing from a small company to a mid tier company with 2700 employees, including contractors. Working capital is $US 175 million at this time. Last year, cash costs were $US 5/ounce.
By expanding its gold production, the company can keep bringing costs down. Their most interesting project is the recently acquired El Cubo mine in Mexico, which is the next leg upwards in this growth story. The P/E is around 10 right now ($US 20 million earnings per quarter) and Price/Cashflow is around 6, which is extremely inexpensive for a growing silver mine. At these low silver prices, they will store their bullion for sale later on, at higher prices. So they can time their selling to the conditions in the silver market. The best thing is that they store their bullion for free at their warehouses. Another positive aspect is that Endeavour silver is one of the few silver miners that possesses a whole process flow from mining to refined bullion, which is a huge advantage against other silver miners.
Disclosure: I am long (NYSEARCA:AGQ), (GLD), (NYSEARCA:PHYS), (NYSEARCA:PSLV), (EXK).