The price of gold did not escape the dramatic decline in the prices of commodities that started this February, but the decline was not as high as in other cases. The weighted commodity index, Reuters/Jefferies CRB Index, lost 17.7% since its high of the year on 24 Feb 2012, but gold price lost only 9.8% since its high of the year, 1,797.7 dollars an ounce, on 28 February 2012, and closed at 1,622.1 dollars on the Comex division of the New York Mercantile Exchange trade on Friday, 1 June. The last 12 months were extremely bad for commodities, gold was among the only 3 commodities that showed price appreciation during this period: Soybean Meal rose 10.94%, Gold rose 4.56% and Live Cattle rose 2.88%, Reuters/Jefferies CRB Index lost 22.44% during this period.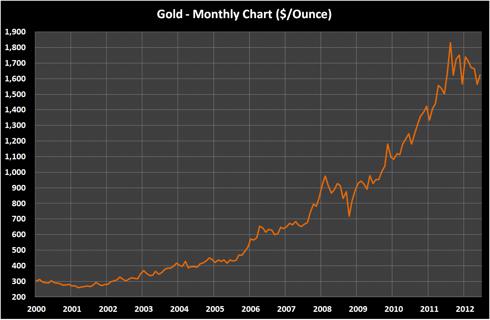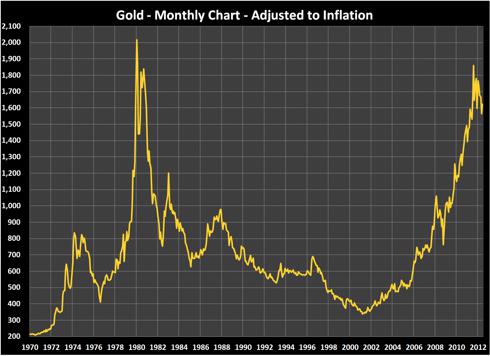 Is the last decline in the price of gold price a buy opportunity? We believe it is. First, because investors are looking for a safe haven in this environment of uncertainty in the global financial markets. This tendency was manifested in the trade on Friday, 1 June, when stock markets plunged, CRB Index lost 1.71%, but the most-active August gold contract gained 3.70%, SPDR Gold Trust ETF (NYSEARCA:GLD) rose 3.88%, and gold miners stocks rose sharply: Barrick Gold (NYSE:ABX) - 7.30%, Newmont Mining (NYSE:NEM) - 6.66%, Goldcorp (NYSE:GG) - 8.75%, IAMGOLD (NYSE:IAG) - 9.18%, Royal Gold (NASDAQ:RGLD) - 10.51%, Agnico-Eagle Mines (8.89%) and Randgold Resources (NASDAQ:GOLD) - 9.97%.
One more reason to expect a long term rise in the price of gold is the behavior of the Central Banks. Ever since 2010, the Central Banks have become net buyers of gold after many years of only net selling, as was shown in the chart below. According to World Gold Council in its report "Gold Demand Trends First Quarter 2012",
This trend looks set to extend further this year as the main driving factors remain in place. The rapid growth of foreign exchange reserves in a number of expanding economies has required many central banks to increase gold holdings in order to maintain the ratio of gold to their foreign exchange reserves.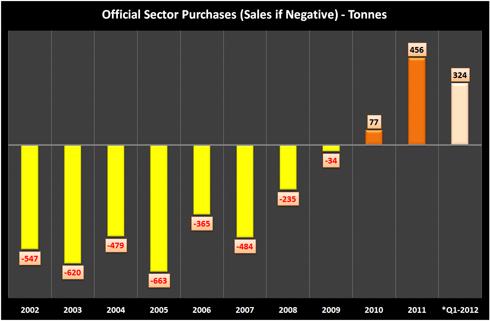 *Q1-2012 annualized source: World Gold Council
Another reason for the long term up trend of the gold price, that started in 2002, to go on is the increasing appetite of investors for physical gold, as demonstrated in the chart below depicting the increase demand for gold bars and coins for investing purposes. Historically, the demand for gold for the purpose of jewelry decreases when the price of gold rises, because many people cannot afford buying expensive jewels. The demand for investment, however, rises sharply as the rising price of gold attracts more investors.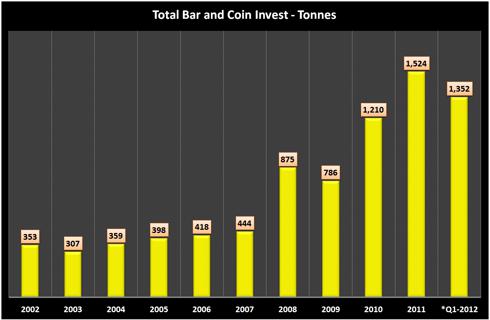 *Q1-2012 annualized source: World Gold Council
The easiest way to invest in gold is buying an ETF like SPDR Gold Trust ETF, which buys and stores physical gold. This way there are no losses from Contango conditions when rolling over future contracts. Another possibility is to buy stocks of one of the gold mining companies, but in especially this case, it is strongly recommended to make a thorough research before investing.
Disclosure: I have no positions in any stocks mentioned, and no plans to initiate any positions within the next 72 hours.