Observers of the three-way fight between Intel (NASDAQ:INTC), Spansion (SPSN) and the DRAM industry have got to admire the move made Thursday by the Intel/STMicro (NYSE:STM) team, aka Numonyx.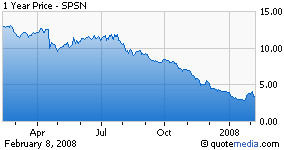 In announcing "the most significant non-volatile memory advancement in 40 years," Ed Doller, soon-to-be CTO of Numonyx, seemed to be signaling that the third place team is not just coming back but about to take over.
The phase change chip is "sampling" as a drop-in replacement for NOR, with the PCM technology itself having "the bit-alterability of DRAM, the non-volatility of flash, the fast reads of NOR and the fast writes of NAND." Last March, Doller suggested mass production in 2H, 2007, and was quoted as having said "Phase change technology gets us pretty close to nirvana."
But one has to be skeptical of a memory paradise so sunny that Intel is aching to leave it. By spinning Numonyx off and taking cash out, Intel is leaving paradise, and leaving it under-funded. Why not just buy out STM's NOR business, cut overhead and keep paradise in-house?
And, if PCM is truly a game changer, why launch it in the backwater puddles of the flash market? What is Intel's rational for passing on DRAM? And on NAND - a market Intel likes, which is 3x bigger than NOR and growing much faster?
With a 20% position in SPSN, I admit Thursday's release, like Intel's NAND "break-through" a few days ago, was initially disconcerting. But the fact is, everyone is working on new flash technologies. Both Samsung and Spansion are involved in the new Onfi standrads behind Intel's NAND play, and everyone is saying they've got the latest and greatest.
But, behind the talk, there is one company with a cutting-edge NOR model in handsets today, and there is another with a Hail Mary chip that might, by its own admission, be cost-competitive when the industry gets to the 22nm process node. Which would you rather own?
Disclosure: Author has a long position in SPSN