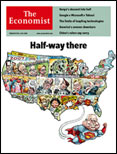 Bite-sized summaries of some of the most interesting and actionable stories from this week's The Economist:
Asia
China: Frozen assets.
The massive transport crisis engendered by the worst winter weather in 50 years is expected to have only limited economic and political fallout.
China and Myanmar: Our friends in the north. The Burmese junta is bypassing Western sanctions by strengthening its commercial link to China, particularly in the area of energy supplies. The largest proven gas reserve in Southeast Asia is in the Shwe field, off the coast of Myanmar, and a pipeline is under construction to transport gas from there to China. Myanmar also plans to ship Middle Eastern and African oil to China via the deep-water harbor of Kyaukphyu, possibly as soon as next year.
Japan: Food for thought. More than 700 Japanese have become ill after eating Chinese-made dumplings that appear to have been tainted with pesticides. Japanese food companies, themselves no strangers to scandal, could benefit from resulting public anxiety about the consumption of food imported from China.
Britain
Interest rates: Bankwatch.
The British central bank's monetary-policy committee is expected to move more cautiously than the Fed to head off a downturn because: 1) British growth is healthier than American; 2) the British housing market has only begun to slump while the American has been down sharply for over a year; and 3) the Bank of England is more concerned than the Fed about inflation.
Business
Mining: Some miner concerns.
Chinalco (NYSE:
ACH
), which recently teamed up with Alcoa (NYSE:
AA
) to take a 9% stake in Rio Tinto (RTP) in order to influence the outcome of BHP Billiton's (NYSE:
BHP
) attempt to buy it, is believed to be considering a stake in the Anglo-Swiss mining group Xstrata for a similar reason: Xstrata has been targeted for takeover by Vale (NYSE:
VALE
), the Brazilian miner. The Russian aluminum producer Rusal is thought to be mulling a stake in Xstrata as well.
Samsung: Losing its shine. The South Korean conglomerate has finally acknowledged that its image has been tarnished by its mishandling of a series of crises, including an accounting scandal and an oil spill caused by the crash of a Samsung Heavy Industries barge into a tanker.
India's film industry: Bollywood rising. Continuing a trend of Hollywood interest in Indian movie producers, Disney (NYSE:DIS) is expected shortly to raise its stake in UTV Software, the parent of a Mumbai film studio, to as much as 30% from 14.9%.
Finance and economics
Credit-rating agencies: Restructured products.
An appealing reform of the credit-rating business would be to simply bring an end to the regulatory dependence on ratings and allow investors to draw their own conclusions from market data, the way they do with stocks. A more practical solution might be to establish a board "made up of industry types, investors and academics" designed to police the agencies.
Bear necessities. Judging from history, neither the study of valuations nor an analysis of the possible length and breadth of a recession can help investors determine whether the current market downturn is a buying opportunity or only the beginning of a prolonged bear market.
======================================
Editor's note: Many of the countries and sectors mentioned in the summaries are accessible to U.S. investors through ETFs. Please see our ETF Selector for Broad International ETFs, Single Country Asia ETFs, ETNs and Closed-End Funds, Global Sector ETFs and much more.