After starting with a bang by raising $29.4 million in its first 12 trading days on the market, the Van Eck Market Vectors Coal ETF (NYSE: KOL) is certainly worthy of a look under the hood.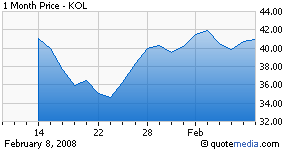 What we found was a reasonable way to participate in this sector of the market, albeit with some minor and noteworthy flaws.
The notion of investing in coal has gotten quite a boost recently, due partially to last year's surge in the price of the commodity (Newcastle Thermal, one benchmark price index, was up 73%).
But another factor has been that of a continued surge in coal prices early in 2008, based on some key headline-making events around the globe.
For example, most investors have probably seen stories about the wicked winter conditions blanketing parts of China and the resulting power shortages in this country (which still generates nearly 80% of its electricity from coal). As a result, China has temporarily halted exports of thermal coal.
But there have been other important developments around the world in recent weeks, including:
Heavy rains in South Africa, which have impacted that country's recent coal exports. In addition, South Africa just stated that it will need to keep more of its own mined coal for domestic consumption, perhaps lowering the amount available from the world's fourth-largest coal exporter.
Australia, for years the world's leading exporter of coal, has been suffering from heavy rains. That has disrupted coal production and transportation in its crucial coal-producing Queensland state. As a result, the country is struggling with capacity constraints at its ports and is unable to boost its deliveries to meet surging demand.
Indonesia, perhaps the largest coal-exporting nation in 2007 and set to take over the top spot for good this year, is rapidly building its own coal-fired power plants to meet its domestic power needs. It may not be able to supply the world's growing coal appetite to the extent previously expected.
While the above factors are bullish for coal, in the short run, investors should be a bit careful in chasing these stocks since the strength of the move we've seen thus far is starting to lead to breathless rants about how the world is facing a coal "crisis."
With more than 150 years of known resources at today's rate of consumption, the world is hardly at risk of running out of the stuff.
In this regard, it is important to note that the coal story looks not so much like the "Peak Oil" argument made in support of crude, but much more like the current agriculture story. In other words, the world isn't going to run out of the stuff, it is merely struggling to meet surging global demand, a game of catch-up that will likely take a few years to get back into balance.
The coal story is also similar to agriculture's in another aspect, and that is how investors should best go about participating in the theme. (See related research we've done here.)
In a rising commodity price environment, investors should want to own the marginal producer of that good. In this regard, KOL does a respectable job, as the ETF's top 14 holdings are up- and midstream producers which give such exposure. Those make up more than 70% of the portfolio.
Why focus on the top 14 holdings? Well, it's at holding No. 15 where things get a little strange: That position is Huaneng Power (NYSE: HNP).
Now, we at Delta Global are very familiar with Huaneng, and it is one of the holdings in our global infrastructure-related Basic Services Unit Investment Trust. But Huaneng is a power-generating consumer of coal, not a producer.
In fact, recently Huaneng and others like it have suffered as a result of the coal price surge—much like Kellogg, Kraft and other consumer foods producers have recently announced big earnings shortfalls due to the rise in agricultural commodity prices.
Thus, if you're a coal price bull, a holding like Huaneng gives you the opposite of the type of exposure you're looking for in this type of an investment.
And the oddities don't end there.
Also included in this portfolio is CNX Gas Corp (CXG). As its name implies, CXG is a natural gas producer, not a miner of coal. The company does extract its gas from coal, but it is not involved in mining coal at all.
In fact, the company it was spun off from, CONSOL Energy (NYSE:CNX), is not only the second-largest holding in this ETF, but it retains the right to mine the actual coal from the very beds CNX pulls its gas from.
Technically, the Stowe Coal Index, upon which KOL is based, may allow for such inclusion. The index's definition says it includes "a limited number of companies engaged in the manufacture of ... coal to liquid."
Still, it's just an odd inclusion to make. And Queensland Gas in Australia is another holding which mines no coal, only natural gas from coal beds.
While these are sloppy inclusions, in our estimation, at least that inclusion of Queensland Gas can help steer this conversation back to one positive aspect of KOL upon which we can conclude: The ETF is truly global in nature.
This is important not only because coal is mined on every continent except Antarctica, but because coal miners in the Pacific Rim are particularly important to the surging coal demand stemming from Asia.
As such, the closer to home they can source their coal, the less India and China (which will become a net coal importer for the first time this year) have to pay in transportation costs to ship it in.
So, while KOL includes some very questionable holdings, for now it represents a respectable way for investors to gain exposure to coal commodity prices via equities.
Chip Hanlon is president of Delta Global Advisors, which oversees $1.5 billion in client assets for institutions and individuals.