While Activision Inc. (NASDAQ:ATVI) has risen more than 60% in the past year as its profits soar on the success of its Guitar Hero video game series, its shares have fallen back roughly 10% so far in 2008.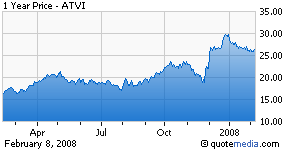 Nonetheless, analysts remain bullish on the video game maker. Citigroup's Brent Thill rates the stock a "buy" with a price target of $36, which represents upside of roughly 35%.
Activision dominated the holiday period and finished 2007 as the top third-party publisher in North America, as ranked by market research firm NPD Group, the analyst told clients in a note. And fiscal 2009 is shaping up to be solid as well, given prospects for more European penetration, a strong industry backdrop and a line-up with more international appeal, Mr. Thill said.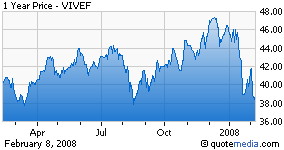 In terms of Activision's merger with Vivendi's (OTCPK:VIVEF) games unit, which is currently awaiting approval, he is very positive on the deal that is expected to close in the first half of 2008. In fact, Citigroup estimates the combined entity could earn as much as $1.38-billion in 2009, which is more than 15% ahead of guidance.