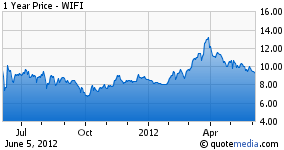 A good story in the NY Times today about the build out of free and ad supported Internet access in airports and hotels. The infrastructure requirements are expanding and it leads me to believe investors should consider the leader in wireless hotpots for an investment given its prospects and valuation: Boingo Wireless (NASDAQ:WIFI).
Six reasons to pick up WIFI for $9 a share:
Operating cash flow has doubled over the past two fiscal years.
Analysts expect the company to grow revenues at just under 20% for both FY2012 and FY2013.
The company has around $90mm in net cash on the books (30% of market capitalization).
EPS is increasingly rapidly. The company made 17 cents a share in FY2011 and analysts project it will make 29 cents a share in FY2012 and 40 cents a share in FY2013.
Boingo is the leading global Wi-Fi network, with over 500K hotspots globally and has beat analysts' estimates three of the last four quarters. It trades at 7 times 2012's EV/EBITDA estimates.
Earnings estimates for FY2012 and FY2013 have risen over the past month.
The median analysts' price target on WIFI is $13. Credit Suisse has a "Outperform" rating and a $14 price target on the stock.
Disclosure: I have no positions in any stocks mentioned, but may initiate a long position in WIFI over the next 72 hours.