I've recently wrote about a certain dividend strategy that has since been named 'Dogs of the Dividend Aristocrats' and can be read about here. The concept was to use a universe of stocks with a long history of growing dividends and apply some mean reversion valuation filters, much like the Dogs of the Dow plus a few other techniques. I was happy with the results, but I was wondering if this strategy was a one-trick pony or if it could be applied to other stocks.
Where would I find another great list of dividend growth stocks? Thankfully, the answer is not far away on Seeking Alpha. David Fish is a well-respected dividend growth investor/analyst/writer who creates various universes of dividend stocks based on how long they have held to the policy of increasing annual payouts. A recent article that performed a 30 year backtest on a partial universe of his tracked securities prompted me to write this follow-up article.
For the following system, I will use the David Fish 'Dividend Champion' universe, which currently consists of 104 stocks which have raised their dividends annually for the past 25 years. Would a 'Dogs of the Dividend Champions' (Dogs of the DC) system hold up under testing?
Dividend Champion Universe 11 Year Backtest
The limitations of my backtesting software is that I can only backtest up to 11 years. The list is biased in that these stocks did not have 25 years of increasing dividend history at time of purchase; some may have only been at 14 or 15 years (but 25 years plus now), which is a form of look ahead bias. There is also survivorship bias to consider. I hope to account for these biases in the future and provide a longer track record with different software. With these limitations in mind, we will examine the performance of this stock universe alone against the S&P 500 ETF (NYSEARCA:SPY).
All charts compliments of Portfolio123: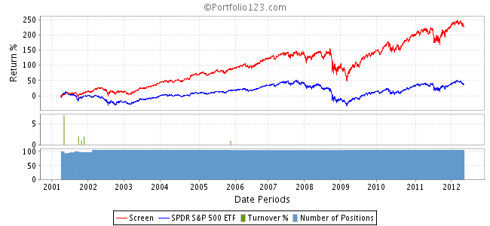 The Dividend Champion universe has a compound annual growth rate of 11.18% (total return) over the past 11 years versus 2.75% of the S&P 500 ETF .
Dogs of the DC Universe
The next step was to simply isolate the top yielding 50% of the universe and rebalance every 3 months.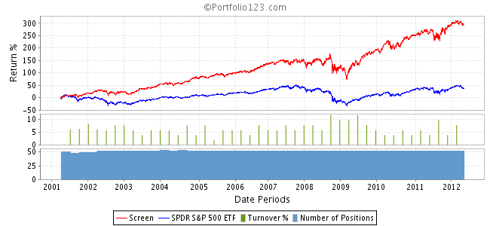 This resulted in a CAGR of 13% or a small jump of less than 2%.
Reversion to the Mean
The next step was to replace the 'high yielding' filter with a 'reversion to the mean' filter. This next step would keep the top half of the universe where stock yields were trading above their 5 year average. High yields compared to its own historic track record could indicate a potentially undervalued situation.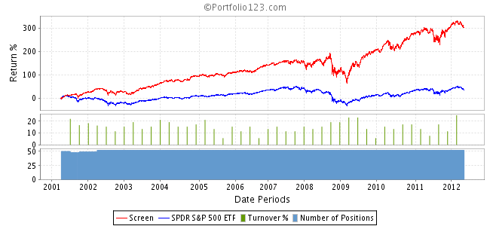 This one filter also increased excess gain over and above the Dividend Champion universe by 2% - or a CAGR of 13.27%.
Combining the Filters
The next step is to see if our two filters are complimentary. Will absolute and relative high-yielding filters work in a synergistic relationship or will it destructively work against itself?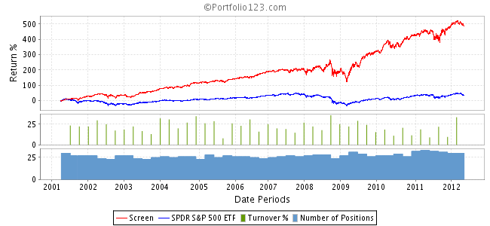 With an average portfolio of 27 stocks and a maximum drawdown of 39% during the 2008/2009 crash, this system averages 17.2% per year.
Best 15 from Dogs of the DC
My last filter is to simply pick the top 15 stocks based on a simple valuation ranking system. Remember that this is rebalanced every 3 months and includes dividends.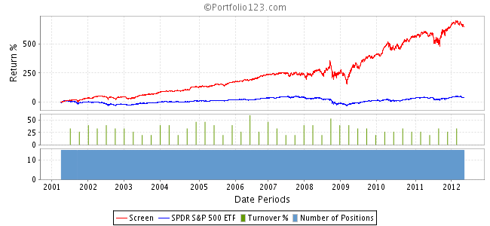 Compound annualized growth rate = 19.8%
Max drawdown = 43% (the higher drawdown was due to an unusually profitable spike in this system during the 2008 bear market. If you consider drawdown from the time the bear market started to the time it ended - the drawdown is less than 30%)
Stats and more Stats
I ran the above strategy with over 550 random entry points over the past 11 years with 3 month holding periods. This is these are the stats vs. the S&P 500:
Average 3 month gain: 4.73% vs. 1.14&
Up Markets (3 month): 8.72& vs. 6.78%
Down Markets (3 months): -7.64% vs. -11.01%
I ran this through a simulation test to mimic actual buy and sell trades and portfolio holdings with 3 month rebalancing. These were the stats from that test:
Annualized return: 19.63%
Max drawdown: 42.94%
11 year Sharpe ratio: 0.57% vs. -0.11 of S&P 500 index
11 year Sortino ratio: 0.80 vs. -0.15 of S&P 500 index
Correlation with S&P 500 index: 0.90
Beta: 0.95
Alpha (annualized): 17.82%
Current Stock Picks
In case you are wondering which stocks this system is currently recommending - here they are:
| | |
| --- | --- |
| (NYSE:AFL) | AFLAC Incorporated |
| (NYSE:UVV) | Universal Corp |
| (WAG) | Walgreen Company |
| (NYSE:CVX) | Chevron Corporation |
| (NYSEMKT:TMP) | Tompkins Financial Corporation |
| (NYSE:NUE) | Nucor Corporation |
| (NYSE:UGI) | UGI Corp |
| (NYSE:SON) | Sonoco Products Company |
| (NYSE:EMR) | Emerson Electric Co. |
| (NYSE:MCY) | Mercury General Corporation |
| (NYSE:LEG) | Leggett & Platt, Inc. |
| (NYSE:PBI) | Pitney Bowes Inc. |
| (NASDAQ:UBSI) | United Bankshares, Inc. |
| (NYSE:NWN) | Northwest Natural Gas Co |
| (NYSE:SYY) | SYSCO Corporation |
Concluding Thoughts
When creating an investment system, you need to consider not only the strategy, but your market. While survivorship bias and look ahead dividend history bias needs to be factored into these results, it is my belief that more investigation into combining a valuation strategy with the dividend growth universe is warranted. And a big thanks to David Fish for compiling these dividend growth universes. I will be looking into his other lists of increasing dividend stocks in future articles.
Disclosure: I have no positions in any stocks mentioned, and no plans to initiate any positions within the next 72 hours.