In Part 1, Property REITs were defined, and an investment case for this asset class was established. The unique REIT metric of Funds From Operations (FFO) was defined as well. In this continuation, I will outline a REIT-unique approach to using FFO and other income statement and balance sheet items to evaluate a REIT. Most REITs provide some facsimile of these metrics in their supplements and earnings result presentations, but the details of what is provided varies considerably among them. Thus, I prefer to try to derive the values I seek independently, so I can have comparable figures. The method as presented is my interpretation / understanding of REIT evaluation, as defined by Josh Peters, editor of the Morningstar Dividend Investor newsletter, in his book, "The Ultimate Dividend Playbook". The methodology is contained in Appendix 5 in the book. I am a fan and subscriber of the newsletter, and I recommend both it and the book to aspiring dividend investors.
The REITs to be evaluated, using in all cases the just-completed 1st Quarter 2012 results, are listed below, along with market capitalization, closing price as of 6/1/2012, yield, and predominant property types owned.
Realty Income Corp (NYSE:O), $5.0 Billion, $37.80, 4.63%, Retail.
Health Care REIT Inc (HCN), $11.6 Billion, $54.24, 5.46%, Healthcare Facilities.
Senior Housing Properties Trust (NYSE:SNH), $3.3 Billion, $20.20, 7.52%, Healthcare Facilities.
Digital Realty Trust Inc (NYSE:DLR), $7.7 Billion, $69.58, 4.20%, Office, primarily Data Centers.
Kimco Realty Corp (NYSE:KIM), $7.1 Billion, $17.45, 4.36%, Retail.
Ventas Inc (NYSE:VTR), $16.4 Billion, $56.89, 4.36%, Healthcare Facilities.
Before I begin, while I believe these six are all successful REITs worthy of consideration (with a caveat on SNH), I want to make it clear that I am not saying they are necessarily the best REITs available today. I would have to evaluate all 150 or so REITs before I could reasonably claim to have identified the best choices. As noted in Part 1, the larger objective of this two-part article is to provide the reader with a method for objectively evaluating any REIT of interest. Also, in the interest of full disclosure, note that I am not a financial professional, nor am I certified in any way as a financial advisor. I am an independent, individual investor, focusing on dividend-paying stocks exclusively.
I will illustrate the evaluation process using the first REIT on the list, Realty Income , as the subject REIT. First, I use the MSN Money website to bring up data for O, then select Profile, which provides a link to the REIT's website. Note that, unlike my approach for evaluating other types of stocks, I do not use the financial data from MSN Money for evaluating REITs. From Realty Income's home page, I select Invest, and I see that PDF files are available from the most recent quarterly reporting period for Funds from Operations, Balance Sheet, and Income Statement.
Determine Payout Ratio
I select Funds From Operations, which provides FFO and AFFO for the quarter just ended, 3/31/2012, both in total (in thousands), and per share, as follows:
FFO $60,695 $.46 AFFO $66,294 $.50
The narrative explains that O considers AFFO as presented to be the same as CAD/FAD, and the details of the derivation of AFFO indicate how AFFO came to be greater than FFO, which is not what one would normally expect. Since the same exhibit shows that the total of dividends paid to common shareholders was $58,192 (in thousands), I will accept that and the AFFO figure and calculate the Payout Ratio as:
$58,192 / $66,294 = 87.8%.
This is slightly higher than Josh's maximum safe level of 85%, but considering O's strengths, and the fact that management has stated that they intend to bring it down below 85%, by increasing revenues faster than the dividend, I believe it is not a cause for concern at this point.
Determine Debt plus Preferred % of Total Capital, Using Two Methods
I select the Balance Sheet choice and bring up the 3/31/2012 balance sheet. I determine that the debt figure I want is the sum of the last three items under Liabilities, namely, Line of Credit Payable ($43,000), Mortgages Payable ($56,878), and Notes Payable ($1,750,000), which when added together yield Total Debt ($1,849,878). Note that all figures are in thousands. The balance sheet breaks out the Preferred and Common Stockholder's Equity nicely, so I merely select the Preferred figure ($574,927). I then add the Total Debt and Preferred Stockholder's Equity to together to determine the total of Fixed Obligations ($2,424,805) shown on the balance sheet.
Now, I want to determine the Common Stockholder's Equity using Total Assets as a starting point, and then subtracting out Total Debt, Preferred Equity, and Other Liabilities.
Common Equity = Total Assets - Total Debt - Preferred Equity - Other Liabilities
Common Equity = $4,398,433 - $1,849,878 - $574,927 - ($22,753 + $34,419 + $30,444)
Common Equity = $1,913,012
Next, I compute Adjusted Common Equity as Common Equity plus Cumulative Depreciation, or $1,913,012 + $844,005 = $2,757,017.
Now, I compute the percent that Fixed Obligations represents of Adjusted Common Equity plus Fixed Obligations, which Josh refers to as FFO Basis Debt/Equity.
FFO Basis Debt/Equity % = Fixed Obligations / (Adjusted Common Equity + Fixed Obligations)
FFO Basis Debt/Equity % = $2,424,805 / ($2,757,017 + $2,424,805) = 46.8%
Josh warns that this value should not exceed 80%. Realty Income passes easily.
Next, another method is followed to calculate what is termed the Market Value Basis Debt/Equity. The numerator is the same, and the denominator merely substitutes the Market Capitalization for Adjusted Common Equity. Thus, the result for O is:
Market Value Basis Debt/Equity % = $2,424,805 / ($5,000,000 + $2,424,805) = 32.7%
Josh warns that this value should not exceed 60%, and again Realty Income passes with ease.
Determine Fixed Charge Coverage Ratio
This step requires access to the Income Statement. Bringing it up, I confirm that it is for the three months ended 3/31/2012, and I select two figures from it; Interest Expense ($28,952), and Preferred Dividends ($9,496). I add these together to get the Total Fixed Obligations for the Period ($38,448). I then calculate the Fixed Charge Ratio for the quarter, using AFFO as reported ($66,294), as:
Fixed Charge Coverage Ratio = (AFFO + Total Fixed Obligations) / Total Fixed Obligations, or ($66,294 + $38,448) / $38,448 = 2.72, or expressed as a ratio, 2.72 : 1.
Josh warns that available cash should cover fixed charges by at least 2 : 1, so Realty Income is in fine shape from the standpoint of Fixed Charge Coverage, at least for the quarter just ended.
Determine FFO based ROE
First, retrieve the Adjusted Common Stockholder's Equity as calculated ($2,757,017). Then, take the FFO quarterly figure, and annualize it:
Annualized FFO, based on recent quarterly FFO = $60,695 * 4 = $242,780.
Now, compute the FFO based ROE as the Annualized FFO ($242,780) / Adjusted Common Stockholders Equity ($2,757,017).
FFO Based ROE = $242,780 / $2,757,017 = 8.8%
There is no set acceptable value, but higher is better, when comparing REITs.
Qualitative Factors
Realty Income provides, on the website Investor Page, several supplemental information documents with considerable detail on their Tenant Base, Industry Diversification, Geographic Diversification, and Occupancy. Highlights; O owns or has interests in over 2,600 properties, with 136 different tenants, only two of which account for as much as 5% of revenues. The tenant base has 38 different industries represented, and properties are located across 49 states. Occupancy has remained above 90% for decades, and currently stands at 96.6%.
As for dividend history, Realty Income has never missed a dividend or reduced the dividend, paying steadily each month since going public in 1994. Since January of 2007, the dividend has increased 15%, from $.127 to $.146. While this does not seem like anything to get excited about, it is pretty good when you consider what was happening in the world of stocks and finance during the period.
Realty Income currently has a debt rating of BBB from S&P, which is one notch above the lowest investment grade rating. This is an excellent rating for a REIT.
The results for O and the other five REITs are presented in summary form in the following table, TABLE 1 - UNIQUE REIT FINANCIAL METRICS.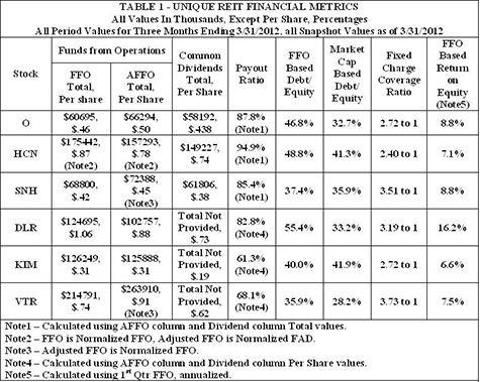 Now, a brief synopsis is presented for each REIT.
Realty Income is about as solid as a REIT can be, but unfortunately for new buyers, this is no secret. Since the end of 2011, the stock price has rocketed up from the mid-30s to nearly $40, although it has pulled back a little in recent days. I would consider a purchase upon a pullback to $35 or so.
Health Care REIT is likewise very solid, although the FFO-based Payout Ratio of 95% is uncomfortably high. With over 900 properties spread across the medical facilities spectrum, and geographically dispersed across 46 states, Health Care REIT is well diversified. Occupancy statistics are provided for each facilities category, and the average, excluding hospitals, is over 90%.
The debt rating from S&P is -BBB, the lowest investment grade rating.
The REIT's dividend payout weathered the financial crisis well, with no cuts, and a five-year increase of over 15%, as the dividend increased from $.64 at the beginning of 2007 to the current level of $.74.
I would consider a purchase upon a pullback to the low-50s.
Senior Housing Properties Trust appears at first blush to be an excellent prospect, with better numbers than the first two REITs above, as far as the REIT-unique evaluation criteria are concerned. SNH has a yield exceeding 7%, an S&P debt rating of BBB-, and a creditable dividend payment record over the past five years, with no cuts, and a five-year percentage increase of nearly 12%. One has to wonder, what is the problem?
The answer is provided in a review of the tenant base. SNH depends upon one tenant, Five Star Quality Care Inc (NYSE:FVE), for over 40% of rental income. SNH thus fails the diversification test. An investment in SNH is also an investment in FVE. FVE is a public company, so due diligence on FVE is possible. With a current share price of $3.04, FVE is obviously not a blue chip, but there appears to be no reason for a current holder of SNH to panic; a cursory review of this micro-cap stock, using the MSN Money website, indicates FVE is doing reasonably well. Still, this lack of diversification eliminates SNH as a REIT I could recommend, notwithstanding the fact that I have a small position in the REIT.
Digital Realty Trust passes all REIT-unique metric tests with ease, and with a five-year dividend percentage increase of more than 150%, going from $.286 to $.730, it has been a great REIT to have owned over the last five years. The stock has moved from the mid-to-high 50s at the end of 2011 to the low-70s in the first quarter of 2012, although like most stocks, it has pulled back recently. This REIT specializes in technology-related real estate, and has 101 properties, with a 95% occupancy rate, and an average remaining lease term of 7 years.
DLR has a debt rating of BBB from S&P, up one notch from the bottom in the investment grade range.
DLR is performing well, although I am leery of buying any stock after a big price run-up. If the current correction continues, and the price retreats to the mid-to-lower 60s, I would have to consider this stellar performer.
Kimco Realty likewise passes all of the REIT-unique metric tests, and with over 900 shopping center properties and over 800 other property interests, spread across 44 states, would seem to be well-diversified. The REIT states that the average occupancy is 93%.
KIM shareholders received an 86% dividend cut in 2009, and even though the reduced dividend of $.06 has been increased to the current level of $.19 since then, that is still a 47% decrease from the dividend that was in effect at the start of 2007. KIM currently has an S&P debt rating of BBB+, surprisingly, the highest of the six REITs being reviewed.
KIM's share price has ranged from $15 to $20 for over two years, with a slight upward slant. One could look at the cut as indicative that management can make the tough decisions, and the dividend growth since as evidence of a renewed commitment to shareholders. If the price should fall back below $15 as part of a general stock market decline, I would consider KIM, chalking up the unfortunate actions of 2009 as a one-time, extraordinary event.
Ventas Inc is yet another Healthcare Facilities REIT. With over 1400 properties spread across 46 states and 2 Canadian provinces, this large-cap REIT is well diversified. The REIT-unique metrics reveal that Ventas is the most conservatively positioned of all of the six REITs reviewed. Ventas maintained dividend payments throughout the financial crisis, increasing the dividend by 30% over the last five years, from $.475 at the start of 2007, to $.620 currently. The REIT has a debt rating of BBB from S&P.
VTR's stock price reached an all-time high of $59.79 in early May 2012, but has pulled back a little since then. I would consider it upon a pull-back into the low-50s.
Final Conclusions and Recommendations
I believe an income investor should have anywhere from 10% to 15% of a stock portfolio invested in REITs. In addition to qualifying any REIT investments under consideration, per the criteria outlined in this article, I would recommend that Seeking Alpha (NYSEMKT:SA) be queried by the REIT ticker symbol, to see if there are any articles of interest on a REIT being considered. There are many SA authors writing about REITs every day. To perform the query, enter the REIT ticker symbol in the Enter symbol, author, keyword box, to get a list of articles related to the symbol. I further recommend that REIT holdings be spread across several REIT property categories. I am particularly concerned about the exposure of Healthcare REITs to Medicare or other governmental changes that could impact their tenants. Finally, I would not be enthusiastic about any REIT yielding less than 4.50%. There are some outstanding REITs, from the standpoint of strength and execution, that, unfortunately, fail this requirement.
Disclosure: I am long SNH.
Additional disclosure: AS noted, I am long SNH, holding a small position for several years now. I am electing to hold, although for the reason stated in the article, I cannot recommend SNH. I previously have owned O and HCN, but as unfortunately occurs too often in my case, I sold too soon, thinking they had become too pricey. I'm working on improving on this. As stated in the article, I am a Morningstar Dividend Investor subscriber, and have been for several years. Other than that, I have no relationship with the newsletter.