Sentiment analysis is starting to get academic and public attention. Though the field is emerging, sentiment around Apple (NASDAQ:AAPL) may be starting to turn and this may prove to be a negative for the stock.
The growing importance of behavioral finance
Knowing what other people think is a valuable part of the investing process. Indeed, building on the work of Kahneman and Tversky, behavioral finance is growing in importance. Behavioral finance is an evolving field, but one key element is that people are not always rational economic agents and don't always make decisions in a purely mathematical way based on calculated analysis.
Leveraging social media to determine investor sentiment
As a result, mining social media presents one an opportunity to do this. For example, various academic papers such as this one have found that negative sentiment expressed through social media (in this case worry, anxiety and fear) can be helpful in predicting stock market declines. However, from an academic perspective, the case is clearly not yet proven, a 2001 analysis focused on a investing chat board ragingbull.com did not find any evidence of this.
Applying this thinking to Apple
Here we apply this thinking to Apple, given Apple is one of the most discussed stocks. We can see that liking sentiment is low and falling for the stock.
Investor "liking" sentiment for Apple (red) vs. the Apple stock price (blue)
2009-present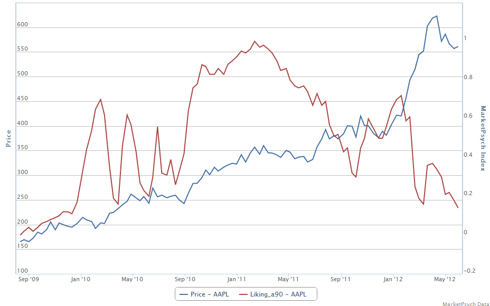 source: MarketPysch.com
Next we see that a combination of 200 metrics of investor sentiment are moving in the wrong direction.
Combination Bubbleometer metrics for Apple (red) vs. the Apple stock price (blue)
Bubbleometer combines 200 metrics to assess market sentiment on a stock.
2009-present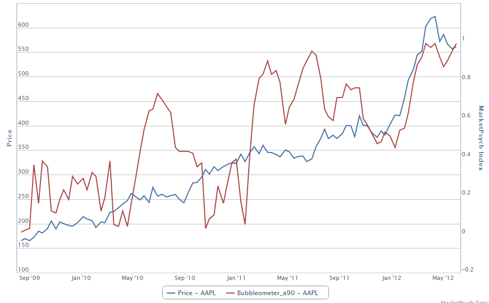 source: MarketPysch.com
Finally, anger sentiment related to Apple appears to be increasing.
Investor "anger" sentiment for Apple (red) vs. the Apple stock price (blue)
2009-present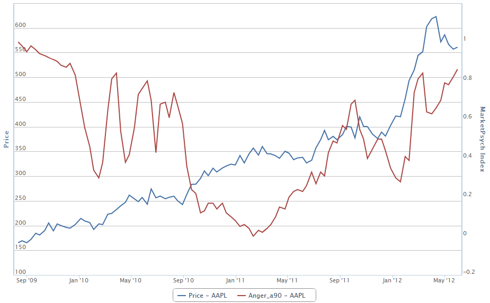 source: MarketPysch.com
Conclusion
Analysis of sentiment around Apple, may confirm what many are already starting to see, namely that investor sentiment on the stock is starting to turn, particularly given a decline of "liking" around the stock. Investors should factor this negative outlook into their overall assessment on Apple.
Risks
Social media analysis is a new field, academic evidence is ambiguous, and detailed long term predictive value is as yet unproven.
Equally the precise way to use sentiment analysis is still debated. Some argue it has greatest value as a short term trading signal rather than a long term investment indicator. Another debate surrounds whether it is more informative to look at investor reaction to the stock price, or the public reaction to the brand.
Disclosure: I have no positions in any stocks mentioned, and no plans to initiate any positions within the next 72 hours.