Canadian Imperial Bank of Commerce (NYSE:CM) has about C$2.6-billion exposed to the latest monoline insurer to find itself in trouble, reckons Blackmont Capital analyst Brad Smith. Security Capital Assurance Ltd. (SCA) — which saw its credit ratings slashed by Moody's Investors Service on Thursday — is one of a number of monolines that have provided financial guarantees to CIBC's book of credit derivatives.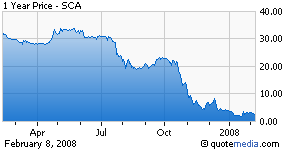 If he is correct about the size of CIBC's exposure to SCA, "the downgrade will greatly increase the likelihood CIBC will need to record a further material loss provision in the first quarter of 2008."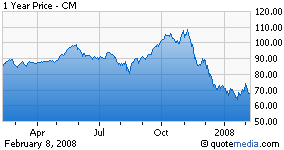 The bank which is due to report its first quarter results on February 28, has already taken about C$3.3-billion in writedowns related to its book of credit derivatives, including about C$2-billion that was hedged with a single monoline insurer.
If the bank takes further massive writedowns, capital ratios will be under pressure despite last month's $2.9-billion injection of emergency capital at CIBC. Mr. Smith has a "sell" rating on CIBC, and a twelve-month target price of C$66.