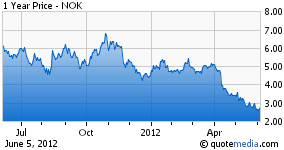 Many people see Nokia (NYSE:NOK) merely as a "cell phone company," however the company is much more than that. The company has 3 business segments and the largest business segment of the company is Nokia-Siemens Networks, employing 73,000 of the company's 130,000 employees. Many people underestimate Nokia-Siemens Networks, however this is an important part of business not only for Nokia, but also for many telecommunication companies around the world. Without Nokia-Siemens Networks, so much would be disrupted in the telecommunication world. This is something many people take for granted and this is also another reason why Nokia's survival is very important to many major players in the world.
The joint venture of Nokia and Siemens offer telecommunications infrastructure, hardware, software and services such as consultancy, system integration and maintenance to many large companies in the world. In total, 50% of the company is owned by Nokia and the other 50% is owned by Siemens, however Nokia appoints majority of the board members and key officers in this company. Also, the employees of the company are mostly in Nokia's payroll. The fate of the company would be extremely complicated if Nokia was to go out of business. The company provides services for both landline and mobile networks. The company also owns telecom infrastructure assets of Motorola Solutions which were acquired in 2011. Nokia Siemens Networks is comparable to IBM (NYSE:IBM) or Cisco (NASDAQ:CSCO) in many ways but it is focused on one industry alone instead of multiple industries.
Nokia Siemens Networks' 600 clients span 150 countries around the world. These companies have a total number of 2.5 billion subscribers, which covers much of the mobile and landline phone owners in the world. The company's service offerings include anything from GSM to LTE networks covering a large width. Some of this network's clients include largest providers in the world such as Verizon (NYSE:VZ), Deutsche Telekom (OTCQX:DTEGF), France Telecom (FTE), Telefonica (NYSE:TEF), Vodafone (NASDAQ:VOD) and China Mobile (NYSE:CHL). If Nokia were to suddenly go out of business, many of these companies and their subscribers would experience major disruptions in their services.
Just like Nokia's mobile devices segment, this business segment has also been going through restructuring and strategy change since the later part of 2011. The company's recent acquisition of infrastructure assets of Motorola Solutions made it an even more important player in the world telecommunication industry. As a result of this acquisition, the company's market position strengthened in more than 50 countries in many networks from GSM to LTE. Also, the acquisition added nearly 7,000 employees to Nokia's payroll, adding research facilities in 5 different countries to the assets of the company.
As a part of restructuring projects, the company will undergo some changes. One of those changes is that the company will be more focused on mobile broadband as the demand is very strong here. Each year, the quality of the global mobile networks increase, but the quality demands of the clients increase at even a faster rate. Many clients want strong networks to be able to satisfy their entertainment needs as well as other needs using their mobile devices. Nokia Siemens Networks is one of the technology leaders in this area and the company is well positioned to answer any future demand increases. In the future, the company will allocate even more of its focus and resources to this avenue.
The company also plans to increase its presence in the service industry related to the mobile broadband. This includes many aspects of the business including consultancy, integrations and maintenance. The company offers many of these services as it is, but it wants to shift more focus on these services as they usually have much higher margins than hardware business. Just to give an example, IBM is a good example in the IT service industry and H&P (NYSE:HPQ) is hoping to become another IBM by following its footsteps. Nokia Siemens Networks will probably become the IBM of telecommunications industry if everything goes as planned.
The company will also increase its focus on "Customer Experience Management" as this will increase customer loyalty, increasing return clients and sustainable revenue growth. Also, the company sees a lot of growth opportunity in Network Implementation and Care segment of its business as many companies in the developing world need help in this area and not many companies have the experience and expertise of Nokia in the field. The company also plans to align its functions more closely so that all the functions serve the major goal. The focus of the offerings of the company will be narrower and the company will gain first or second spot in market share in a couple aspects rather than being number 3-4 in many different aspects. The new narrow focused company will have better cost reduction structure and it will be easier to manage.
The company will continue to invest heavily in research and development related to creating new products, solutions and services for the clients. Mobile device industry is a fast evolving industry and demands of clients change very often. It is very important for service providers to be able to change and adapt to the market as rapidly as the market itself changes.
The biggest challenge in front of Nokia Siemens Networks is the competition from China. There are several Chine companies that offer similar services to Nokia Siemens Networks. While these companies don't have the expertise and experience of Nokia Siemens Networks, they have much lower costs, tempting some mobile service providers to favor these companies. Two of the important competition for Nokia Siemens Networks is ZTE and Huawei.
The pricing pressure is felt strongly particularly in developing markets and it's eating into the company's margins at the moment. As a response, Nokia Siemens Networks cut costs in many stages of production and service offerings and the company will continue to cut costs in order to remain competitive. The company identified 3 geographical areas for 2012 and beyond: 1) growth areas that include US, Japan and South Korea, 2) defensive areas that include Latin America, China and Europe, 3) turnaround areas with heavy price pressure that include Middle East and Africa.
Last year, Nokia Siemens Networks generated revenue of $17.5 billion. The company posted a revenue growth of 32% in Asia, 42% in North America and 21% in South America. The company's revenue growth was nearly flat in China, Europe and Middle East in 2011 compared to the year before. Keep in mind that most of the revenue growth was due to acquisition of assets of Motorola Solutions. Without this acquisition, the company's revenue growth would have been 4%. The company's margins increased in 2011 to 27.1% from 26.8% in 2010. This is also partly due to acquisition of Motorola Solutions. Overall, the company posted an operating loss of $375 million in 2011; however it spent $800 to acquire Motorola Solutions. Without this acquisition, the company would have posted a positive operating profit.
Looking forward, Nokia Siemens Network will continue to play an important role for both Nokia and its service-provider customers such as Verizon, Vodafone, Telefonica and China Telecom. Recently, the company -along with Ericsson- received a bid from T-Mobile to upgrade its networks worth of $4 billion. Similar bids are likely to continue. Just like the business segment of mobile devices, this segment is also going through major restructuring and the results of the restructuring will be visible in the long term, particularly beyond 2013.