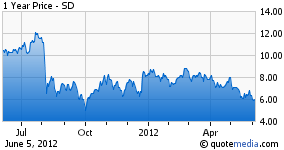 There are many reasons to invest in SandRidge Energy (NYSE:SD) today. The company has steered clear of proposals from activist shareholders, unlike competitors Chesapeake Energy (NYSE:CHK), Exxon Mobil (NYSE:XOM), and Chevron (NYSE:CVX). Chesapeake shareholders will be voting on shareholder proposals to reform the board and executive compensation. Exxon Mobil and Chevron, on the other hand, are facing proposals that would require the companies to devise new methods of risk and cost assessment for predicting potential losses due to public opposition and environmental concerns.
Neither Exxon Mobil nor Chevron is proactively addressing the concerns. Exxon Mobil attempted to remove one such proposal from its proxy last year, but was overruled by the Securities and Exchange Commission. As fracking becomes more common and a larger driver of these firms' revenues, I think it is likely that these shareholder proposals will pass, though perhaps not this year. If and when companies are required to perform additional due diligence related to fracking activities, I believe shareholders might be exposed to some surprises; this could hurt all unconventional oil and gas players' stock in the short term. SandRidge is vulnerable as substantially all of its positions are in unconventional plays. I believe that if these proposals do pass, most if not all energy companies will see similar proposals on the ballot next year.
SandRidge's stock declined by 90% since June 2008 and all but one of its named executive offers receives cash compensation above the 90th percentile compared to SandRidge's mid-sized peer companies, and as a result I believe shareholders will be questioning the need for an increase in incentive compensation. There is a good chance that shareholders will vote against this proposal, especially considering the compensation scrutiny that the executive teams of peers, especially Chesapeake, are currently receiving.
Scrutiny Over Business Deals, Unscrupulous Brokers
SandRidge CEO Tom Ward continues to receive scrutiny over his business relationships with Chesapeake CEO Aubrey McClendon, as McClendon's actions are analyzed under the media microscope. Recent news indicated that Chesapeake nearly doubled its annual spending on the Oklahoma City Thunder basketball team after McClendon became part-owner of the franchise. Chesapeake indicates the spending is part of an attempt to reward employees and other stakeholders by giving them tickets to games, as well as a publicity venture as it purchased naming rights for the team's arena. Ward is also part-owner of the team, along with management personnel in competitor Devon Energy (NYSE:DVN). However, SandRidge spends $3.5 million a year on the team, compared to an estimated $8 million a year from Chesapeake.
Though ownership in professional sports teams is almost a prerequisite for high-level executives these days and it is not uncommon for the companies behind the executives to support the teams, Chesapeake's spending far outstrips the norm, and taken together with its poor ability to identify and remedy conflicts of interest, I think this is just another example of how weak governance contributed to Chesapeake's stock decline. Ward and SandRidge are not likely to see much fallout over SandRidge's relatively modest contributions to the team, but the company will absolutely need to be careful about increasing its spending in this area to avoid the conflict of interest charges McClendon is facing.
On May 22, Klayman & Toskes, P.A., a securities arbitration firm representing high net worth clients, announced that it was "investigating claims on behalf of SandRidge Energy, Inc. shareholders who sustained investment losses due to an over-concentration of SandRidge stock". Such suits are generally against a brokerage or collection of brokerage firms, since SandRidge as a publicly traded company would not have control over its shareholders' holdings relative to net worth. According to the Klayman & Toskes website, the firm is leading several such over-concentration claims through arbitration. In my opinion, the news release from the firm is misleading, as the way it is worded indicates the suit is being brought against SandRidge. The over-concentration wording indicates that this is not the case, so this suit should not have any negative impact on SandRidge's share value.
Outlook
SandRidge is one of few companies to successfully transition from natural gas to oil in the last few years, driven mostly by its 1,700,000 net acres on the Mississippian between Oklahoma and Kansas, where it drilled almost half of all drills on the play since its entry. SandRidge is currently operating 25 rigs on this play, compared to just 13 on the Permian. According to its latest investor presentation, 91% of its proved reserves are in oil, and 53% of its holdings are developed. With 315 wells drilled on the play, its next closest competitor is Chesapeake, with 190 wells drilled; however, Chesapeake has nearly the same number of active rigs, at 22 compared to SandRidge's 25. Eagle Oil and Gas Company and Calyx Energy, both privately held, are the next most active on the play, followed by Range Resources (NYSE:RRC) with 15 wells drilled and 3 active rigs.
I believe that the Mississippian and the Permian are liquids-rich enough to drive SandRidge's growth over the next few years without the need for the company to acquire further debt. As the company's debt to equity stands at an unhealthy 1.9, it's a relief that the company is proactively planning for a return to funding from cash flow within the next two years. It should be noted that SandRidge's operating margin is correspondingly better than industry average, at 32.7% compared to 24.9%, and as the company drills its holdings with the liquidity gained from its debt agreements this should allow it to meet its funding goals and make repayments on its obligations. With a price to book of 2.3 and a forward price to earnings of 22.6 SandRidge is not a steal, but it does have future potential, especially trading around $6 per share.
Disclosure: I have no positions in any stocks mentioned, and no plans to initiate any positions within the next 72 hours.