Open Text Corp. (NASDAQ:OTEX) reported another solid quarter on Thursday led by strong pay off from its 2006 acquisition of Hummingbird Ltd.
In a note to clients, Blackmont analyst Lawrence Rhee said:
Synergies from the Hummingbird acquisition are clearly evident in earnings before interest taxes depreciation and amortization performance as Open Text reported its strongest (26.4%) EBITDA margin performance in its history.
The company's fiscal second quarter results, which also included a 11.8% year-over-year revenue increase to $182.5-million and earnings per share of $0.50, were enough to beat Mr. Rhee's estimates and also the consensus.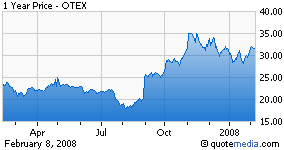 He said Open Text expects overall growth in 2008 to remain intact, despite indications of a weak U.S. economy. The company maintains that organic license revenue growth is in line with the overall ECM industry of between 8 to 12%, he added.
Mr. Rhee maintained his "buy" rating on the stock and increased his price target from $38.50 to $40.