By Joey Vazquez, Oxen Group Contributor
We continue our search for the most attractive companies to buy and sell right now. The markets continued to perform weak yesterday and a reversal of this trend is nowhere in sight without some intervention. Therefore, today, I strive to find attractive companies with strong or weak fundamentals and technicals that will outperform or underperform the markets. Should you buy or sell these companies?
Comcast Corp. (NASDAQ:CMCSA):
(Click to enlarge)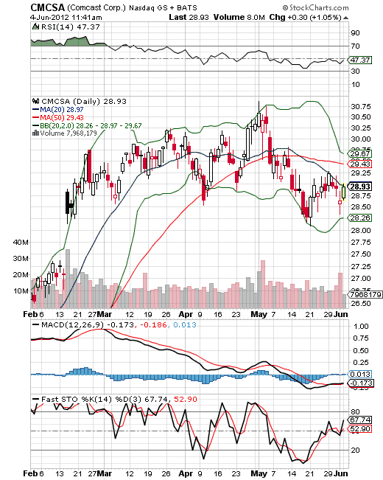 Comcast looks to regain its footing in June and they already received a hand from "Snow White and the Huntsman" as the film brought in over $56.3 million over the weekend, which was better than expectations. Additionally, telecom is one of the strongest places to be during corrections as it has a lot of mutual funds and investors in it. CMCSA will need to break its 20 day MA at $28.97 and its stochastics are suggesting it will as they are already headed higher. It's already at a moderate 47 and has turned around indicating the buying has increased. With a break of its 20 day MA you can expect a break out in CMCSA.
Trade Idea: I would look to go long CMCSA.
AutoNation Inc. (NYSE:AN):
(Click to enlarge)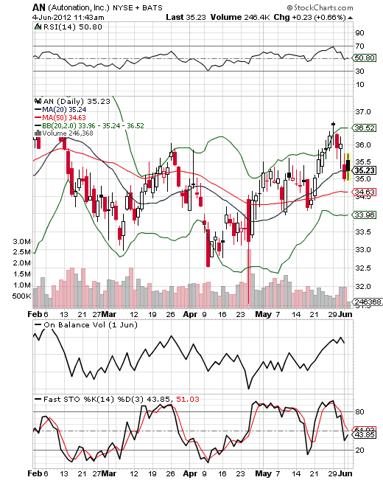 AutoNation Inc. performed well in the weak month of May and is looking to continue that now that it has bounced of resistance at its 20 day MA. Just today they reported a whopping 45% jump in May sales, and they are the type of company that is more attractive in weaker economic times as buyers trade down to buying used cars and selling their cars for extra cash. I would look for AN to head higher from here and its OBV indicator is signaling it will do so as the positive momentum has increased in the last couple of trading sessions. AN stochastics have turned upward as well and its RSI is at a neutral 50.
Trade Idea: I would look to go long AN.
Whirlpool Corp. (NYSE:WHR):
(Click to enlarge)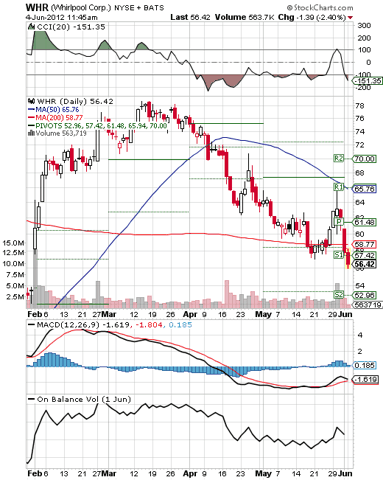 Whirpool has been on the decline since its downgrade in late April. WHR was downgraded to hold from buy by TheStreet ratings on April 30th, the downgrade combined with a weak May sent WHR in a tailspin. Its CCI indicator just entered the -100 area telling us more weakness is on the way. WHR also broke down through its 200 day MA and support at the $57.42 area. Its MACD indicator is on the verge of plunging beneath its signal line, a move that would be very bearish. WHR OBV indicator just turned down will start to move lower if the weakness continues.
Trade Idea: I would look to go short WHR.
Cummins Inc. (NYSE:CMI):
(Click to enlarge)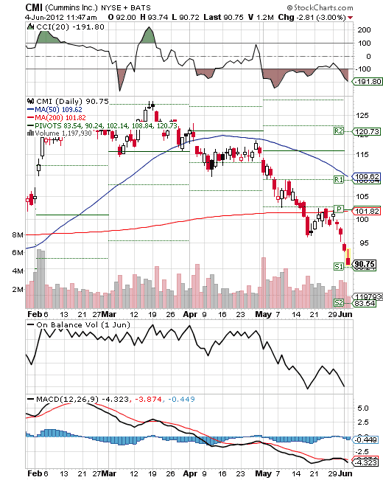 Cummins is currently breaking down and its downgrade today just added more fuel to the fire. Wells Fargo downgraded CMI to market perform from outperform, and the market is not taking this lightly as CMI was down over 3%. Industrial goods are not looking strong cyclically right now as we go through a light period in the economy. Its CCI indicator is already in the -100 area and it looks to continue going lower. If the weakness continues there's a looming death cross and its MACD might suggest that as it just submerged beneath its signal line. CMI OBV indicator is heading straight south re-affirming all the bearish indicators.
Trade Idea: I would look to go short CMI.
Disclosure: I have no positions in any stocks mentioned, and no plans to initiate any positions within the next 72 hours.