Business
Walgreen Co. (WAG) operates a total of 8,290 facilities across the U.S., comprising 7,841 drugstores, 354 worksite health facilities, 82 infusion and respiratory services facilities, 11 specialty pharmacies and two mail service facilities. In addition, during the current quarter the company acquired around 33 specialty pharmacies from BioScrip (NASDAQ:BIOS) in an asset sale.
The largest portion of Walgreen's revenue comes from retail drugstores. These stores are located throughout the U.S. and the company claims that 63% of Americans are less than 3 miles from a Walgreen location. For the fiscal year ending August 31, 2011, the company filled 819 million prescriptions, although this number should fall in excess of 5% in 2012 due to the loss of a key pharmacy benefit manager, Express Scripts (NASDAQ:ESRX). About 65% of Walgreen's revenues are from prescriptions, while the remaining 35% are from "front-end" merchandise.
The company's worksite facilities provide medical, pharmacy and fitness services at large employer facilities. These facilities were acquired by Walgreen through the purchase of Whole Health Management in 2008. The company does not disclose financial or operational data for the facilities, but the number of owned facilities has been decreasing since the acquisition suggesting some closures.
The third largest piece of the business in terms of facilities is infusion and respiratory services. These facilities infuse drugs on an outpatient basis and serve as infrastructure for a home care network that is active in the same activity.
Walgreen also owns a network of specialty pharmacies that process difficult to handle or complex drugs such as cancer treatments. In addition, the company recently purchased drugstore.com, an online store selling products similar to a traditional drugstore.
Historical Trends
In evaluating historical financial performance the best summary measure to evaluate is returns based on gross assets and gross cash flow, in my view. While monitoring and cross checking all the financial trends is important, this measure neatly summarizes cash generation and investment. Gross assets include current assets, gross property, plant and equipment, gross intangibles and capitalized advertising and operating lease expenses. Gross cash flow includes net income, depreciation, interest and current year advertising and lease expense, and has been adjusted to remove certain special items such as the gain on sale of Walgreen Health Initiatives in 2011.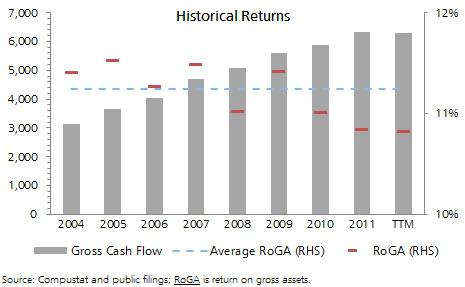 The information in the above figure is not useful for directly establishing valuation because it is a simplified measure; rather, its usefulness is in evaluating the historical trend. Later, we will use a more precise measure of return for valuation purposes. Of note, certain items in the TTM period have to be estimated due to lack of disclosure; therefore, firm conclusions should be restricted to the fiscal year end figure, although directionally it safe to say there has been a flattening.
Gross cash flow has grown from $3.1 billion in 2004 to $6.3 billion in 2011, a growth rate of 10.6% per annum. The average return on gross assets over the same period was 11.2%. The number of facilities increased from 4,613 to 8,210 over the same period, an 8.6% compound growth rate, and since has grown an additional 80 locations to 8,290. Gross cash flow per facility of $680,000 in 2004 increased to $770,000 in 2011.
While returns bounced around from 2004 to 2009, they have broken down over the last several years and are now below the average coming in at 10.8% for 2011 and the TTM period. Identifying the overall weak trend will help in thinking about the future evolution of the business and its value, but first we will look at valuation around the current level of returns.
Earnings Valuation
In order to establish valuation parameters for Walgreen two closely related residual income models will be used, both of which are transformations of the same equation, albeit with slightly different ways of calculating the inputs. The main feature of a residual income model is that it creates a capital charge for assets deployed in the business. A large part of getting a residual income valuation correct is identifying all the capital invested in the business, whether it is recognized on the balance sheet or not.
In Walgreen's case, one of the primary assets of the company not reflected on the balance sheet are its operating leases which are relatively long-term in nature and after adjustment constitute over half the invested capital in the company. Because it is an important valuation factor, providing a little more detail on the lease capitalization may be helpful. Leases have been capitalized using a real (in other words the rate excludes inflation) rate of 2.5%. For Walgreen, this is similar to capitalizing the leases at 10x when used in an EV to EBITDAR framework when looked at in terms of net (as opposed to gross) capital.
In terms of sensitivity analysis, capitalizing leases at a lower rate increases the amount of the capitalized asset and in Walgreen's case decreases the calculated value of the firm. In other words, in a strict sense capitalization is a negative value factor and more of it is more negative. In Walgreen's case, in my view the assumptions made tend to lead toward over capitalization rather than under capitalization when compared to industry norms, although the goal has been accuracy not conservatism.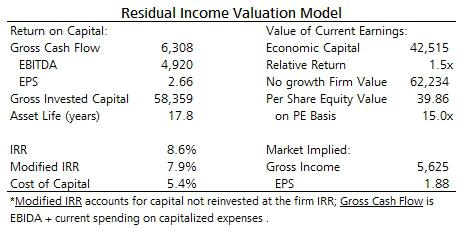 Walgreen is currently employing gross capital of about $59 billion and based on analyst expectations for EPS of $2.66 in the twelve months ending 1Q13, about $6.3 billion of gross cash flow. Asset life is calculated at 17.8 years leading to a corporate wide IRR of 8.6%. Given the company's ability to reinvest cash, this has been modified to 7.9%. This modification adjusts for one of the weaknesses of the IRR calculation which assumes all cash flows are reinvested at the IRR.
Given a real IRR-based cost of capital of 5.4% and economic capital of $42.5 billion, a value for the total firm is derived from the residual income model of $62.2 billion. This figure includes the value of operating leases; therefore, it will appear much larger than publicly reported figures of enterprise value. The per share value of equity after deducting these and other liabilities and adding back cash is $39.86 per share, based on the current level of earnings. In order to double check this estimate, a second related model known as economic margin is used. This model handles the reinvestment issue in a more conservative manner which involves less assumptions than the prior model and results in a per share valuation of $38.95. For companies with relatively low returns on capital such as Walgreen the two models often give very similar results.
It cannot be stressed enough that these are not estimates of Walgreen's value as an investment; rather they are simply mathematical estimations of the value of the current earnings stream. From here, qualitative assessments need to be made to determine if the earnings stream is in jeopardy to determine if Walgreen is a good investment. This is a slightly different paradigm than a DCF model where explicit projections of cash flows are made far into the future, which embody a set of beliefs about a company.
Currently, the market price of Walgreen is quite a bit below the $39-40 range; as of May 4th, the market price is about $30. We can run the model in reverse to see what level of gross cash flow and earnings the market is discounting or implying which yields a figure of about $5.6 billion of gross cash flow and EPS of $1.88. However, there is another way for the market to be right and for profitability to not fall and that is if the capital invested in the business increases at a greater rate than cash flow - in other words, over a series of years, returns on capital fall.
Over the long-term, the IRR would need to fall about 1.5 percentage points to justify the current market value. This is only a rough calculation because depending on how long that transition takes, investors will receive the present value of the excess return for the number of years it takes to reach that lower level, although this would only amount to a few dollars per share. From a qualitative viewpoint, it is likely the market is discounting a fall in returns to lower than 7% because of this factor. In reality, the market is probably assuming a little of both factors - that long-term returns on capital will fall due to both extra capital coming into the business which will not earn historical rates of return and a near-term and sustained fall in profitability.
Outlook
We are now left to think qualitatively about the future of the Walgreen franchise and compare that to what is discounted by current earnings and the market valuation. As with any company, the future will continuously bring new information and the thesis will need to be modified and adjusted in real time.
The key strategic strength of Walgreen is the breadth of its network which gives not only a certain economy of scale, but more importantly bargaining power with payers, especially pharmacy benefit managers. The company also can count as an asset strong name recognition built up over decades of being a major national pharmacy. And, while the drugstore business is certainly competitive, the emergence of a number of larger players means that pricing should at least stay rational. Meanwhile, the company should benefit from an ageing population more apt to use prescription medications.
One area that is both a threat and an opportunity is the front-end of the store. Walgreen and the pharmacy industry in general are fortunate in my view to have relatively small stores. The industry never tried to drive growth by expanding into marginal categories that would demand much larger stores. With competition emerging from the internet for so many items, it is a positive that Walgreen does not have a large store to fill with merchandise.
Still, the recent purchase by Walgreen of drugstore.com shows that online purchases are a threat to the core business. On the other hand, more and more specialty retailers are also being impacted by internet sales and the economy in general. For example, whereas a decade ago a specialty beauty supply store could survive in a marginal area, today it is less likely and Walgreen is a beneficiary - and the more impacted the area economically, the more likely it is that smaller specialty retail with have difficulties.
The biggest overall threat to Walgreen's business at present is the emergence of the pharmacy benefit managers as concentrated players with control of the supply chain. Walgreen is in its own squabble with Express Scripts which had made the problem very real in terms of earnings, but the issue goes beyond just this one relationship. The benefit managers will have increasing industry clout and will continue to push the boundaries on how much economics they will keep for themselves. Walgreen's challenge is to build enough scale to provide a counterweight to an increasingly concentrated benefit manager industry. The problem will only grow worse now that Express Scripts and Medco Health are combined.
The dispute with Express Scripts is likely a large part of the reason for the weak recent stock performance and low market value placed on current earnings for Walgreen. However, given what the market is discounting in terms of future earnings levels or declines in returns on capital Walgreen is at worst fairly valued, in my view. Indeed, the story could turn out much better than the market is discounting now based upon a partial recovery of some of the economics lost in ending the relationship with Express Scripts. Over the long-term though the real issue is how much of the pie will go the benefit managers and it is this area that needs to be watched most closely in the future.
Trading History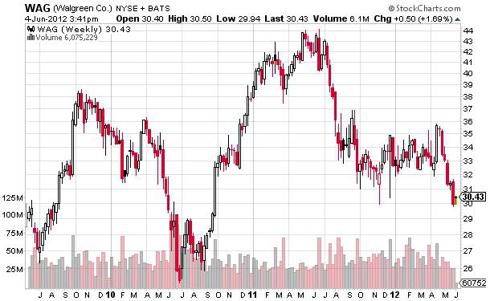 A look at the chart shows that over the past three years, Walgreen has traded as high as about $44 and as low as a little under $26, with quite a few significant levels in between. The recent break below the $33-34 level is likely driven by overall market weakness as much as anything specific to Walgreen although continued weak comparable sales reported by the company on a monthly basis are a potential factor as well. While the company may in fact be undervalued at today's level, we could see a test of $26-28 before a stabilization occurs. One factor that could lead to further weakness in the stock is forward estimates for 4Q12 and 1Q13 that predict some rebound from recent negative trends which may not occur. Although more pessimistic numbers would hardly impact the valuation (less than 50 cents per share of market value), sentiment would suffer. Nevertheless I remain long the shares and would look to add on weakness unless the long-term fundamentals change materially.
Disclosure: I am long WAG.