In light of the recent negative publicity associated with the non-listed REIT sector, American Realty Capital has been a beacon for investors wanting to achieve portfolio diversification without stock market volatility. In general, the evolution of the non-traded fixed-income alternative has gained broader acceptance as a durable REIT class that is differentiated by its defensive stability, low volatility and sustainable income
American Realty Capital has been the pioneer of many industry best practices, beginning with American Realty Capital Trust (ARCT), which include: shorter life cycles, fully covered distributions, elimination of both internalization fees and any follow-on offerings, along with lower fees and pay-for-performance management compensation.
Back in February I wrote a Seeking Alpha article on ARCT, American Realty Capital Trust - The Newest Triple Net Threat, and when the triple net sector REIT listed (on March 1st) investors purchased these formerly illiquid shares at $10 each. In its first 28 days since listing, 72 million shares have traded and ARCT hit an all-time high, closing at $11.24 per share on April 10 (intraday it hit $11.25). The most recent price for the NASDAQ listed stock was $10.35 and the $1.64 billion (market cap) REIT is paying a dividend yield of 6.6 percent.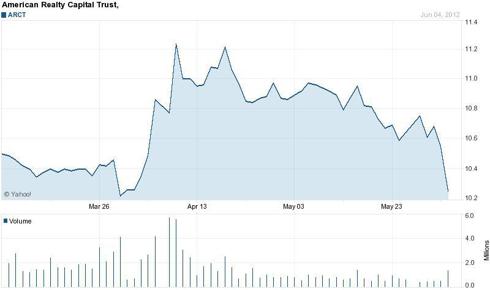 Today American Realty Capital's subsidiary, Realty Capital Securities ("RCS") assists with the listing of a second publicly-listed REIT with the inauguration of its "crown jewel" health care REIT, Healthcare Trust of America (NYSE: HTA). This high-quality medical office REIT is similar to the sponsor's triple net REIT in that most of the properties are newer and both focused sector REITs have fewer near term lease expirations.
By tapping the public markets, HTA's current investors will be able to access targeted full-cycle liquidity while also achieving full investor confidence in an industry that is perceived to be less main-stream. This is a significant milestone for the sponsor as well as the REIT industry as bad news has plagued several non-traded REIT sponsors like Apple REIT (see Michael Terry's article here), Inland Group, Behringer Harvard, and others.
And recently, Inland Group's highly leveraged shopping center REIT, Retail Properties of America, Inc. (RPAI), listed shares with a less enthusiastic reverse-stock-split offering. For those investors who originally bought the REIT at $10 a share, the actual split-adjusted value of the stock was less than $3 per share (a decline of over 70%). This ill-engineered full-cycle transaction was driven by excessive debt (RPAI's debt/EBITDA ratio for Q1-12 is 8.98x) and less desirable legacy property issues.
Similar to ARCT, HTA will list its shares (229.5 million common shares) today (RPAI was an IPO) and the health care REIT intends to unlock around 25 percent of its liquidity. By controlling the demand, HTA will utilize a "Dutch auction" tender offer by buying back up to $150 million of its shares - an emerging method to take a non-traded REIT into the public space. Also by releasing 25 percent of the shares every six months, HTA will control the potential demand while also attempting to maintain low volatility within the $2.5 billion portfolio. (Class A shares list today and Class B-1 shares list in six months, B-2 shares list in twelve months and Class B-3 shares list in eighteen months).
Recently SNL's Zach Fox wrote:
But for retail investors, Healthcare Trust is expected to duplicate ARC Trust's success in providing its investors with a return on their investment, as opposed to Retail Properties of America Inc., whose IPO price provided original investors with a negative-40% return, according to Green Street Advisors. And ARC Trust's success story, providing original investors with a positive return, could boost sales of new products.
What's HTA's Value Proposition Going Forward?
Today HTA is leaving the junior varsity squad (non-traded REITs) and is now playing with the varsity squad (public REITs). This medical focused REIT should be well-prepared for competing with the sector peers as well as the other 125 public equity REIT teams.
Starting with the medical sector, there are eleven health care REITs (source: NAREIT as of April 30, 2012) with a combined market capitalization of $58.05 billion. The average dividend yield for the health care sector is 5.15 percent compared with 3.27 percent for the entire equity REIT sector.
HTA will enter the "big leagues" with assets of around $2.5 billion that is comprised of 264 buildings and around 12.44 million square feet. The portfolio is well-balanced with medical related properties spread over 26 states.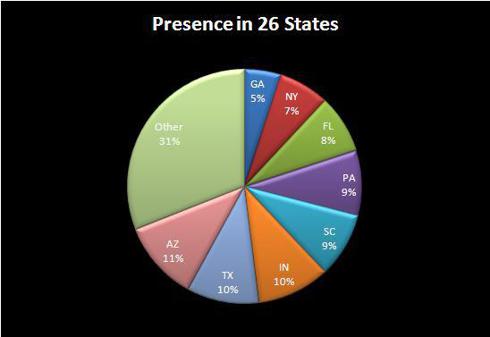 In addition, HTA's portfolio is balanced with a mix of single tenant and multi-tenant facilities. The majority (90 percent) of HTA's facilities are leased to medical office providers and Healthcare Realty Trust (NYSE:HR) is the only other medical REIT with a focused medical office model.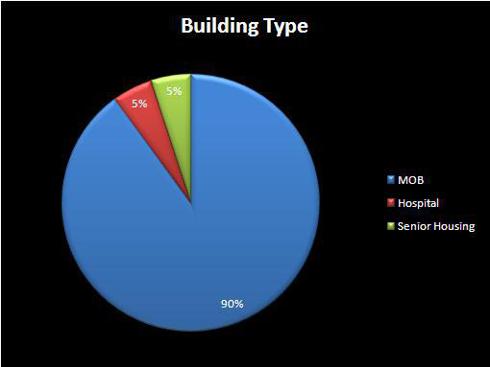 HTA has a diverse tenant portfolio with a large majority (56 percent) of credit rated tenants. In addition, 39 percent are considered investment grade and 44 percent are considered non-rated (mainly independent physicians).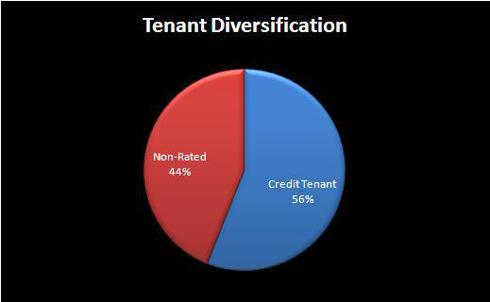 With a portfolio of around 1,600 leases, HTA has solid and stable cash flows. The necessity-driven model has attracted many leading medical related tenants and the core medical office focus has resulted in an extraordinarily high-quality portfolio. Here is a snapshot of the top thirteen tenants:
The HTA leases are staggered with average contractual rent bumps of 2 to 3 percent annually. The average portfolio occupancy increased 89 percent to 91 percent from 2009 to 2011.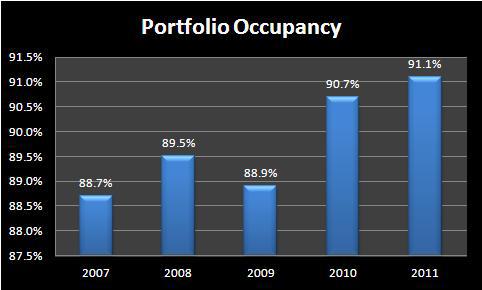 As most know, non-traded REITs exist for one primary purpose and that is to raise "blind pool" capital for sponsors to eventually go public (or list). HTA has been very successful with building a capital base that has led to its inaugural listing on the NYSE today. Since 2007, HTA has closed on around $2.55 billion in acquisitions: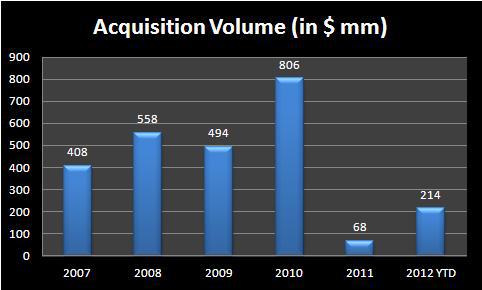 HTA has grown its income from $52 million in 2008 to over $200 million today. Hers is a snapshot of the company's net income history: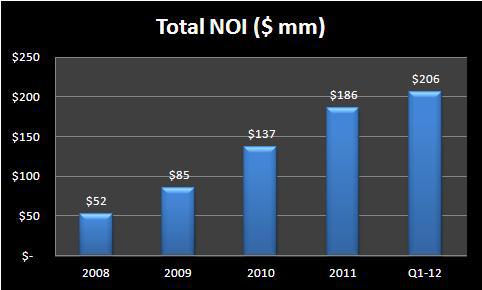 HTA's FFO has grown from $22 million in 2008 to over $128 million today. The modestly leveraged balance sheet will provide accretive enhancement for future income and dividend growth.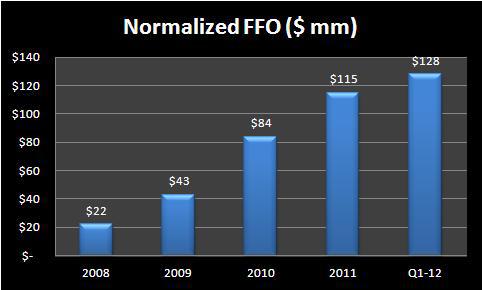 With just around 18 percent secured debt ($639.1 million) and an undrawn $575 credit facility (as of 3-31-12) and $30 million in cash (as of 3-31-12), HTA will enter the public REIT space as one of the better capitalized medical office sector REITs (JPMorgan Securities, Deutsche Bank, and Wells Fargo Securities lead the $825 million unsecured credit facility).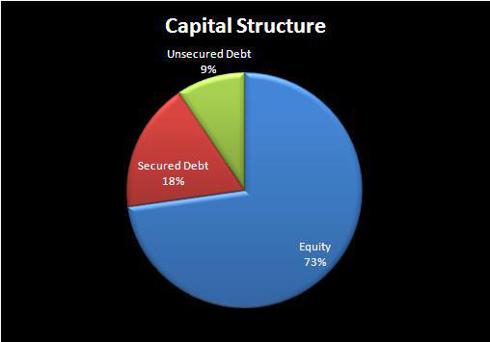 Skilled Leadership
Scott Peters served as Chairman of the Board (of HTA) since July 2006, Chief Executive Officer since April 2006 and President since June 2007. He served as the Chief Executive Officer of Grubb & Ellis Healthcare REIT Advisor, LLC, the former advisor, from July 2006 until July 2008. He served as the Executive Vice President of Grubb & Ellis Apartment REIT, Inc. from January 2006 to November 2008 and served as one of its directors from April 2007 to June 2008.
Peters also served as the Chief Executive Officer, President and a director of Grubb & Ellis Company or Grubb & Ellis; the former sponsor, from December 2007 to July 2008. Along with veteran REIT executive Anthony "Tony" Thompson (then Chairman), Peters (then CEO) operated NNN Realty Advisors that later became a wholly owned subsidiary of Grubb & Ellis (upon its merger with Grubb & Ellis in 2007).
Peters was also an executive in other Thompson-managed affiliates (G REIT and T REIT) where he assisted in executive level operations. From February 1997 to February 2007, Peters served as Senior Vice President, Chief Financial Officer and a director of Golf Trust of America, Inc., a publicly traded REIT. Peters received a B.B.A. degree in accounting and finance from Kent State University.
Peters and his executive team have broad experience in the REIT sector and Peters was instrumental at building the REIT from scratch. In addition, Peters was responsible for internalizing the selling platform for the REIT (Grubb & Ellis Healthcare REIT I) and lowering costs making the non-traded alternative more investor-aligned.
The REIT's strategy of raising "blind pool" capital using high-quality necessity-driven properties was "spot on" and Peter's investor aligned management attributes should bring further value to the highly liquid fixed-income alternative. HTA appears to have an "investors first" focus and that strategy should propel the new public REIT towards leader board recognition.
A Rising Star?
The stars are lined up for HTA to be an "all star" performer. The hand-picked properties are high quality and the management is vetted. The tenant base is solid and the overall credit is mix is excellent. By focusing on medical office properties (90 percent of portfolio), HTA maintains a competitive advantage distinguished by above average occupancy fundamentals (91 percent).
In addition, HTA's conservative balance sheet combined with its right-sized credit facility should enable the REIT to grow revenue and build accretive funds from operations (FFO). The proposed dividend yield (based on projected share price of $10.10) is 5.5 percent and that appears to be in-line with the industry peer group.
In this article I have included the following publicly-traded health care REITs: Healthcare Realty Trust Inc. , Omega Healthcare Investors Inc. (OHI), Health Care REIT, Inc. (HCN), HCP, Inc. (HCP), and Ventas, Inc. (VTR):

Healthcare Trust of America is the third non-traded REIT to list in association with American Realty Capital (and RCS) and the newly listed REIT has created a natural proving ground for creating full-cycle investor liquidity. This "blind pool" capital trend has become a beacon for others to follow - especially the risk-aligned investors and advisors. The evolutionary non-traded REIT alternative should continue to grow closer to becoming a more transparent public peer and perhaps one day the only difference in these operating structures will be the trade off of volatility (risk) and liquidity (reward).
Finally, there is no substitute for the liquidity and transparency attributes related to publicly-listed securities. In my opinion, non-traded REITs are designed for one simple purpose and that is to create "blind pool" capital for sponsors to eventually go public. Non-traded REITs provide lower correlated volatility and gaining exposure to the sector "could" warrant benefits for overall portfolio diversification. Similarly, gaining exposure to real estate (in an individual, partnership or non-traded REIT structure) can produce above average risk-adjusted returns; however, each individual investor must consider the risk premiums and specifically the tradeoff of liquidity and transparency (that public REITs provide).
Disclaimer: The author (Thomas) was employed with Thompson National Properties in 2007 and 2008. Thomas is not promoting (selling) securities and he has no ownership interest in HTA or any affiliates of American Realty Capital or RCA.
Disclosure: I have no positions in any stocks mentioned, and no plans to initiate any positions within the next 72 hours.