Tuesday night, the Australian Bureau of Statistics (ABS) reported a surprise jump in GDP of 1.3% quarter-over-quarter. With growing fears of a global economic slowdown, analyst consensus had pegged growth only around 0.6%. At the same time growth surprised to the upside, Australia's terms of trade plunged 4.3% accompanying a -0.5% contribution of net exports to GDP.
The Reserve Bank of Australia (RBA) will certainly take careful note of these numbers since robust domestic demand, coupled with a trade deficit funded by a depreciating currency, could reintroduce inflationary pressures into the economy. If so, my expectation that the RBA is finished cutting rates for now (absent new shocks to the global economy) has received further support.
The surprisingly good news sent the Australian dollar (NYSEARCA:FXA) instantly higher and closer to my target of the 50-day moving average as part of a relief rally.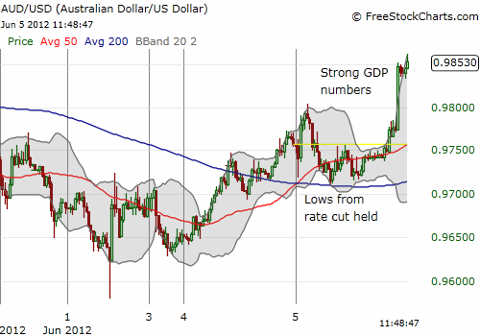 30-minute chart shows surge in Australian dollar versus the U.S. dollar and how lows from the previous day's rate cut have held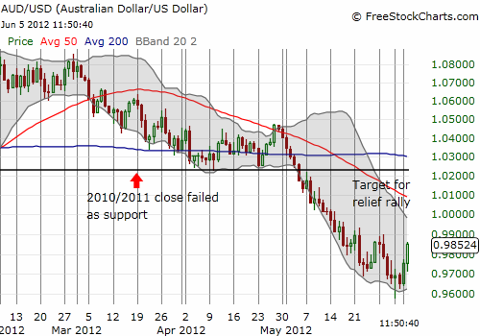 Australian dollar on-schedule for a relief rally into the (declining) 50-day moving average
Source: FreeStockCharts.com
Interestingly, the Australian economic news seemed to send up smoke signals for "risk-on" trades across the major currency pairs. This sets up well for the U.S. stock market trading session on Wednesday, especially given the market remains oversold. The ECB rate decision later tonight is the next wildcard.
Be careful out there!
Disclosure: In forex, I am net long the Australian dollar.