Company Profile
FactSet Research Systems Inc. (FactSet) is a provider of integrated financial information and analytical applications to the global investment community. FactSet supports the investment process from initial research to published results for buy and sell-side professionals.
FactSet Research Systems (NYSE:FDS) is scheduled to report its third quarter earnings results on June 12, 2012, before market open.
Technical Overview
all images :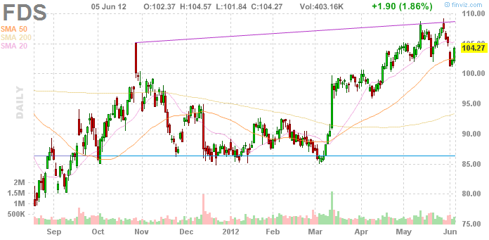 FactSet has a market cap of $4.68 billion and it is currently trading around $104.27 with a 52 week range of $78.25 to $109.20. The stock has 19.47% price performance for the year 2012. The following table provides the key financial ratios for FactSet:
| | |
| --- | --- |
| Key Ratio | Value |
| Current Ratio | 3.22 |
| PEG | 2.23 |
| P/E | 27.51 |
| Forward P/E | 22.23 |
| Profit Margin | 22.88% |
| Return On Assets (ROA) | 26.21% |
| Return On Equity (ROE) | 32.02% |
Recent News
On June 4, 2012, FactSet Research Systems announced its Fixed Income Portfolio Analysis service will now integrate bank loan data from Markit.
On May 10, 2012, The Wall Street Journal released the complete results of the annual Best on the Street Analysts Survey. This year marks the Journal's 20th year hosting the survey, and FactSet's fourth consecutive year as the data provider.
On May 8, 2012, FactSet Research Systems announced that its Board of Directors approved a 15% increase in the regular quarterly dividend from $0.27 per share to $0.31 per share. The cash dividend will be paid on June 19, 2012 to holders of record of FactSet's common stock on May 31, 2012.
Analyst Guidance and Earnings History:
The third quarter revenues are expected to be $203.05 million when compared to $183.65 million for the same quarter last year. Earnings per share for the third quarter are expected to be $1.04 a share, up from 92 cents a share in the year-ago period.
The average price target from analyst for FactSet is $96.57 with average rating is HOLD
Out of the last 4 quarters, FactSet has met or exceeded the EPS estimates 3 times. The following chart shows the analysts' estimates history and the actual EPS results:
Sources: Some of the data is taken from Google Finance, Yahoo Finance, Finviz and investor sites.
Disclosure: I have no positions in any stocks mentioned, but may initiate a long position in FDS over the next 72 hours. I change my positions very frequently and may initiate either long or short positions in the above mentioned stocks at any time.