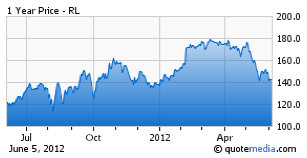 · Fiscal 2012 sales increased 21% to $6.9 billion
· Diluted EPS rose 24% to $7.13
· Near term caution
· Significant opportunities for expansion in international markets
· Consensus forward EPS forecast to grow 11.6%
Ralph Lauren (NYSE:RL) is one of the most widely recognised US brands. Demand for its casual but high quality apparel has increased strongly since its inception forty years ago and the company has fared well throughout the recent financial crisis. The latest earnings figures show there has been no slowdown for this success. The company has flagged near term economic concerns, but this is off set by strong product development and increasing opportunities in emerging markets.
Trading on a historic P/E of 20 and forward P/E of 17.8, Ralph Lauren is not cheap. Near term concerns about Europe and domestic retail sales have hit growth prospects for fiscal year 2013. However, the longer term prospects remain very strong with a growing Chinese middle class likely to provide a huge market for Ralph Lauren's goods in the near future. The fashion business is notoriously fickle but, having launched the trade mark Polo shirt 40 years ago, Ralph Lauren looks like it is here to stay.
The company recently announced full year results with a 20% increase in net income to $681 million as revenues rose 21% to $6.9 billion.
Chairman and Chief Executive Officer, Ralph Lauren, said the company had made significant progress with in international expansion efforts and new products. Mr. Lauren said China was becoming an increasingly important driver of growth with several new stores planned. Additionally, increasing worldwide momentum in handbag sales were highlighted with additional investment planned to support this high growth business.
The results come after several years of expansion that has seen significant sales and earnings growth. Retail sales for Fiscal 2012 were up 27% to $3.4 billion while comparable store sales for Fiscal 2012 rose 14%. Wholesale revenues were $3.2 billion, 17% greater than Fiscal 2011, reflecting higher North American and European demand for core apparel and accessories.
The sales growth offset margin compression caused by raw material cost inflation and led to double digit earnings growth.
Roger Farah, President and Chief Operating Officer, said the company was cautious about near-term economic trends due to economic problems in Europe. However, he believed that Ralph Lauren had significant potential to expand in international markets.
The company expects consolidated net revenues for Fiscal 2013 to increase by a mid-single-digit percentage, reflecting the net impact of a low single-digit decline in wholesale sales and a low double-digit increase in retail sales. Consensus EPS averaged 7.96 for fiscal year 2013 (17 analysts polled) and 9.22 for 2014 (14 analysts polled).
Disclosure: I have no positions in any stocks mentioned, and no plans to initiate any positions within the next 72 hours.