Wyndham Worldwide Corp.
(NYSE:
WYN
) is expected to report Q4 earnings Tuesday with a conference call scheduled for 8:30 a.m. ET.
Guidance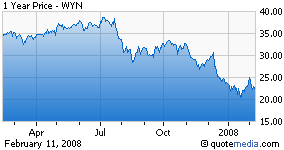 Analysts are looking for a profit of 46c on revenue of $1.07B. The consensus is 44c to 47c for EPS, and revenue of $1.10B to $1.05B, according to First Call. In December, the company said it expects 2007 EPS of $2.02 to $2.13 on revenue of $4.34B to $4.45B vs. First Call consensus of $2.11 and $4.39B. Also, it sees 2008 EPS of $2.23 to $2.38 on revenue of $4.8B to $4.9B vs. First Call consensus of $2.31 and $4.85B. Wyndham said it expects Q1 EPS of 30c to 35c vs. First Call consensus of 34c.
While the lodging sector has enjoyed steady growth on demand, and limited construction of new hotels, growth rates have now slowed due to the softening U.S. economy and increased hotel supply. Wyndham believes it is well positioned because of its businesses that appeal to retirement-age Americans who have more time and money to spend on hotel rooms. The company expects its bargain hotel chains to be more stable during an economic downturn, as travelers look to save money.
Analyst Views
Goldman Sachs
expects Q4 results for lodging stocks to be "toward the lower end of expectations" with little potential for upside surprises, and expects companies to broadly lower 2008 guidance. Declining fundamental sector drivers, including decelerating demand and increasing supply growth, coupled with challenging capital markets and increasing concerns of a U.S. recession, could weigh on the shares. They believe Wyndham is less exposed to business travel, and is in the midst of a multi-year turnaround, which could result in potential upside. Goldman expects that Wyndham will better weather the weakening economy than its competitors since a significant amount of their profits are not dependent on hotel-level profitability.