The future of Nokia (NYSE:NOK) is one of the more hotly debated topics in the telecom space (I guess you could say the tech space as well), on par with Research In Motion (RIMM) as they are both up against the same wall. On May 21, I penned an article on Nokia titled "Nokia: Watch The Bonds For Signs Of Life" in which I concluded:
Bottom line: Nokia is a turnaround play, pure and simple. This is speculative and some might say to look at Nortel for guidance how it could play out (when I first looked at the company, Nortel popped into my head with the talk of new products and patents -- neither of which worked out for them). If an investor wants to take a position in the company, the 2019 debt might be a consideration as there is significant upside to par (20%), the duration is not huge (5.50) so rates won't overly kill you if they rise (not that Nokia is trading off rates anymore) and you are senior in the capital structure. Is the upside as great as the potential upside for the equity? No. Is it safer? It is senior, and in that respect safer. If you really like the company and think everyone has gotten it wrong -- buy the bonds and let the coupon pay for longer dated call options, or hedge with bonds and puts.
At the time I wrote that article, the two USD bonds were trading as follows:
| | | |
| --- | --- | --- |
| Issuer | Nokia | Nokia |
| CUSIP | 654902AB1 | 654902AC9 |
| Coupon | 5.375% | 6.625% |
| Maturity | 5/15/2019 | 5/15/2039 |
| Ratings | Baa3/BB+/BB+ | Baa3/BB+/BB+ |
| Price | $80.125 | $77.45 |
| Yield to Mat | 9.312% | 8.83% |
| Mod Duration | 5.50 | 10.69 |
While it has only been a couple of weeks, I figured an update might be in order to see if the mind of the bond market has changed in order to support the drop in the stock from $2.85, when the article was published, to $2.74 yesterday (the stock is up 3.2% today, back to $2.85). Rather than fluff it up, I will be brief and get right to the meat.
Bond levels and data today:
| | | |
| --- | --- | --- |
| Issuer | Nokia | Nokia |
| CUSIP | 654902AB1 | 654902AC9 |
| Coupon | 5.375% | 6.625% |
| Maturity | 5/15/2019 | 5/15/2039 |
| Ratings | Baa3/BB+/BB+ | Baa3/BB+/BB+ |
| Price | $82.25 | $79.25 |
| Yield to Mat | 8.86% | 8.62% |
| Mod Duration | 5.47 | 10.80 |
As is evident from the table immediately above, bonds have rallied approximately 2.5% from the last writing while the equity was down and is now basically flat. Graphically, the bonds show the following:
2019:
Click to enlarge images.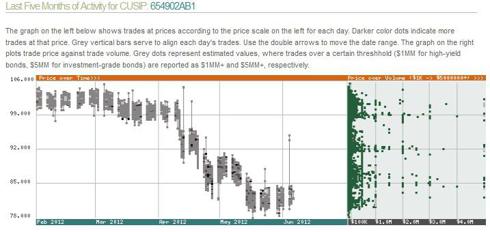 Source: FINRA/TRACE.
2039: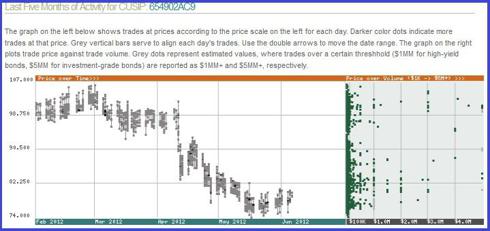 Source: FINRA/TRACE.
Both bonds seem to have bottomed for the time being and rallied up a couple percent, which should support equity firmness and perhaps an increase from the current $2.85.
Source: QuoteMedia.
Bottom Line: For those investors who currently hold Nokia equity or are considering starting a position, the bonds are supportive of the stock. Similar to my last article, if you feel Nokia has what it takes with its new line of handsets and its Microsoft (NASDAQ:MSFT) connections (via the payment to put Microsoft's OS on the handset and potential further support), the bonds look stable here and a bond plus call strategy could be used, a bonds alone strategy or straight equity.
Disclosure: I have no positions in any stocks mentioned, and no plans to initiate any positions within the next 72 hours.
Disclaimer: This article is for informational purposes only, it is not a recommendation to buy or sell any security and is strictly the opinion of Rubicon Associates LLC. Every investor is strongly encouraged to do their own research prior to investing.