After a disappointing May, which brought many indices back to January valuations -- it is time to check back with asset allocations and whether we will see another mid-cycle pickle.
For those following monthly trend systems - the end of May should have called for an exit of global growth related investments including international, emerging markets, and commodities and/or commodity-oriented sectors, while raising cash positions. Cash positions at 30% or higher would not be unsurprising. [Cambria Global Tactical ETF (NYSEARCA:GTAA) has increased its cash and US bond position from ~22% at the end of April to ~60% as of June 4th.]
On top of the growing European credit crisis, the May Global Manufacturing PMI (PDF) released June 1st shows that global growth is barely positive at 50.6 (over 50 is expansion) and losing steam. While the US is supporting global growth - Europe and China represent drags. With slowing growth and the increasing uncertainty surrounding the outcome of the Euro, it is surprising that volatility in the underlying equity markets have not picked up more than they have.
In fact, we are nowhere near the volatility levels seen in the last two mid-cycle spikes. While I won't profess that I know that we will see another spike this summer -- there are warning signs. Most broad-market equity indices have broken their intermediate-term trends (10-month moving average or 200 day simple moving average). Below are some of the major indices and related ETFs and their respective moving averages. The Russell 1000 Growth ETF (NYSEARCA:IWF) is the only traditional index that has held above its 10-month moving average.
Figure 1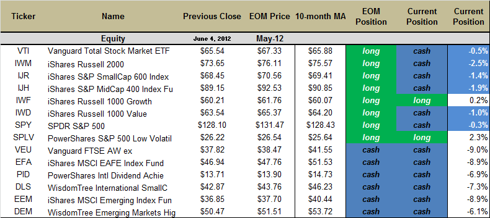 Furthermore short-term trend indicators, (such as the 5-10-20 indicator), remains negative for most traditional index based ETFs. Until the short-term trend indicators turn positive - remaining below the intermediate trend lines will likely bring increasing volatility as detailed in the aptly titled note "Where the Black Swans Hide". It has been observed that volatility increases and returns are negatively skewed when the indices are below their intermediate trends.
Whipsaw
With markets sitting on intermediate support levels, there remains the possibility that a swift rebound in the markets could occur. A more defensive asset allocation profile comes at the potential price of underperforming passive asset allocations. Consider two generalized market outcomes based on the current economic/political backdrop:
Markets rebound in short-order as market participants have assessed that the Nemesis outlook (Euro breakup, China hard landing) is unlikely and does not require a discount and/or global growth is sufficient to sustain valuations. Market volatility remains subdued.
The Nemesis outlook is increasingly likely and/or growth is insufficient. Market valuations would continue to deteriorate under this scenario and volatility levels rise above long-term averages.
The biggest challenge in my opinion is to accept knowing that investment decisions could lead to underperformance. Realizing short-term losses in order to protect capital just to have markets reverse is painful. However, getting whipsawed is likely the best case scenario and I view this as expensive insurance, but insurance nonetheless. In this scenario, a passive allocation strategy will likely outperform more defensively postured portfolios.
In the less desirable second outcome, where markets continue to deteriorate, the defensive-oriented portfolios that shifted to cash should be compensated for the additional market activity costs. In my opinion, this is less desirable because while defensive portfolios will provide safety over passive allocations - there is still no return! This is especially true in a time when investors are relying more on total returns than interest payments from fixed income alone.
Certainty-of-Hindsight Effect
The value of getting defensive at this juncture is based on outcome probabilities prior to events unfolding. Don't let people fool you that they knew all along what was going to happen because most likely they didn't!
"People often display far greater confidence in their explanations of the past than they do in their predictions of the future"
Quoted from a paper by Professor Philip Tetlock, Professor Tetlock describes the certainty of hindsight phenomenon. Individuals will often remember assigning a greater probability to an outcome after it has been revealed than the actual probabilities were made prior to the event. A real-time example is the "Sell in May" rule. In hindsight - wasn't it obvious! However, statistics would argue that prior to May - that is not necessarily the case. Basing an analysis of results after the known outcome occurs devalues the tactical decisions to manage risk when there was less certainty.
Conclusion
Market declines in May were enough to push intermediate trend-following systems (i.e. based on 10-month moving averages) into a more defensive posture. Several major indices are now at or below their intermediate-term trends. If market indices are sustained at levels below their intermediate trends it is likely that volatility will increase above their long-term averages.
The difficulty is willing to accept near-term losses to protect capital while knowing that the markets could change directions in a whipsaw motion as headlines are driving near-term market movements. Getting whipsawed by the market is an acceptable risk in my opinion. It is important to remember that prior to knowing how Europe will resolve its credit issues, who will be the next US President, when will China's economy rebound, hedging will always seem more appropriate. After it all happens - I am sure we will hear the experts (in the media) state they knew it all along and this is what you should have done. My suggestion is to ask to look at their portfolios looked like back in June.
Disclosure: I have no positions in any stocks mentioned, but may initiate a long position in IWF over the next 72 hours.