As we've previously discussed, option volume (and particularly ETF and VIX volume) has continued to grow even while average stock volume has cooled off. This is due to the vast flexibility that options allow investors and traders in terms of speculation, hedging, and other uses. ETFs have advantages over mutual funds in terms of liquidity and ease of trading, and offer investors a simple way to trade baskets of sectors, indices, etc.
With that in mind, the world's largest options exchange, the CBOE (NASDAQ:CBOE), released its trading volume data for May 2012 recently and the numbers are interesting. During the month of May, in which the S&P 500 (NYSEARCA:SPY) was down over 6%, option volumes rose dramatically, both in comparison to 2011 and to the previous month.
There is a logic to this, as when the market shows increased volatility (particularly to the downside) and there is growing uncertainty (in this case it's the Greece/Spain problems and U.S. economic slowdown worries), investors and traders both large and small look to find downside protection and volatility protection. In times like that, money pours into puts and into options on assets like the CBOE Volatility Index (NYSEARCA:VXX) (NYSEARCA:VXZ), and the data shows this occurred in May. That actually contributes to the VIX itself rising, as the VIX measures the implied volatility of SPX options. And those options, while affected by actual/real/historic volatility, also have the time premium of their price affected by supply/demand.
As we've previously discussed, vega (volatility) is the only option Greek that is human-controlled by market makers (the rest are basically mathematic functions or tied to things like fixed interest rates and known dividends), and thus is really the most important part of the option pricing calculation. So when many are buying puts to bank on downside or for protection (and the market makers are on the other side selling the options), the prices will eventually rise, causing a rise in the VIX and other measures. There is always a buyer for every seller in an option transaction, and vice versa.
Let's delve into the recent reported numbers a bit (the following quotes, tables and spreadsheets come from CBOE data):
May 2012 average daily volume (Pending:ADV) was just under 5 million contracts, an 18% increase from May 2011 ADV of 4.2 million contracts and a 9% increase from April 2012 ADV of 4.5 million contracts.

CBOE Futures Exchange and the exchange's flagship product, the CBOE Volatility Index (the VIX Index), set new all-time monthly volume records of more than 2 million contracts in May.

May 2012 CBOE ETF option ADV was 1.4 million contracts, up 25% from 1.1 million contracts ADV in May 2011 and up 32% from April 2012 ADV of nearly 1.1 million contracts.
Here is that data in table format:
Click to enlarge images.

As far as individual names, the CBOE gave this data: "The five most actively traded index and ETF options at CBOE during May were the S&P 500 Index, Standard & Poor's Depositary Receipts, CBOE Volatility Index (VIX), PowerShares QQQ Trust (NASDAQ:QQQ) and iShares Trust-Russell 2000 Index Fund (NYSEARCA:IWM)."
Here are the top index & ETF volume traders on the CBOE for June 2012: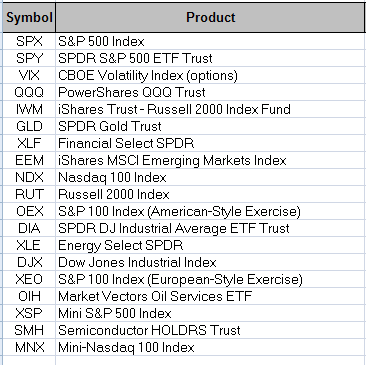 "The five most actively traded equity options at CBOE during May were Apple (NASDAQ:AAPL), Bank of America (NYSE:BAC), JPMorgan Chase (NYSE:JPM), Citigroup (NYSE:C) and Chesapeake Energy (NYSE:CHK)."
They haven't released the May 2012 individual equity option volume numbers yet, but here are the April 2012 Top 50 most active stocks traded on the CBOE: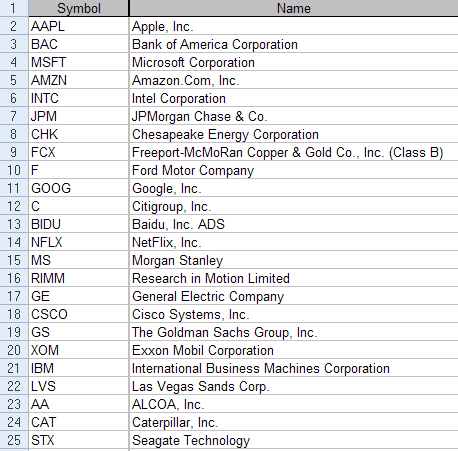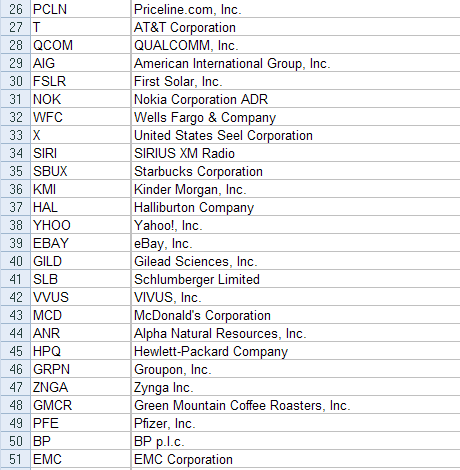 Always remember, the great flexibility and multiple uses of options allows you to make a profit, protect gains, and/or collect income in so many ways. Directional, volatility, protection, and hedging are some of the main uses of options, and there a wide variety of strategies from simple to complex to do so.
Disclosure: I have no positions in any stocks mentioned, and no plans to initiate any positions within the next 72 hours.