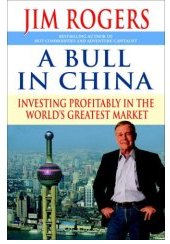 As China has become hot, we've seen a rash of so-called China experts emerging in America's top business magazines and whose books adorn the shelves of Barnes and Noble. I am always left scratching my head when I read some of these books and wondering how guys who visit China once or twice a year have somehow managed to position themselves as knowing anything about China aside from what the Executive Lounge in a 5-star hotel looks like.
When I was a Teaching Fellow at Harvard many years ago, I always asked my students on the first day of class how they formed their opinions on China. At the time, most China talk was about politics, as the economy still was left ravaged by the remnants of the Cultural Revolution. Now everyone is talking about China's economy, and no one can get his two cents in fast enough. For example, look at the river of China knowledge flowing from Thomas Friedman, whose own translator in China has criticized him for not getting it.
Apparently uber-investor Jim Rogers now considers himself a China expert too. I have always enjoyed reading his books, like his book on commodities. They are entertaining and one cannot help but like such an outspoken chap who tells it like he thinks it is. And he certainly has some massive investing credentials, having co-founded the Quantum Fund with George Soros.
But Rogers' latest book, A Bull in China: Investing Profitably in the World's Greatest Market
, and declarations on China in interviews and speeches have some glaring weaknesses that make me wonder whether his other books should be read as yarns, rather than real investment advice for everyday retail investors. Any person with even a passing knowledge of China will see Rogers has huge holes in his logic. And for the people who do not notice, they might take some of the investing suggestions to heart, run around in circles and maybe lose money in the process.
First off, Rogers has said in interviews that he is selling all of his USD holdings and buying RMB ones, specifically cash. I have no idea how he does that… at least legally. As Jamil Anderlini in the Financial Times rightly posted in a book review, foreign citizens can only exchange the equivalent of $50,000 USD a year into RMB in cash. If someone can tell me how one can exchange money above $50K legally, I would appreciate it as I would like to get more holdings in RMB. I agree with Rogers that buying more RMB is a good investment choice, but it is just not feasible with the current laws in place.
Now, if one buys real estate one can get approval to exchange larger sums of cash. But in order to curb real estate speculation the Government has been limiting the number of units one can buy in China and one must have lived here for a certain amount of time. Rogers says he won't buy Chinese real estate, and I am not sure that he actually qualifies to buy based on his lack of living here because he prefers Singapore to China because of the pollution. So I don't think he is getting RMB by buying homes and thus being allowed to convert cash. And it certainly is not an investment strategy for people living in the US, unless they buy into a real estate fund.
Second, one cannot exchange RMB back into USD legally. So if Rogers has significant if not all of his holdings in RMB somehow, but refuses to live here as he has mentioned, then how can he live outside of China if he does not have any foreign currency? Why would such an astute investor put everything or even a small chunk into a non-convertible currency like the RMB or recommend to others to do so? While buying cash might work for a millionaire or billionaire investor or a hedge fund to allocate some holdings and just leave it there or hope that the currency laws will be eased, that is really bad advice for everyday American retail investors who might need to tap into their holdings at some point. I live in Shanghai and will stay here for many years, so holding RMB is good for me, but not for a retail investor in the US.
Third, although Rogers says he bought stock many years ago, the A-share market in China is pretty much closed off to foreign retail investors. Investing in Hong Kong or Singapore, as Rogers says he does, to take advantage of China's booming economy is simply not the same as investing in China's stock market.
Some can get exposure to Chinese stocks through the QFII scheme. But this option really is for only the very largest of investors and mostly for companies. How does Rogers do it then?
I have not spoken to Rogers, but I asked several people who have interviewed him for big publications how he does it for these strategies and recommendations. They all say he says he does it but jumps around the subject and does not give specifics on how to do it. If he cannot do it with his mucho dinero backing him up, how can everyday retail investors do it?
Basically, I agree with Rogers' optimism on China. I am certainly adding more exposure to China right now (as I have mentioned here before), in stocks like Ctrip (NASDAQ:CTRP), China Mobile (NYSE:CHL), and Focus Media (NASDAQ:FMCN) that target China's emerging middle class and which companies will be shielded from a potential recession in the US. These are stocks listed in the US and easily accessible for American retail investors. I also think these stocks will go up based on the appreciation of the RMB and might rise as more mainland Chinese investors can buy mutual funds that buy overseas stocks.
One can also get more exposure by buying companies like DuPont (NYSE:DD), YUM brands (NYSE:YUM) or McDonald's (NYSE:MCD) that are making money in China in RMB and thus whose bottom-lines will increase with the strengthening of the RMB. Personally, I have been buying Australian dollars for a while now because of the commodities boom, and I do not want all of my holdings in RMB… a non-convertible currency.
Overall, though, it does not really sound like Rogers has any idea of what he is talking about when investing in China. He seems to be talking in broad macro themes rather than on specifics of doing business in China. He sounds very much like that professor or government official or businessman who flies into China a couple times a year and lives at the Portman Ritz Carlton and then positions himself as the China expert, but does not understand the realities of business here.
So while my conclusions on China overall is similar to Rogers', our theories on how one should go about taking advantage of the opportunities here are very different. Perhaps the difference lies in the fact that one of us has spent more time here in China since the mid 90s than anywhere else, and one of us takes a motorcycle trip through the country every once in a while (which is also difficult to do now since motorcycles are not allowed in downtowns of almost all big Chinese cities).
It takes more than a tourist trip and occasional visits to China to be a China expert. Just as investors need to be choosy and logical about which stocks they buy even in a bull market like China's, they also need to think carefully about whose advice they listen to when the number of self-proclaimed China experts is growing faster than the Chinese economy.
Books I like:

Operation Yao Ming by Brook Larimer.
China's Leaders: The New Generation by Cheng Li

Publications that tend to have the best stuff:

BusinessWeek
Wall Street Journal
Economist

Blogs that I read a lot:
CMR Analyst Charlotte MacAusland contributed to this article.