Thornburg Mortgage (TMA) has released their 4th quarter earnings results, and those results are pretty positive. The company earned 33¢ per share, easily covering the 25¢ dividend declared at the end of December. I listened to the conference call and the news was very positive.
I wrote often about Thornburg Mortgage in the fall, when the subprime mortgage crisis took a big bite out of the company, even they have only held and written prime credit mortgages. TMA was forced to sell off a third of their portfolio to meet margin calls, and basically start building profits again from scratch. Many doubted the company would be able to secure financing to continue underwriting mortgages and stay in business.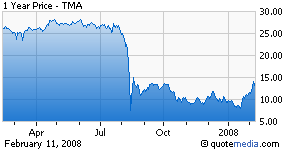 Now the company is expanding their interest rate margin and writing high quality mortgages again. On the conference call, CEO Larry Goldstone said the company can obtain funding in the 3% range right now and they are selling mortgages at about 5.5%. The 250 basis point spread is a vast improvement over what the company could earn when there were a lot more competitors in the market. Losses on their portfolio remain well under control with 60 day delinquencies at 0.44% vs. the industry average of 4.23% on 9/30/07.
Going forward, it appears TMA will be able to continue to write good mortgages (average mortgage is over $900,000 with a 70% LTV), have growing earnings, and increase the dividend. I think the dividend could be in the 40¢ per share range by the 3rd or 4th quarter.
TMA has been the top performer of this site's 20 Stock Portfolio since the beginning of the year up 42%. The stock lost 26% in the last 3 months of 2007, so volatility has been high. I have made some nice profits buying 90 day in-the-money call when the price has been pushed way down by market fears and taking profits when the company releases good news. The company does not report 1st quarter earnings until the middle of April, so this strategy may work again if the stock is pushed back down.
Note: I currently have a long position in TMA.