Here's a quick snapshot of a recent E*TRADE page that gives a quote for shares of oil giant ConocoPhillips (NYSE:COP):
Click to enlarge image.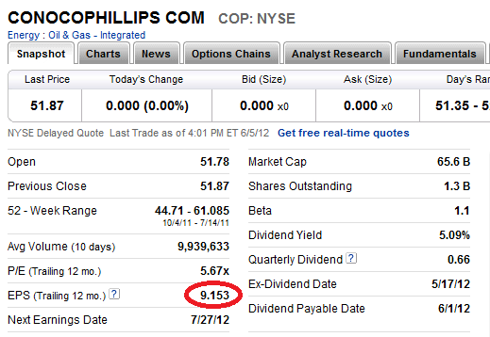 As you can see, E*TRADE notes that Conoco's trailing 12-months earnings is $9.15. Although this is true, it does not take into account the recent stock spin-off of Phillips 66 (NYSE:PSX) last month that will greatly reduce earnings. It's an unfortunate fact that many online quote pages fail to take into account stock spin-offs and one-time sources of profit that can greatly skew the profit numbers. I wrote a post awhile back about how Coca-Cola (NYSE:KO) appeared to be trading at an absurdly low 12 times earnings due to the revaluation of Coca-Cola Enterprises (NYSE:CCE), which hid the fact that Coke was really trading at around 19 times earnings at the time. But regardless, the buck stops with us: It's our job to make sure that the numbers we are working with are right.
Conoco's true earnings without the Phillips 66 boost is around $1.50 per share quarterly, which comes out to $6.00 annually. At the current price of $51.50 per share, Conoco's true P/E ratio is about 8.5. Compared with Conoco's more integrated peers, Exxon (NYSE:XOM) is trading at 8.3 times earnings and Chevron (NYSE:CVX) is trading at 7.1 times earnings.
For what it's worth, Value Line is predicting that Conoco will generate about $1.70 per quarter in 2013. I don't usually like to talk about forward earnings estimates because they are often used to create a justification for cheapness, but I thought that might be worth taking into consideration given that there are not many hard numbers to work with since the Phillips 66 spinoff. If Conoco generates $6.80 annually next year, it will be trading at a forward P/E ratio of 7.5.
While the E*TRADE numbers for Conoco's earnings may not reflect the truth, the good news is that the $0.66 per share quarterly dividend is accurate. At $2.64 per share, that gives investors a current yield north of 5%, which is probably the most appealing aspect of this stock.
It's a shame that website numbers do not possess a mechanism to provide some kind of asterisk to note the presence of aberrant earnings, but ultimately it's our job as investors to figure that out ourselves. There's a difference between an expectation that Conoco earned $6.00 per share rather than $9.00 per share. And I wanted to do my part to make sure that investors know what they're getting when they buy shares of Conoco.
Disclosure: I have no positions in any stocks mentioned, and no plans to initiate any positions within the next 72 hours.