The following are four smallcap stocks that we are adding to our Focus list. We feel each has the potential to outperform the market in the near and long-term.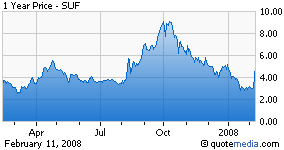 SulphCo. Inc. (Amex: SUF) is a developmental stage company, engaged in the development and commercialization of technology for the upgrading of crude oil. The company's Sonocracking process is based upon the use of ultrasonics that include the application of energy and frequency sound waves, which alters the molecular structure of crude oil, decreases the relative density and the viscosity of crude oil, and increases the amount of lighter oils that can be recovered during the refinery processes.
This technology also reduces the weight percentage of sulfur and parts per million of nitrogen in the chemical composition of crude oil. The company serves crude oil producers and refiners. SulphCo has a collaboration agreement with ChevronTexaco Energy Technology Company (NYSE:CVX); and a joint venture with Trans Gulf Petroleum Co. to implement SulphCo's Sonocracking desulfurization technology.
SUF Investor Highlights
Announced that it has signed an agreement with Pt. Isis Megah ("Isis"), an Indonesian oil and gas services company, which grants Isis an exclusive distributorship in the sales territories of India, Malaysia, Singapore and Indonesia.
Announced its first customer order, procured through Isis, for Sonocracking units with at least thirty thousand barrels per day of processing capacity.
Reported results from the first and second rounds of testing in Europe. Two sets of testing programs were completed with minimal operating issues and the appropriate analyses have now been completed.
Reported that the interest level in the Sonocracking process remains high as potential customers see the value that can be driven by the technology.
Standard Parking (Nasdaq: STAN) is a leading national provider of parking facility management services. The Company provides on-site management services at multi-level and surface parking facilities for all major markets of the parking industry. The Company manages approximately 2,000 facilities, containing over one million parking spaces in more than 320 cities across the United States and Canada, including parking-related and shuttle bus operations serving approximately 60 airports.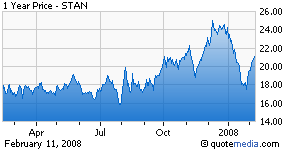 Standard Parking's diversified client base includes some of the nation's largest private and public owners, managers and developers of major office buildings, residential properties, commercial properties, shopping centers and other retail properties, sports and special event complexes, hotels, and hospitals and medical centers, including properties such as the Arco Tower in Los Angeles, the Four Seasons Hotel in Chicago, the Harvard Medical School in Boston, the Nationwide Arena in Columbus and Westfield Shoppingtown Century City in Los Angeles.
In the airport market, STAN manages parking-related and shuttle bus operations serving airports throughout the United States, including Chicago O'Hare International Airport, Cleveland Hopkins International Airport and Dallas/Fort Worth International Airport.
STAN Investor Highlights
Recently announced it has completed the acquisition of certain assets of G.O. Parking in Chicago, Illinois. The acquisition adds 25 locations to Standard Parking's portfolio.
The Company's Board of Directors has increased its existing authorization to repurchase common stock by an additional $25 million. Through September 30, 2007, the Company had repurchased $15 million of its common stock under the $20 million authorization approved by the Board in March 2007.
Recently announced that Alatus Partners has awarded it a contract to manage and staff Alatus' parking operation in Minneapolis. The total operation is comprised of over 4,300 spaces in four garages and two surface lots.
Announced that third quarter 2007 pre-tax income increased 45% to $7.7 million, or $0.81 per share, as compared with $5.3 million, or $0.52 per share, in the third quarter of 2006. Based on the strong year-to-date results, the Company is raising its net earnings guidance for the year to $1.65 - $1.70 per share. The Company also is raising its pre-tax income per share expectation to $2.73 - $2.81.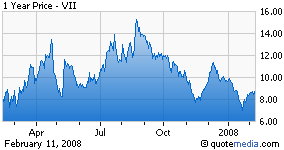 Vicon Industries (AMEX: VII) designs, manufactures, assembles and markets a wide range of video systems and system components used for surveillance, security, safety, and control purposes by a broad group of end-users. The Company sells its systems and products to installing dealers, system integrators, government entities and distributors worldwide principally under Vicon trademarks. The Company' products are typically used by end-users as a crime deterrent, for visual documentation, observing inaccessible or hazardous areas, increasing safety, managing control systems and improving the efficiency and effectiveness of personnel.
Vicon sells video systems including network video encoders, decoders, servers, and related video management software; analog and Internet protocol cameras; digital video and network video recorders; display units; matrix video switchers; robotic camera dome systems; and system controls.
VII Investor Highlights
For the fourth quarter, net sales were $17.2 million, a 13% increase compared with $15.1 million in the year ago period.
Net income totaled $4.9 million ($.97 per diluted share) compared with net income of $117,000 ($.03 per diluted share) for the same period last fiscal year.
Net income for the fourth quarter includes pretax income of $1.7 million ($.33 per diluted share) and a tax benefit of $3.4 million ($.66 per diluted share).
For the 2007 fiscal year, net sales were $69.1 million, a 23% increase compared with $56.3 million for the prior fiscal year. Net income totaled $7.9 million ($1.59 per diluted share), including the recording of the $3.4 million income tax benefit, ($.68 per diluted share) relating to previously unrecognized U.S. deferred income tax assets. This compared with a net loss of $547,000 ($.12 per share) for the prior fiscal year.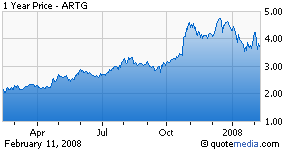 Art Technology Group (Nasdaq: ARTG) makes the Web marketing and e-commerce software and delivers the on demand e-commerce hosting solutions that the world's top brands use to power their leading-edge e-commerce Web sites; attract prospects; convert them to buyers; and offer stellar ongoing customer care. Together, these capabilities comprise a complete set of commerce Internet solutions for business and help ARTG's customers create a satisfied, loyal, and profitable online customer base.
ARTG Investor Highlights
Recently completed the acquisition of CleverSet Inc., in a transaction valued at approximately $9 million in cash. The acquisition expands ATG's eStara e-commerce optimization services. These services – which include Click to Call, Click to Chat, Call Tracking and now, automated personalization – are delivered via a Software-as-a-Service (SaaS) model and can be easily added to any Web site, whether built on the ATG platform or any other Web technology.
Revenue for the fourth quarter of 2007 grew to $39.3 million, a 22% increase over fourth quarter 2006 revenue of $32.2 million. Revenue for the year ended December 31, 2007 grew 33% to $137.1 million, compared with revenue of $103.2 million for 2006.
At the end of the fourth quarter 2007, ATG had $51.9 million in cash, cash equivalents, and short-term and long-term marketable securities.
In the past quarter, seven new customers purchased ATG commerce solutions and the net number of customers that have deployed eStara solutions increased by 50. New and repeat business was generated from customers including Armstrong (NYSE:AWI), Bluefly (NASDAQ:BFLY), Boeing (NYSE:BA), CVS (NYSE:CVS), Eastman Kodak (EK), Future Bazaar, Herbalife (NYSE:HLF), Scotts (NYSE:SMG), Urban Brands, and Vodafone (NASDAQ:VOD).
Please do your own research before investing. It is crucial that you at least look at current SEC filings and read the latest press releases. Information contained in this report was extracted from current documents filed with the SEC, the company web site and other publicly available sources deemed reliable.
Disclosure: SmallCapReview has not been compensated by any of the above mentioned companies nor do we hold any positions in the companies. SCR may decide to purchase or sell shares on a voluntary basis in the open market before, during or after the profiling period of this report.